As better spring weather stays in hiding – check out the great films of CPH:DOX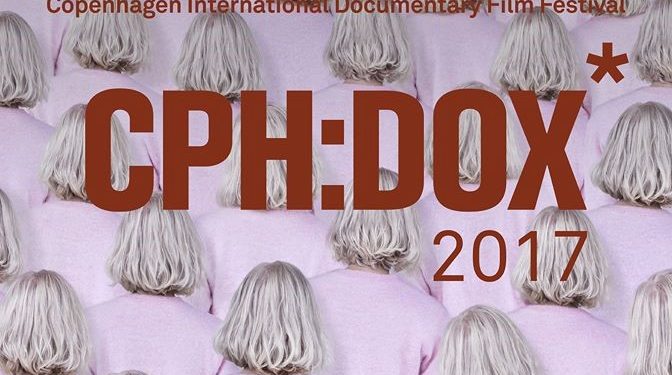 This week is your chance to flee the grey skies and cold wind by going to the CINEMA. At CPH:DOX, one of the world's biggest documentary film festivals, Copenhagen's cinemas show a selection of 200 films from around the world. This year also Aalborg and Esbjerg's cinemas have joined in to.
By Bente D. Knudsen
The festival was founded in 2003 by Tine Fischer, who is still its director. CPH:DOX presents the latest and most interesting aspects of the documentary scene, and has a programme that includes both films by major internationally acclaimed directors and works by new or unknown talents.
Supported by film professionals as well as the national press, CPH:DOX grew from 14,000 admissions in its first year to a record-breaking total of 91,400 admissions in 2015.
But in an age of TV on demand, and TV-Series of reduced length, how can a documentary, which demand's the audience's intense attention for up to 90 minutes, attract viewers, who maybe do not even finish lengthy newspaper articles?
Tine Fischer firmly believes in the importance of documentaries, and to Danish newspaper Jyllands Posten, she says that:
" Documentaries have never been more important, partly due to people's zapping from one thing to the next and lack of concentration but also because of all the talk of fake news and the post factual society we live in. A documentary has another time frame – sometimes it has taken several years of research to make the film. And that give a completely different dimension to the complexity in the stories told.
The good documentary does not have a mission statement, the good ones are the ones that portray a human story so honestly that everyone can relate to it, independently of which political colour you belong to. In this way they are above the political mud-slinging." 
An unmissable stop at this year's festival is Kunsthal Charlottenborg. This unique festival venue is home to three cinemas (including a designer sofa cinema and a virtual reality cinema), an international exhibition curated by Toke Lykkeberg, interactive exhibitions, and a Blue Room dedicated to debates and discussions.
If you are curious to see what it is all about – take note that the entrance to Kunsthal Charlottenborg, the exhibition 'Welcome Too Late', the VR-cinema and the various interactive exhibitions, and selected film screenings, will be free during the festival.
CPH:MEETINGS will give a voice to artists in a series of debates from 23 March 23 to 26 March, featuring a spectrum of acclaimed International and Danish public figures and artists.
Check out for instance the French philosopher Bernard-Henri Lévy when he meets Danish news presenter Adam Holm to discuss his film at 18:00 on 23 March.
OUR BEST TIPS for Films to see, specially selected with an expat audience in mind, all films are either in English or with English subtitles.
20

 March – Monday

Nowhere to Hide +Q&A
Read more at: https://cphdox.dk/en/programme/film/?id=105

What Young Men Do +Q&A
Read more at: https://cphdox.dk/en/programme/film/?id=21

HIBRIDOS live cinema world premiere
Read more at: https://cphdox.dk/en/programme/film/?id=185

The Maribor Uprisings, a Live participatory film
Read more at: https://cphdox.dk/en/programme/film/?id=242

Machine of Human Dreams +Q&A
Read more at: https://cphdox.dk/en/programme/film/?id=82

Let There Be Light +Q&A
Read more at: https://cphdox.dk/en/programme/film/?id=117
21

 March – Tuesday

Karl Marx City +Q&A
Read more at: https://cphdox.dk/en/programme/film/?id=99

The Third Option
Read more at: https://cphdox.dk/en/programme/film/?id=141

Debate – the role of media and documentary in a functioning society
Read more at: https://cphdox.dk/en/programme/film/?id=428

…when you look away +Q&A
Read more at: https://cphdox.dk/en/programme/film/?id=246

Food Evolution
Read more at: https://cphdox.dk/en/programme/film/?id=59

Thank you for the rain
Read more at: https://cphdox.dk/en/programme/film/?id=78
 
Gray House +Q&A
Read more at: https://cphdox.dk/en/programme/film/?id=256
 
Jacques Greene concert
Read more at:  https://cphdox.dk/en/programme/film/?id=163
22

 March – Wednesday

Childhood

Read more at: https://cphdox.dk/en/programme/film/?id=149

Lida
Read more at: https://cphdox.dk/en/programme/film/?id=44

Eat That Question: Frank Zappa in his own words
Read more at:  https://cphdox.dk/en/programme/film/?id=3

Shapeshifters

Read more at:  https://cphdox.dk/en/programme/film/?id=60

Chemical Underground Revisited + Lost in France
Read more at: https://cphdox.dk/en/programme/film/?id=168

 Brexitannia
Read more at: :https//cphdox.dk/en/programme/film/?id=197


23

 March – Thursday 

2 films and a talk by Bernard-Henri Lévy
Read more at: https://cphdox.dk/en/programme/film/?id=281 
The Islands and the Whales
Read more at: https://cphdox.dk/en/programme/film/?id=6<
24

March – Friday

60 minutes of Reptile Youth
Read more at:  https://cphdox.dk/en/programme/film/?id=429

Dries
Read more at:  https://cphdox.dk/en/programme/film/?id=124
25

March – Saturday

Talk – EU and Capitalism
Read more at: https://cphdox.dk/en/programme/film/?id=405

Matt Johnson's Radio Cineola
Read more at:  https://cphdox.dk/en/programme/film/?id=343

CPH:DOX Final Party
Read more at:   https://cphdox.dk/en/programme/film/?id=172