Burning ban still a problem for Sankt Hans in some parts of Denmark, however in others it has been lifted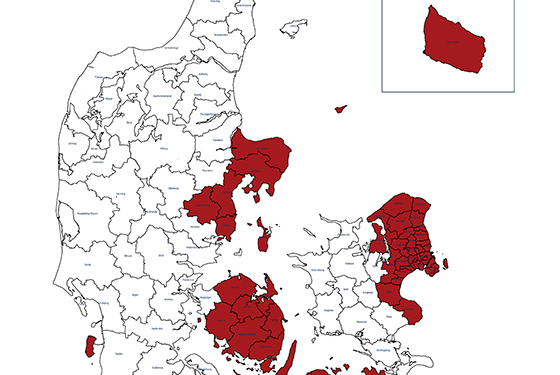 If you want to watch the burning of the midsummer bonfire, this year you may have to travel to another part of Denmark to do so. Despite the rain, many municipalities still have the burning ban imposed including the Sankt Hans bonfire.
By Bente D. Knudsen
Large parts of Denmark are still affected by the burning ban and thus have to cancel the Sankt Hans bonfires. The latest updated map by Beredskabsstyrelsen shows an amelioration if you live in south, west and north Jutland.
However for east Jutland (and Aarhus) as well as all of Funen, Bornhom and large parts of Zealand it is still a problem.
Today the police in Copenhagen sent out a twitter release to remind its citizens that the burning ban was still imposed and that it would affect the Sankt Hans bonfires in the capital's municipalities.
If you are planning on going to a local bonfire site in your area, make sure to check that they are able to light the fire, or at least a small fire in a brazier or other metal container, before going.
At Bakken, north of Copenhagen, they are lighting a small bonfire as the municipalities of Ballerup, Gentofte, Gladsaxe, Herlev and Lyngby-Taarbæk have so far allowed small bonfires of less than 80 cm in diameter, if the height is less than 1.2 meters and a proper fire location or container/brazier is used.
This however does not apply for some of the other municipalities and fire departments in the same area – so check which one you belong to if you live north of Copenhagen.
Also the Sankt Hans bonfire at the summer residence of Prime Minister Lars Lykke Rasmussen at Marienborg estate and garden is cancelled – the park and gardens will still be open with free access to any citizens wishing to see these magnificent gardens (only open to the public once a year at this occasion).
You can bring a picnic and enjoy the evening – without bonfire this year!
The worst affected areas are still around the capital city and in most of North Zealand, as well as Lolland and Falster, all of Funen and large parts of east Jutland including Aarhus.
You can check the site of the National emergency institute, Beredskabsstyrelen, for updated information for the municipalities affected here:
If you are planning on making your own – make sure to check with your local fire department/kommune for the latest update before you light the fire!