Denmark is in for 14 days of exceptional autumn weather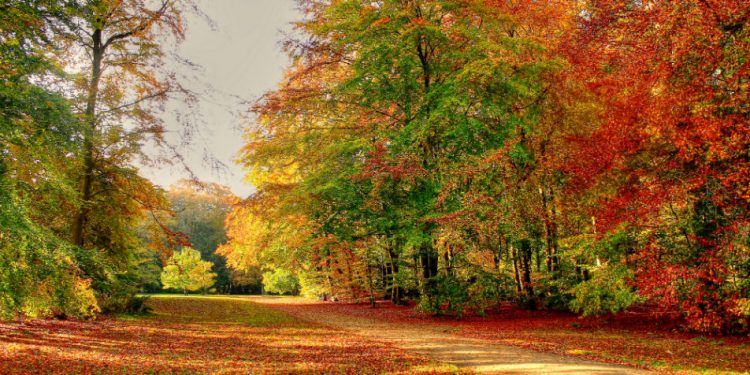 If you enjoy the sight of autumn's bounty of colourful leaves while they are still on the trees, then make the most of them the next two weeks.
The article continues below.
By Bente D. Knudsen  Picture: Hisham Ammar
According to DMI the 14-day forecast, starting Sunday 4 November, will be influenced by a streak of warm winds blowing from the southeast bringing warm and dry weather to Northern Europe.
The forecast for the week starting 5 November is good, not too cold, some sun, not much rain, maybe a great deal of clouds. Day temperatures between 8 and 12 degrees Celsius with nights at 7 to 10 degrees Celsius, even the week after will be warm although it will get gradually colder at the end of the 14-day period.
No much frost either.
It is a great time to go outdoors to admire the amazing colours of the oak and birch trees, the most common trees in many Danish forests – together with patches of fir trees.
The leaves have started falling and will do so the next 2 weeks.
Between the 3 November and the 17 November, you will see a big difference in the amount of leaves still on the trees, and by the second half of November they will all be down.
Good news if you have a garden and you have put in plenty of hours each fall raking them all together.
The article continues below.
Where to go?
Being in uncharted territory can make it difficult to find walking paths or bicycle trails. Add to that, that most of the available information is in Danish.
As an expat looking for new areas to explore, finding the detailed maps and road descriptions, of which there are an abundant supply, can be a challenge.
A great site where you can find maps, details and even PDFs with detailed descriptions of trails and paths is the site run by the Nature Agency at Naturstyrelsen.dk.
The site has a nice English version with a lot of information and also suggestions for activities, and some suggested walking trips.
Unfortunately, the detailed maps and PDF descriptions are still only in Danish. However, they are easy to read and download or print out.
To find the maps on their website, just go to the subpage naturoplevelser/naturguider (see box below).
The page, naturguider, opens with a map of Denmark as well as lists, organised alphabetically and by region, with all the guides available – so you have to have decided which area you would like to explore. Each area selected opens with its own guide: a description of what there is to experience, the landscape, activities, maps and practical information.
Useful dictionary
Kort: Map
Naturguide: Guide with description and ideas for exploring an area in nature
Vandreture: Walking paths/trails
Cykelruter: Biking paths/trails
Besøgscenter: Visitor centre (check opening hours during Autumn/Winter)
Ubemandede besøgscentre: Unstaffed visitor centres are open all year round with information, toilets and other facilities
Seværdigheder: Sightseeing sites
Aktiviteter: Activities
Dyr og Planter: Animals and vegetation
Praktisk: Practical information

The article continues below.
The National Parks are another opportunity 
A good option for exploring nature and the Danish countryside can be one of the five designated national park areas.They are not isolated and unpopulated, nor are they fenced in and guarded by park rangers (this is the picture that comes to most people's minds when thinking of national parks).
Instead, they are designated areas created with the goal of presenting and preserving typical Danish landscapes.
By gathering a diverse set of interested parties, both private and public, the ambition is to make previously inaccessible areas available to the public in an organised and structured way, for instance, by cooperating with landowners to create paths for walking and cycling along lakes, fields and running waters not otherwise accessible to enjoy.
The newest additions are Kongernes Nordsjælland and Skjoldungernes Land, both on Zealand. Kongernes Nordsjælland lies, as the name implies in North Zealand and covers amongst other the lakes Esrum and Arresø, as well as the royal castle at Fredensborg and parts of the North Zealand coast. They are so new that they have not even developed an English language site!
Skjoldungernes Land, lies in the area surrounding the magnificent Roskilde Fjord.
The site's English language version is not as well developed as the Danish one, so it can be worthwhile checking out their Danish site and using a translation program for the many suggested walking trails.
Especially since the area is easily accessible from Copenhagen by car or train (either the regional train to Roskilde or the S-train to Frederikssund, with or without your bicycle).
The best developed ones, with regard to presenting information in English, are the two oldest ones: National Park Thy and National Park Mols Bjerge. They have excellent and informative sites in English with maps and suggested activities well described.
The Wadden Sea National Park is less informative concerning nature trails and suggestions, but this area is also more dangerous to visit on your own and here it can be a good idea to check out the visitor centre, Vadehavscentret (The Wadden Sea Centre) at their site vadehavscentret.dk, to get more information and book nature guides and excursions. They also have a good English language subpage.
The article continues below.
Tips for more information
• Visit naturstyrelsen.dk and choose their English language option or go to the maps and guides directly by selecting naturstyrelsen.dk/naturoplevelser/naturguider/. Naturstyrelsen is part of the Ministry for the Environment, Miljøministeriet.
• Go to the Visit Denmark site at visitdenmark.com/denmark/activities/natural-adventures
• Go to the Danish National Parks' main site at danmarksnationalparker.dk. Choose one of the parks. Once on the selected park's site, chose their English language option.  Or go directly to: National Park Mols Bjerge at nationalparkmolsbjerge.dk, National Park Thy at nationalparkthy.dk National Park Vadehavet (Wadden Sea) at nationalparkvadehavet.dk, National Park Skjoldungernes Land at nationalparkskjoldungernesland.dk