Eighth prolongation of the visitation zone in Copenhagen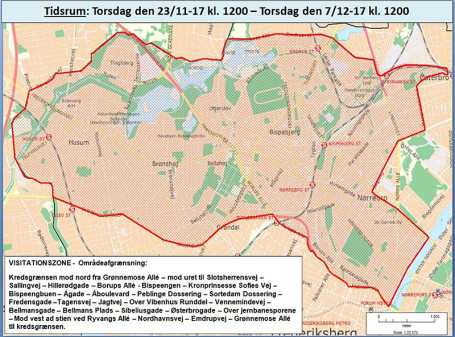 It is such an ongoing thing – it almost gets forgotten that it is not permanent but something that has to be prolonged – once again due to the continuing incidents with gang related shootings the large visitation zone in Copenhagen has been prolonged
By Bente D. Knudsen    Picture: Københavns Politi
For the eighth time this year, the Danish police have decided to prolong the visitation zone due to the continued situation with shootings and the use of knives with danger to peoples lives. The incidents are related to the ongoing conflict between several people with relations to gangs the Danish police confirms.
The aim is to continue to meet the local population's safety and security concerns by ensuring that people in the area do not carry or possess weapons. According to the  police the zones are an effective measure in the police's efforts to remove weapon from the streets of Copenhagen, which is the aim of the visitation zone.
Unfortunately, the police says, they have found numerous weapons during searches – the main reason for prolonging the visitation zone again, this time until the 7 December.
See attached picture of the map to view the whole zone.
A visitation zone means that the police are allowed to stop people on the street, on their bicycles or in their cars to check their possessions, search their bags and even a body search, if needed, may be done.
Normally they are not allowed to do so randomly but must have a "reasonable suspicion" to do so as the Copenhagen Police press spokes person informs.
The article continues below.
If you are not yet aware of it, then take note not to bring even a small pocket knife when you are in the visitation zone area..
In public areas, at any time, small pocket knives – typically those we use with a bottle opener etc. below 7 cm,  are only allowed if they can be said to have a valid reason for being in your possession – for instance you are going on a picnic. In general you are not allowed to carry knives in a public area.
Even small pocket knives – below 7 cm – are not allowed when you go out during the evening to a nightclub, restaurant, coffee house or any other public area during the night, what the Danish police call "generelt knivforbud i nattelivet".
The visitation zone will be valid until 7 December 2017. Any questions concerning the visitation zone can be made to the police at +45 7258 6870.