Take Your Garden Furniture out on Sunday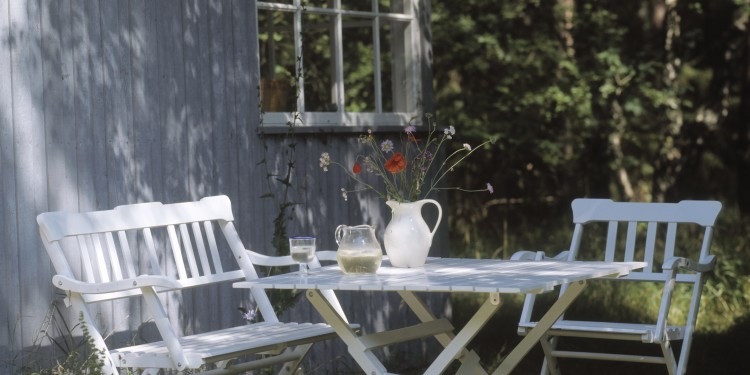 Do you find it hard to remember if you are to put the clock forward an hour or back an hour? Then just use this simple outdoor furniture rule.
By Lene Arlund, architect and interior designer   Pictures:PR
It is that time of the year – we need to change the clock again. A simple rule is to take out the garden furniture for the spring and summer season – meaning put your clock one hour ahead. So on 25 March – notably the night from Saturday to Sunday – as you go to bed put the clock an hour ahead. Officially the clocks are changed at 02:00.
So on Sunday afternoon and evening you can enjoy an hour more of sunshine sitting in the garden or on the terrace or your local cafe.
You have probably noticed that as soon as the sun shines, everyone rushes outside to enjoy the balcony, terrace, or garden. Armed with blankets, warm sweaters, sheepskin furs to sit on, and even outdoor gas or electric ovens, Danes rejoice in finally being outdoors again after the long dark winter.
The Danish climate is largely at the mercy of the surrounding oceans, and consequently within one hour you can get both bright sunshine and rain. So, if the sun shines – just drop whatever you are doing and get out even if it is still a little chilly.
Danish garden furniture material
Originally, Danish garden furniture was produced either in the organic and natural material rattan, a cane like material, or in wood. The natural rattan and cane furniture from Sika had its heyday back in the 50's and 60's before being ousted by cane like furniture in plastic, usually black or dark brown plastic, in all shapes, variations, and prices.
However, the new Nordic trend, with its move towards organic and natural materials, has had its impact on garden furniture too, making wood and natural cane popular again. So much that producers have dug into their archives to find old drawings by some of their iconic Danish furniture designers, and have started production again of the once so popular natural cane and rattan furniture.
Are you thinking of investing in your garden or terrace? Here our interior designer tips on what to consider before you go shopping
Think about the look of your outdoor area- your garden for instance, is it a garden that is classic, uncultivated or modern in look and design ?
If you have a terrace or balcony, what is the apartment building like, is it modern or classic?
Depending on the type of outdoor area, do you want the furniture to blend in or to stand out and be different?
How much space do you have in your outdoor area?
How much space do you want the furniture to take up?
Which kind of furniture looks better in your opinion, soft round curves or more angular ones? For instance painted furniture and natural rattan/cane furniture have a lighter, more romantic, and thus summer-like look and feel. However, they should only be left outside during summer time. If this is the kind of expression you want in your garden or on the terrace/balcony, and you have the indoor space to store them during the winter months, then they are a good choice.
Are you going to use the furniture for eating, reading, taking a break on a bench or sun tanning? This will influence what kind to buy.
If your garden furniture has to stay outside all year round then foldable tables and chairs would be the right choice, as they do not take up much space and when folded you can also easily cover them for protection. You could also buy hard wood such as teak or opt for cheaper versions, so you can change them more often (when they get too ruined from winter's wear and tear).
Do you need to be able to combine different sets of furniture, i.e. combine chairs and benches when you are a larger crowd or does the sun move around between morning and evening? Unless you place furniture in each individual spot, so you don't have to chase after the sun as well as moving your furniture around, you might want light weight garden furniture. For this purpose, some of the plastic furniture, made to look like knitted cane or rattan may be a good choice, although some types of wooden garden furniture, often combined with aluminium, are designed to be light weight.
Consider the fact that it can be nice to also have some outdoor furniture in winter, so that you for instance have an area where you can work while carving out the Halloween Pumpkin, or drink tea while building the snowman. Even if plastic can be left outside all year, think about the look of it in your garden. Somehow furniture made from natural and organic material fits better, since when it's no longer the outdoor season, it will look more natural and in its right place in your autumn or winter garden. Make sure though that all the screws and fittings are also water and weather proof (rain and frost).
Find here our short guide on the pro's and con's of the different materials
Plastic furniture:
You can leave them out all year, they are easy to clean and being lightweight they are practical to move around; some say they have less warmth and charm compared to natural materials.
Painted wood:
Beautiful clean look when they are newly painted, but they often get scraped and that makes them less beautiful. Another downside, they do not like too much rain and damp weather.
Hard Wood- teak and other dark hard wood:
They give your garden a more natural look, especially in the uncultivated part, or under the old apple tree. You can leave them out all year round. However, to keep the darker look, you have to maintain them otherwise the wood turns greyish, which some prefer. They can be a bit heavy.
Natural rattan/cane:
Natural, elegant and lightweight. They can develop black edges where they are assembled and in their joints if they often get wet. They can be difficult to clean as the cane/bamboo consists of many tightly knitted parts.
Plastic Rattan or Cane:
Being made of plastic, the rattan is light and easy to maintain. You can leave them outside all year round.
Aluminium/ artificial wood:
Easy to maintain, survive water and rain without problems, you can hose them down to clean them, you can leave them outdoor all year round and they are lightweight and easy to move. Some find that they have a slightly cold expression.
Tips on where to buy outdoor furniture
You can get garden furniture from a number of different outlets and in many price ranges – it all depends on your needs.
If you move a lot and can't take any garden furniture with you, you might want to opt for some cheaper products that can be left when you leave.
Value for money – both in wood and in plastic rattan can be found at Jysk, Bauhaus, Silvan, Bilka and of course Ikea. Pricier options are at Idé Møbler and Ilva.
However, if you want something that will last much longer and you are able to invest in your garden furniture, look for some of the Danish outdoor furniture designers.
You might not realise it, but brands such as Skagerak ( they used to be Trip Trap in Denmark but are now using their international name also here), Cane Line, Sika Hornæs and Skovshoved møbler are sold globally and used by many international hotels and resorts.
In Denmark they are only available from the classic Danish designer outlets and specialised garden furniture outlets – not from any of the ones mentioned above.  They are of course more expensive, as is Danish design, but they will last you a lifetime, or – being designer items – can be sold again through second-hand sites before you leave.
Trip Trap by Skagerak
You may know of them as Skagerak, the international name, but Danes only used the name Trip Trap up until April 2016.
Skagerak is the name of the ocean right at the tip of Jutland in Skagen. The founder of the company, Ib Møller, was just a boy during the Second World War, living in Skagen with his parents. Money was sparse, and Ib had to earn his own pocket money.
He did this by collecting timber and other goods washed up on the beach and selling it to the highest bidder. Later he began making floorboards and wooden steps for stairs.For many years that was the essence of TripTrap, together with the production of oils, bleaches and other maintenance products for wood products.
It wasn't until 1976 that garden furniture came into the picture. The starting point was an old bench standing in front of Holger Drachmann's house in Skagen. He is a famous Danish play write from the 19th century known for the Sankt Hans song, the one sung at the bonfire 23 of June when the Danes celebrate the longest day of the year.
Ib Møller had seen this old bench and decided to copy it and start production of it again. Even to this day the Drachmann bench, table and chairs from Trip Trap are renowned either in white painted wood, or teak.
Being immensely expensive, really the Dior or Chanel of garden furniture, a number of less known brands and other retailers copy and produce their own versions of this ultimate, simple and so Scandinavian look.
Sika-Hornæs(part of the Cane line group)
The story of the natural cane and rattan furniture producer SIKA starts back in the 1940's.
As with the Trip Trap founder, the on-going war in Europe was affecting people's lives, all kinds of materials were hard to come by, and innovation and creativity was put to good use.
The grandfather of the owner, Ankjær Andreasen, started producing wicker furniture, baskets, and other small goods in 1942 using leftovers from agricultural production. They became internationally renowned for their cane furniture back in the 50's and 60's, amongst other with the hanging egg chair.
The company expanded internationally, starting up production with own factories in Malaysia and Indonesia.
When the hey days of natural cane and rattan had passed, and new plastic weather resistant rattan like material appeared in the 1990's, the company began producing garden furniture made from this new material.
Today their collections are sold all over the world.
With the new Nordic trend towards organic and natural materials, the natural cane and rattan furniture from more than 30 years ago is becoming popular again and  they have introduced former designs by iconic designers such as Arne Jacobsen and Nanna Ditzel.
Sika was also the producer of the Marguerite garden set, which consisted of a round table with four to six chairs, made from teak-wood combined with iron.
Most Danes above the age of 40 remember this set as the ultimate garden set- either from their parents' or grandparent's garden. Today the revival of the designs means that grandma's garden furniture is quite hype again.
Skovshoved møbler:
Despite the look of their garden furniture, Skovshoved møbler is not an old family-owned, iconic Danish designer.
Instead, three friends founded the company in 2003 to create handmade wooden furniture.
They have specialised in reviving old Danish garden benches, such as the Baalbakke bench designed in 1928 by Martin Nyrop, the architect responsible for Copenhagen's City Hall. An original bench, or what was left of it, was standing in front of a house in Skovshoved (a small village up the coast eight km's north of Copenhagen). After obtaining the rights to copy it, they were able to put it into production again.
A smaller version of it is also produced under the name Skovser bænken, Skovser being the nickname of anyone living in Skovshoved.
But what is really interesting about Skovshoved Møbler is their focus on making foldable and easy to store outdoor furniture. Such is the case with the series called Humlebæk, inspired by garden furniture dating back to an iconic summerhouse in the seaside resort of Humlebæk, today a small suburban town 20 km from Copenhagen, and the home of the museum of modern art, Louisiana.