Help celebrate the age-old Yoga discipline or try it out for the first time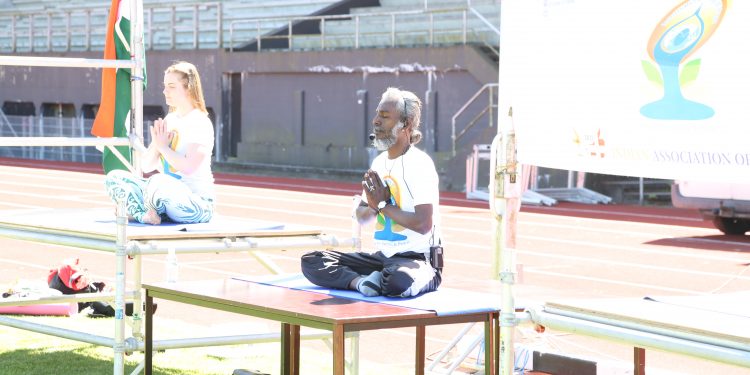 Yoga is a 3,000-year-old discipline, and for the fourth time, the UN International Day of Yoga is celebrated on 21 June. In Denmark, you can take part for free at the celebration events organised in Copenhagen, Aarhus and Vejle.
The article continues below.
By Bente D. Knudsen  Pictures: Kumar Hemanth, IAD (Vejle)
Yoga is a mind and body practice that combines physical postures (also known as asanas), breathing exercises and meditation. The word yoga comes from the Sanskrit term 'yuj' meaning 'union', with its historical roots found in ancient Indian philosophy.
Even if you haven't tried it out yet, you are likely to know someone who practices yoga and boasts about the multiple health benefits associated with this old discipline.
The benefits are physical, yoga can help reduce pain and improve our ability to walk and move, as well as psychological, yoga can relieve us from anxiety and depression.
The weekend of the 16 and 17 June, you can try it out for free by participating in one of the events organised by the Indian Embassy in Denmark in cooperation with numerous partners in  Copenhagen, Aarhus and Vejle.
The article continues below.
Copenhagen  – 17 June from 10:00 to 12:00
On the occasion of the 4th UN International Day of Yoga, the Indian Embassy in Copenhagen organises a free yoga event in Kongens Have – as space in the garden is ample, registration is not necessary and everyone is welcome.  However,  if you have a yoga mat, please bring it, or anything else you could use to do exercises on the grass.
Several talented yoga teachers from Brahma Kumaris, Amrita Yoga, Natha Yogacenter, The Art of Living, Astanga Yoga Copenhagen and Dansk Yoga Sportsforbund will be there to guide you through the morning of yoga.
Location: Kongens Have, Copenhagen City Centre
Aarhus  – 16 June from 9:00  to 10:00
At the Aarhus Townhall (Rådhus) the Yoga Day is organised in collaboration between the Indian Embassay in Copenhagen and Aarhus Kommune. There are 200 places available and free Yoga mats and T-shirts will be given.
Location: Aarhus Rådhus, Aarhus city centre
The article continues below.
Vejle – 16 June from 10:45 to 12:00
The Indian Association of Denmark (IAD) in Vejle and Vejle Kommune is organising the event in Vejle at Vejle Atletik Stadion.
It is a free event where between 100 – 200 people are expected to participate, yoga mats and T- shirts are provided on a first-come -first- serve basis and there will be food stalls selling Indian refreshments.
Location: Vejle Atletik Stadion, Helligkildevej 2, 7100 Vejle, Denmark followed by Indian snacks stall.
More information: Check the Facebook page of the Indian Embassy of Copenhagen, or the indianassociationdenmark.com
As a special treat you can be part of a lucky draw and win free tickets to India by participating in the event at any  of the locations  – Aarhus or Vejle on 16 June, or Copenhagen on 17 June.