Important changes of the S line next week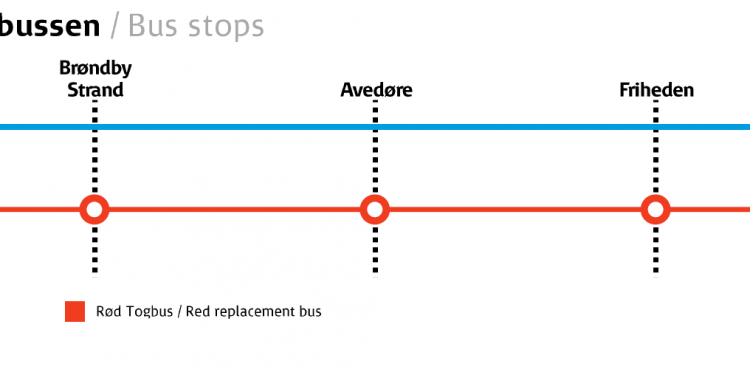 Since this summer the Copenhagen S – lines' tracks have been undergoing needed repairs.  From 29 October until the 2 November there will again be changes to several lines.
By Bente D. Knudsen
Not as bad as this summer, however S-line traffic will be affected for travellers between Copenhagen Central Station and Østerport.
The time frame runs from 29 October until 2 November. DSB recommends that travellers in this period check on rejseplanen.dk to see how their trip may be affected.
The main changes are in the evening, when the S -trains have another timetable and some lines have changed stops.
The article continues below.
Line A:
30 October until –  2 November: Runs from Farum to Svanemøllen and from Køge to København H
Linje A does not stop at Friheden, Avedøre or Brøndby Strand in the evening. To reach the city centre from Farum passengers will need to change trains at Svanemøllen stations. Read more here
29 October : Farum to Svanemøllen and København H to Åmarken. From Åmarken towards Hundige and Køge you have to take a so called Togbus. Read more here . Change to a "togbus", literally train-bus, somehow makes a funny combination, but just means that a bus replaces the train and goes from train station to train station. The unfortunate part is that you cannot take your bicycle with you, as you would on the S-train. Prams have to be fold-able as some busses are regular travel busses -and not the usual city-bus which easily takes prams.
Line B : from 30 October until 2 November runs between Høje Taastrup and Hillerød – this is the only S-train running between the central station ( København H) and Østerport 
Line C: From 30 October until 2 November runs from  Frederikssund to København H
Line F: Changes from 30 October until 2 November:  it runs from Ny Ellebjerg to Hellerup and continues to Charlottenlund-Ordrup and  Klampenborg