Join in the celebration of 50 Years of cultural exchange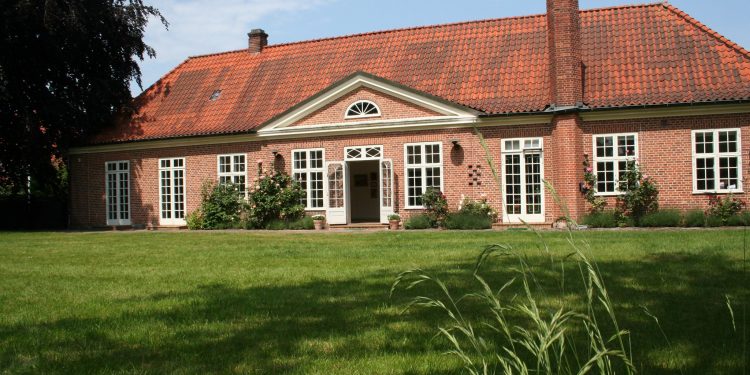 Danish Queen Margrethe was in Rome in October 2017 to participate in the celebration of the 50 years anniversary of the Danish/Italian cultural cooperation, which also enabled both countries to acquire unique locations for their national cultural institutes in Rome and Copenhagen respectively.
By Bente D. Knudsen             Pictures: The Italian Cultural Institute
The article continues below.
If you have never been to the Italian Cultural Institute in Hellerup, just 8 km from Copenhagen city centre, then the free concerts organised the 29 and 30 November 2017 by The Italian Cultural Institute and the Austrian Embassy are great occasions to do so.
The institute is located in a beautiful old villa in Hellerup's fashionable district full of villa's built at the turn of the century. The "villa" which houses the Italian institute is no exception. Built in 1918 by the Danish architect Seyer, it has been classified as a building of architectural importance by the local municipality.
It also boasts an impressive, large and beautiful garden, great for garden parties.
The location's luck is that it was no longer owned privately during the 1960's when many of the beautiful old villas' owners sold out land – enabling the construction of one or more villas in their former large gardens. This is the reason why many Hellerup villas have rather small and dim gardens.
This villa was given to the Italian government by the Danish government after the signing of a cultural agreement between the two countries in 1956 in exchange for the land in Valle Giulia in Rome.
Here the Danish government subsequently built the Danish Institute in Rome, which was inaugurated in October 1967 by Queen Margrethe's parents King Frederik IX and Queen Ingrid.
The article continues below
Architect Ib Martin Jensen rebuilt the villa on Gjørlingsvej 11 in Hellerup to enable the transformation of it into The Italian Cultural Institute. Inaugurated in 1969 by Queen Ingrid and the Italian Ambassador at the time – it will be celebrating its 50 years in 2019.
The aim of the institute is to promote Italian culture in Denmark by arranging a.o film viewings, language classes, concerts and events.
However, the location is also used for other events promoting cultural exchange such as the wine tastings organised mid-November and the two upcoming concerts with Austrian musicians organised jointly by the Italian Institute and the Austrian Embassy in Denmark.
Many events are free or with a small admission only.
The two classical concerts on
29 and 30 November 2017
hosted by the Austrian Embassy are with
free attendance
, however, sign-up is kindly requested – follow this link for more information about the concerts and for sign-up.
A glass of wine is offered after the concerts and permit mingling and cultural exchanges.
Everyone is welcome independently of nationality or affiliation with Italy (or Austria).
Sign up for the concerts here:
The article continues below
The Italian Institute's website is at http://www.iiccopenaghen.esteri.it