MINI-GUIDE to JAZZ venues and concerts not to miss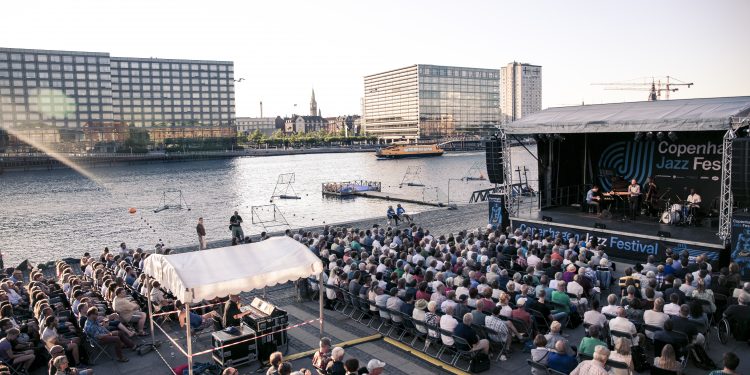 Selecting from more than 1,200 concerts can be a challenge. We are happy to give you our best advice on what not to miss.
By Bente D. Knudsen  Pictures: PR/CPH Jazzfestival
If you are not a jazz adept – and therefore do not know what are the names not to miss, or the places you just have to be – finding your way at the online site of Copenhagen Jazz Festival is really like walking a labyrinth.
Not that the site is not good – it certainly has plentiful of well structured information. Choosing and selecting for the non- professional jazz enthusiast is just difficult.
Find here our best guide and tips for you to enjoy ten days of Copenhagen Jazz Festival.
Opening Concert in Kongens Have on 6 July from 15:00 to 18:00 is a free event (seated tickets distributed on a first come first served basis) with Jubilee Suite & New Jungle Orchestra Feat and marks the beginning of Copenhagen Jazz Festival and nine days of free jazz concerts in Kongens Have this year – a people's gift from the jazz festival to its guests as a celebration of its 40th anniversary.
Jazz by the Sea takes place at Islands Brygge Kulturhuset – this is a beautiful maritime venue set on Copenhagen's harbour front – here you can buy tickets including the grill buffet, and just have a wonderful all in evening of food and music.
Our recommended concert with DR´s Big Band " 40 Years of Copenhagen Jazz Festival on 10 July at 20:00 is one of many highlights – tickets for this concert were still available on 3 July.  A range of concerts take place at this venue from 6 to 15 July.
Free concerts are plentiful as always and take place at open-air venues such as Kongens Have, Vandkunsten, Højbro Plads, The Tivoli Gardens( after paying for the entrance to Tivoli), Ophelia Open air  and Balders Plads.
Balders Plads in Copenhagen's Nørrebro district is one of the renowned free open-air stages of Copenhagen Jazz Festival.
The coffee house "Røde Roses Kaffebar" on Balders Plads – hosts the largest stage and a very handsome program with many diverse acts – a total of 30-40 names play here. A true gem, Balders Plads is surrounded by magnificent 19th century buildings and beautiful lime trees.
A Balders Plads highlight is the concert with Brazilian Guinga on 8 July at 20:00.
Meatpacking district's different stages present such a diverse and mixed selection from mainstream to avant-garde – top that with a great atmosphere – and this is an area you must explore.
For the more experimenting check out the ILK/5e stage.  This old slaughterhouse has been transformed into an alternative concert hall – here you can experience a mixture of modern jazz, avant-garde instrumental plays and other jazz beats. Have an affordable beer and Danish biksemad and concerts at DKK 100. Also on the avant-garde stream are the concerts at H15.
OFelia Plads Open Air – check-out this venue on the sea, a delightful open air venue to spend a summer evening of jazz with performances at 10 July as well as 13 and 14 July. A FREE open air venue.
The jazz.dk site has a special feature which allows you to select all the free concerts on a daily basis in order for you to make your choice of what you might want to listen too.
Under koncerter select FRI ENTRE in your variable and it will list all the ones that have no entrance or ticket fee.
Koncerthuset next to the HQ of Denmark's Radio ( DR) is the venue for a range of high profiled international artists – some concerts are already sold out – but amongst the highlights on the Main Stage is the american jazz pianist Brad Mehldau and his Brad Mehldau trio. Their concert 6 July at 20:00 will sell out soon – so you need to pick up tickets quickly.
Another stage to be recommended at Koncerthuset is the venue STUDIO 2 where several great names are featured you find amongst other highlights the concert with the British Sons of Kehmet.
Or the Danish  jazzdiva Sinne Eeg who returns on the 11 July where her band will meet up with the Los Angeles-based guitarist Larry Koonse for a festival concert based on her international break through   "Dreams".
Children's Jazz Festival: Three venues highlight the desire to inspire children to listen to jazz.
The performing artists are all professionals, imparting jazz by involving all senses through play, dance, storytelling and art.
The Jazz for kids are five days of concerts where children and their parents can listen to jazz in Lindevangsparken's free events. A green oasis, the park has recently been renovated and features both an electronic water playground, areas for playing football and an action playground.
A special treat are the Master Fatman's children's jazz schools- held at 12:00 on the 9, 10, 11, 12 and 13 July – this great entertainer, radio-host and of course, enthusiastic jazz fan, visits different continents and plays their music engaging the young audience in the voyage as well.
Also for FREE for kids on the beach at the Børnekulturhuset Amagerstrand on 8,9 and 10 July at 12:00.
For the Copenhagen Jazz Festival – you can buy tickets and see the full program at www.jazz.dk – also in English.
One a great option is to select the venue you want to go to at their site – and a full list of all concerts at the venue will be shown with more details and information – helping you in your selection. For the venue site more info here
Or make an excursion and keep the jazzy tune – by visiting Aarhus Jazz Festival running from 14 to 21 July.
Want to know more about Jazz and Denmark – read more in our article on the Danish jazz history – and where you can listen to great jazz and live concerts without ever leaving your house.
READ MORE