PostNord is sorry for its bad service, and 500,000 late deliveries at Christmas, it announces in new ad campaign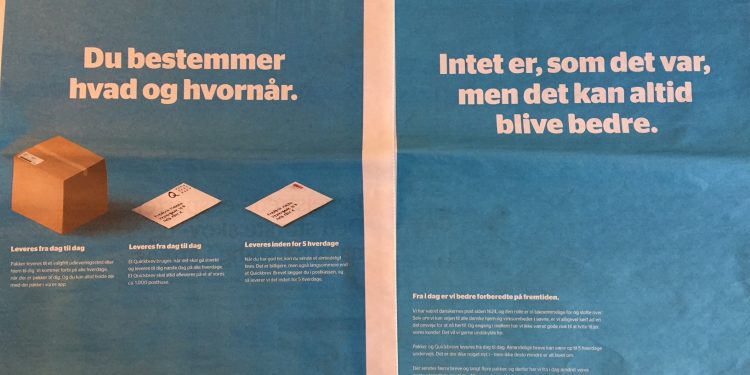 If you do not read the Danish newspapers, you will not have noticed Danish postal service, PostNord's, huge blue ads – announcing that they want to get better at listening to their customers' complaints.
The article continues below.
By Bente D. Knudsen
Expats are generally not impressed by the postal service in Denmark, and compared to many other European countries, the Danish one is significantly more expensive and slow many find, as it would seem from some expat forums' discussions of the subject.
PostNord is owned by the Swedish state and Danish state, and the Danish part,PostNord Danmark, is running with huge losses – not least because Danes – and the official Denmark, send fewer and fewer letters.
With e:post being the main means of communication with its citizens, the amount of publicly sent letters is declining.
A DKK 1,7 billion injection has just been politically agreed between Danish and Swedish politicians.
The ad campaign announces a restructuring of the way mail and packages are delivered in each city, an effort which PostNord believes will improve the service.
However, they are also acknowledging that in December 2017, of the 10,000,000 letters and packages delivered, a total of 5 percent, or 500,000, were not delivered on time.
The article continues below.
The ads reads:
"Nothing is as it was – but it can always get better."
and
" Even if we know the way to all Danish homes even in our sleep, we have taken a number of detours getting there. And sometimes we have not been good enough at listening to our customers – we would like to apologise for that."
If you have not yet sent a letter in 2018, you will not have noticed that just a few weeks before the launch of this campaign, prices were again raised.
The simple letter – the B letter with five days delivery time -, now costs DKK 9 instead of DKK 8 – below 50 gram.
For a heavy letter (or small package), or a magazine like Your Danish Life, of more than 500 gram,  prices increased from DKK 35 to DKK 45 – making it almost 30 percent more expensive. And that with a five day delivery delay.
If you want to send a Quick letter to an address in Denmark – with one day delivery time – you have to go to the nearest post office. Do NOT put it in the mailbox on the street, the ad says.
Remember you cannot use regular stamps for this letter but must buy so-called portokoder – they can be bought online or at the post office – but the online page is only in Danish and disappears if you choose the English language option.
The article continues below.
Take note that a letter sent outside Denmark cannot be sent as a B letter, but must be sent as prioritaire (A), and should be no more than 3 days underway.
However, if you put it in a mailbox in the street, remember to check when the mailbox is emptied. This can easily ad up to 3 days to the delivery time PostNord writes on their website.
And you might as well write a long one, as it will for instance cost you DKK 27 to send anything up to 100 gram to for instance France.
Certainly not easy to send letters home from Denmark.