Out and About: Spending Christmas and New Year in Copenhagen and Denmark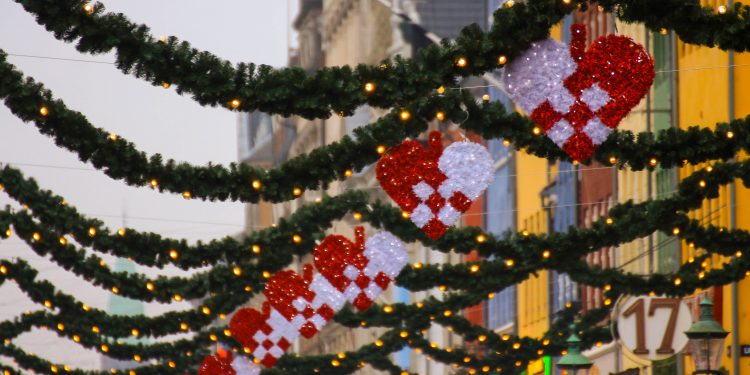 Christmas Eve and the Christmas days are special in Denmark – everything (nearly) closes down and finding eateries that are open, and shops to buy whatever you forgot, can be tricky. We try to guide you here.
By Sanobar Elahi    Pictures. Hisham Ammar
You know that the next month or so you will be running around trying to get the entire last minute gift shopping done, packed and ready to be handed out or placed under your well decorated Christmas tree and that it will stand majestically in the corner in all its shiny, sparkly, well-lit glory.
Christmas stockings line the chimney, other seasonal trinkets lay spread out across your living space… yes you have done well. Your home screams "Christmas". Now to enjoy with family and friends with lots of good food, chit chat and general merriment!
Oh, the food, the Christmas dinner. Where some people (read: women) cherish the time spent in the kitchen making a loving hearty meal from scratch, extra special since it is Christmas, others would rather spend the time not having to worry if the duck is well roasted, or if the onions caramelised right.
Cooking is neither as rewarding nor fulfilling for quite a few people and for those, there is hope.
Find further down in the article a few restaurants and hotels in Copenhagen that are open for special Christmas Eve and New Year's Eve arrangements.
The article continues below.
Denmark closes down for Christmas
Other than wining and dining, the Danish cities come to a standstill  during December 24th – 26th and January 1st, with very few public places remaining open.
All shopping malls such as for instance in Copenhagen Fields, Fisketorvet, and Lyngby Storcentre etc. remain closed as do other businesses. This goes for those in the rest of Denmark too!
If you do find yourself bored and wanting to do something outside, some tourist attractions do remain open during the holidays like Tivoli ( take note though that Tivoli closed at 17:00 on the 24 December), Copenhagen Zoo (closes at 14:00 on the 24 December) and the ice rink at Frederiksberg Runddel or if nothing else, a walk around the Copenhagen waterfront can prove to be very relaxing without its usual hustle bustle disturbing the serenity of a well-lit crisp Christmas evening.
On the 24 December and the 31 December the cinemas are closed – but they are open the 25 and 26 December.
For other parts of Denmark the Visitdenmark site's (only in Danish) of different cities around Denmark have information about opening hours of restaurants and hotels, for instance:
http://www.visitvejle.dk/vejle/jule-og-nytaarsaabent-paa-hoteller-og-restauranter
http://www.visitaarhus.dk/danmark/julens-aabningstider-gdk955660
http://www.visitaalborg.dk/aalborg/aabningstider-i-julen-i-aalborg
In general if your are trying to find something that is open, google the name of the city and jule og nytårs åbent 20178 and see what comes up.
The article continues below.
Some supermarkets are lifesavers!
If you planned it all wrong or your organisational skills are zilch, some branches of grocery stores like Netto, Lidl and Aldi remain open throughout Christmas and New Year's so all hope is not lost if the baby runs out of formula or the kids out of their favourite cereal. Check the respective websites of the above stores to see which one of their branches are open on Christmas break. Check out those that are open on their sites:
Stay away ? On the exchange day
If Christmas shopping madness is not out of your system, be prepared for Dec 27th, the big exchange day for Christmas gifts and when sales erupt in all stores!
Though gifts can usually be exchanged well into January the next year, most shoppers like to take opportunity of sales and get more out of the discounted prices.
So if you got a rather doubtful looking sweater from Grandma or two of the same Georg Jensen necklaces, now would be the time to exchange and get what you really wanted.
All in all, Christmas in Denmark is a joyous occasion marked with a beautifully well-lit city and the right balance between commercialism and family life!
The article continues below.
Our selection of restaurants that are open – they sell out quickly though.
Allegade 10
2000 Frederiksberg
33 31 1751
www.allegade10.dk
Christmas Buffet: 18.00 – 22.00. Price: DKK 558 per person
Large Christmas Buffet: 19.00 – 01.00. Price: DKK 598 per person
Book ahead of time
One of Copenhagen and Frederiksberg's oldest restaurants built in 1780. Located within walking distance of Frederiksberg's centre, zoological museum and Tivoli. The interior resembles that of a museum with portraits of Danish king and queens, the atmosphere being very elegant and sophisticated.
Hereford Village
Frederiksberggade 21, 1. sal
1459 Kbh. K
33 3230 00
www.herefordvillage.dk
Christmas Eve Buffet: begins 18.30 pm. Price: DKK 699 per person
New Year's Eve Buffet: begins: 19.00 pm. Price: DKK 950 per person
Book ahead of time – preferably before 1 December!
Conveniently located on the Walking Street, this restaurant boasts of brilliantly made steaks and its wide variety of menus.For Christmas though, be prepared for a very well rounded traditional Danish Christmas meal.
The article continues below.
La Rocca
Vendersgade 23-25
1363 København K
33 12 66 55
www.larocca.dk
Christmas Eve buffet price: DKK 575 per person.
New Year's Eve (Dec 31) buffet price: DKK 995 per person
Book ahead of time
If you are craving non-traditional Christmas food, why not try out authentic Italian cuisine at La Rocca. Located in the cosy neighbourhood of Nansensgade, within walking distance of Nørreport metro station.
Restaurant Von Plessen (Phoenix Copenhagen)
Bredgade 37
1260 København K
33 95 95 00
Book ahead of time
Christmas Dinner, Dec 24: 17.00 pm – 21.00 pm. Price: DKK 425 or 724 per person
New Year's Dinner, Dec 31: 18.30 pm – 23.30 pm
(Queen's New Year's Speech will also be screened) 4 course menu/drinks/champagne DKK 1295 per person
Located within the Phoenix Copenhagen Hotel, Restaurant Von Plessen is a good merge in style between historical grandeur of Louis XVI and modern art. Wine and dine and if you really want to make it a relaxing affair, why not book a room at the hotel and enjoy the stay in one of its elegant and beautifully decorated rooms?
The article continues below.
Restaurant Le Patron
Gentoftegade 29
2820 Gentofte
39 68 09 11
lepatron.dk/restauranten
Christmas Eve buffet: 17.30 pm – 21.00 pm. Price: DKK 695
New Year's Eve Buffet: 18.00 pm – 24.00 am. Price: DKK 1,195
Queens's speech will also be screened.
Since 1600, this restaurant has been a known place for wining and dining. With original interior from that time, eating at this restaurant will be an intimate affair for sure.
The Harbour
Kalvebod Brygge 53
1560 København V
3338 9645
http://www.theharbour.dk/restauranten
Christmas Eve buffet begins: 18.00 pm. Price: 945 kr. per person
New Year's Eve buffet begins: 18.00 pm. Price: 1,495 kr. per person
Queen's New Year's Speech will also be screened
Book ahead of time
Built in 2006, this ultra-modern and minimalistic restaurant overlooks the Copenhagen waterfront. Located in the Copenhagen Island area, the menu in this restaurant is internationally aspired and appealing to one's appetite.
An early Merry Christmas and Happy Holidays from Your Danish Life!