When a chance royal customer made all the difference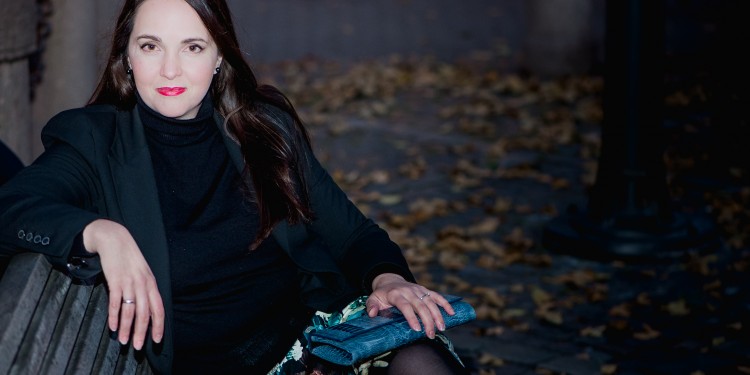 Life takes some funny turns sometimes, as Natalka Hansen has experienced. From being a business briefcase woman to owning a company selling exclusive ostrich leather handbags. And it all happened because fate made the right "first" customer come by her store.
By Bente D.Knudsen     Pictures: Mayra Navarrete
Moving to Denmark from South Africa, Natalka Hansen started a new life, but also a new business, Naledi Copenhagen, a high-end accessories brand.  If anyone had predicted that this is where life would take her, she never would have believed them.
Okay – so what is it with this name? Naledi? Natalka Hansen has to laugh when she explains the origins of her company's name,
"My business partner is an astrophysicist, you know, those people always looking at the universe and the stars, and we had to rebrand our company name. We originally called it 49-51 after the street numbers of our adjoining houses in South Africa, until someone asked us how on earth non-Anglo-Saxons like the French would pronounce it.
So when the name Naledi came up, which is a South African female name meaning star, that was kind of like a home run for her, and I guess it matches quite well our aspirations and the South African connection."
The interview takes place at a busy time for Natalka as she is presenting the upcoming spring-summer season's collection for potential buyers. Life has taken her from her native Ukraine, to South African Cape Town, and has finally settled her in the lush green countryside in Jutland.
Questioned about how it all started, she can't help laugh some more, as the journey she has been on was never really planned at all.
It all started with a job for a Danish shipping company in her native Ukraine. At the time, she was studying political science but got the job because she spoke really good English.
Natalka explains that during those years in Ukraine, anyone with a good command of English could get a job in an international company, no matter what their professional background. Here she worked in marketing, sales, and logistics, and she met her husband, a Dane accustomed to travelling and living as an expat all over the world.
When he was asked to take up a post in Cape Town, South Africa, what was a natural thing for him was difficult for Natalka.
"Moving from your home country, where you have all your aspirations, your family, and friends, was really a difficult decision for me. You weigh the pros and cons, and at the end, I decided to give it a chance. I was also curious about the expat experience and open to trying something new."
In South Africa, Natalka became fascinated by the many local handicraft and artisan companies, and she decided to help small local companies looking for export opportunities develop international marketing strategies.
What particularly fascinated her was the way these companies took care of their employees. They employed women from the poorer areas, trained them, gave them a job and also took care of their families.
"Life in South Africa might look attractive and fantastic when you are living there as an expat, but for the South Africans, the country has huge problems and challenges, which is why the way these companies take care of their employees really inspired me."
Natalka explains how her South African experiences and the many things she was involved in there have led her to where she is today, running her own exclusive fashion company.
"You know, when I look back at my career in Ukraine and the person I was then, I actually only owned one handbag, which I hardly ever used, preferring to use my business briefcase. I would never have believed it if someone had told me I would one day end up selling exclusive ostrich leather handbags."
And it also almost never happened. After moving to Denmark for family reasons, they now had triplet sons and wanted to be closer to grandparents, Natalka decided to start working on her business idea.
Before leaving South Africa, she had planned how she could become the Danish agent for a number of well-established and internationally known South African designers and help them make contact with Danish design shops.
One day she decided to begin visiting design shops and start developing her business idea as she really needed a break from the stress of moving.
"I think all who have had the expat experience know how stressful going into the unknown can be and also how much hard work it is. We were just so exhausted and sleep deprived, so when I finally could, I just wanted to get out of the house and get some new inspiration by doing something else." 
That particular day, Natalka was carrying an ostrich clutch of her own design with no forethought really.
"In South Africa, I had come across a small artisan studio producing leather goods. By chance, I had also discovered a different kind of ostrich skin than the more widely known dotted ostrich. It has this fantastic reptile and snake-like look. It looks as though it is python skin but actually is skin from the ostrich's leg. Ostrich skin is interesting as it comes from a non-endangered species, so I decided to make some handbag prototypes with it, without having any idea of the potential of it."
Visiting a store in Copenhagen to introduce the five South African designers in her portfolio, she was surprised to find the buyer more interested in her handbag and wanting to hear the story of it – where did it come from and how had she acquired it.
"When I began telling him the story of the sustainability of the ostrich production and the farming and artisan industry behind it in South Africa, he listened attentively and finally asked me how he could place an order for it."
Hardly believing this was happening, Natalka was completely unprepared.
Her company was not yet set up and she had only considered the handbag project as a side business, not as her main business idea. In the beginning there was only a small collection of five different and simple handbags. They were her first attempt at design.
"Two weeks after delivering the order, the shop owner called me. I got quite worried, thinking something was wrong. Instead he just wanted to tell me about this special woman who had bought my bags.
Apparently Crown Princess Mary had been to the store, and after reading our little pamphlet explaining all about the sustainability of the bag and the number of people involved, she bought it. That was just such a great start. I felt she gave the project a lot of support."
Naledi is still growing and developing its products and concepts from producing only ostrich handbags to developing other product categories such as scarves. And they are also sourcing from countries other than South Africa.
However, the two partners want to stick to their original concept of finding small artisan producers with whom they can work, preferably for a longer period of time, such as they had done with the first ostrich bags.
"In the fashion industry, the norm is to change suppliers and negotiate prices all the time. We would like to build a long-term relationship with our suppliers, as we believe that will give us higher quality products."
Relying on a long-term and special relationship can also be said for the two partners whose backgrounds in astrophysics and political science make them an "unlikely duo" as they describe themselves. For in fact, it was the special bonding as expat neighbours in South Africa that started them off.
"I genuinely think it was because we found each other when we were both expats. We had both suddenly been ripped off from that part of life with which we both identified ourselves, our jobs and careers.
We had been dropped in South Africa, with all the time in the world on our hands, still wanting to find something meaningful to do, so we started driving around, seeking out the right artisans to manufacture our bags."
Setting up her business in Denmark has been easy, of course facilitated by a husband who knew the country and language.
However, Natalka still believes it is something anyone can do under the right circumstances. Her advice to expats moving to Denmark with a good idea is to try it out.
"Just give it a go. Okay, the Danish market is small, which limits growth, but it is a really good testing ground. If you have the energy and the resources to start up, well, if it works here, then the sky is the limit, and if it doesn't, you probably learned a lot from the experience and you simply have to try something else."
Sustainable Ostrich Leather
The attractiveness of the ostrich leather used in their clutch and other handbags is the reptile look, which the scaled skin from the ostrich leg produces.
It is also an ethical and sustainable product. Ostriches are not an endangered exotic species, and all ostrich products come from farmed animals.
Locally, there is an important tourism industry created around the ostrich farms, and ostrich farming is an important source of jobs in rural areas of South Africa.
The leather is a by-product of the meat industry (ostrich meat is exported all over the world) and all of the ostrich is used from the leather and meat, to the feathers, fat, and eggs.