Weekend tips in the Copenhagen area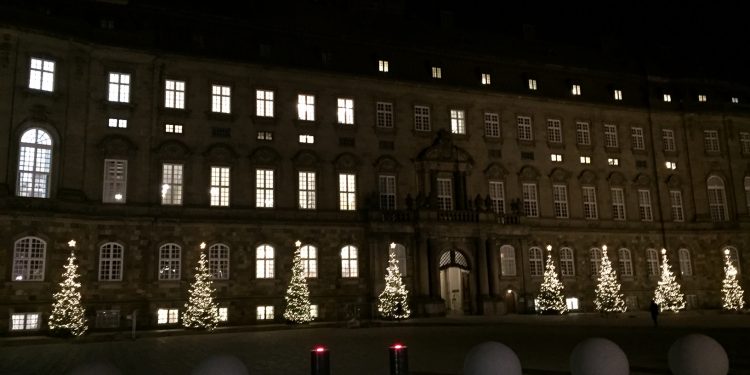 Lots of weekend activities; find here a few tips on nice exhibits to visit as well as Christmas markets  with handcrafted goods for you to enjoy
The article continues below.
Saturday 15 December you can enjoy disco light and rhythms all the while you skate around the outdoor ice rink at Frederiksberg's Runddel. This is a popular event, and the ice rink is not that large, so only go if you feel confident on skates in a crowd, or just stand outside and enjoy the music and atmosphere.
The event is free to attend, however, there is a fee if you want rent ice-skates, which is possible onsite. On Saturday 15 December from 17:00 to 21:00.
This Sunday you can visit the first Farmer's Christmas market in Frederiksberg where more than 20 farmers producing organic, local and seasonal food, as well as sustainable handmade handcrafts can be found at Det Grønne Julemarked in a beautiful courtyard right in the heart of Frederiksberg.
The event is free to attend, and you can of course find some home-cooked food and plenty of biodynamic glögg as well, good jazz music is there to entertain you. Organised by Det Økologiske Inspirationshus and Birkemosegaard Køkken at Allégade7, 2000 Frederiksberg on 16 December from 10:00 to 17:00
Also on Sunday you are invited by Reden International and Ensemble Hovaldt to attend a classic Christmas concert at 14:00 in Københavns Domkirke. Speeches will be held by Integrationsminister Inger Støjberg and Reden International's manager, Kira West.
The concert is free to attend, but the audience is asked to donate a voluntary amount to the work of Reden International, an NGO working to help foreign women in Denmark, who for one reason or the other have had to work as prostitutes.
Many have been exploited and forced to work within prostitution and this NGO works to help them find their way back to another life.
Copenhagen's harbour has been getting many new bridges over the recent years, and this weekend a new one is opening, The Alfred Nobel Bridge which unites Enghave Brygge and Teglholmen, and will become an easy connection between the renovated district of Sydhavnen and the centre of Copenhagen.
It opens for pedestrians and cyclists and only in 2024 will it be ready also for cars. The opening ceremony takes place on Sunday 16 December from 12:00 to 14:00 at Alfred Nobels Bro. The municipality of Copenhagen offers hot drinks, æbleskiver and hotdogs on a first-come first serve basis.
The article continues below.
The Christmas market at old Carlsberg is located at the visitor centre on Gamle Carlsbergvej 11, however, entrance to the market is free ( gløgg, beer and other refreshments are not) and with 23 stalls the market is small but the atmosphere in the backyard of the old brewery buildings is nice. Here you can find design items, Christmas decorations as well as jewellery. Weekends 7 to 9 December and 14 to 16 December from 10:00 to 17:00.
You can also visit the amazing exhibition "Under the Indian Sky", where 80 magnificent pictures from the 19th century India are presented at the museum David's Samling.
The invention of cameras and photography in 1839 allowed for a unique documentation of the cultures and lives of people all over the world, and notably in the British colony of India, photography was used by the colonial powers to map Indian architecture with both professionals and amateurs taking pictures of life at the time.
The entrance to this museum and its exhibitions is free. Location: Davids Samling, Kronprinsessegade 30-32, 1306 Copenhagen City. From 23 November 2018 to 28 April 2019. Open 10:00 to 17:00 except Mondays. No entrance fees.
Denmark's Queen is something of a fairy tale Queen. At the special exhibition at the Amalienborg Museum in the great halls at Christian VIII's Palace, the Queen has taken part in choosingseveral her own costumes and set designs from some of her most beloved fairy-tales now on display.
Here you can step into the royal land of fairy-tales as the Queen's theatrical universe unfolds. Amongst other fun items you can find her old, yellow toolbox, of which she takes very good care. At the exhibition, the Queen explains about her work.
"Everything that can be done with scissors and glue, tape and staples, that's just my thing". The Queen uses the toolbox when she for instance cuts and pastes paper hats.
Designing costumes can be challenging, and about doing so the Queen says: "When I design ballet costumes, I have to think practically: is it possible to stretch your legs enough, is it too hot or too heavy? ".
She has for instance designed the costumes for Tivoli's version of the ballet The Nutcracker. There is an entrance fee to this museum.
The article continues below.
If you are looking for inspiration for the coming Christmas season – and notably your Christmas table decoration, maybe you can find some inspiration at the exhibit of the royal Christmas tables at Christiansborg Castle.
Here seven amazing Christmas tables, each telling the story of a royal Christmas since the 17th century, will sparkle your imagination. Open only until the 26 December 2018. Location: Repræsentationslokalerne Christiansborg Slot, Copenhagen. There is an entrance fee to this exhibition.