Better service and expensive wine .. Susanne sums up the move from Hungary to Denmark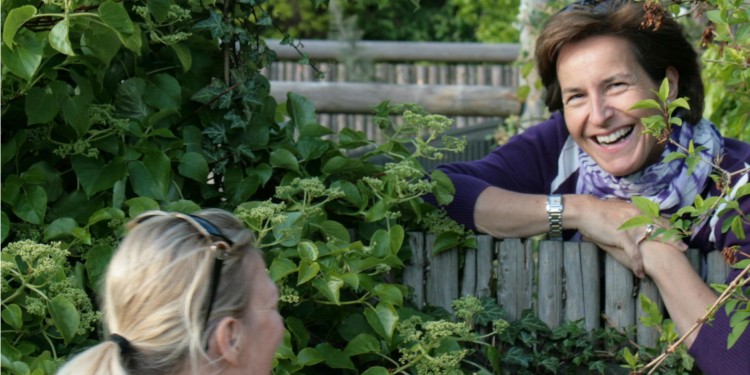 "Get the best out of your stay in Denmark by being open minded to new opportunities and impressions" is German Susanne Martiniak's advice to new expat families in Denmark.
By Bente D. Knudsen
All the townhouses look exactly the same, as they stand there, side by side. Typical Danish style yellow brick houses, with red tiles and the famous Velux windows. It is only as I get closer that one of them stands out from the rest.
An un-readable Hungarian sign on the fence next to the front door can testify that here, is a different family from the one in the neighbouring house. As I ring the doorbell, a dark-haired smiling woman opens the door.
The end of the weekend family
For Susanne Martiniak and her family the move to Denmark represented getting a real family life after five years with a "weekend family relationship". Her husband was to work for an international Danish company at the Copenhagen headquarters.
Compared to his former job, he would finally have a fixed base, previously he had been commuting each week between Budapest, where they lived, and either London or Moscow.  It was a great thing for her and the two children to gather daily as a family and an important motivation to leave Hungary for Denmark.
Denmark is not as foreign as Hungary
Susanne is originally from Kiel in Northern Germany. So even though Denmark is different, there are many similarities. Particularly in comparison to the five years, they lived in Hungary.
She remembers that the first year there was very difficult. Many Hungarians speak only very poor English, and the simplest things become cumbersome. In that sense, Denmark has been much easier to adjust to, because most Danes speak English. She can find her way around easily to do her different shopping and purchases.  "Frankly, Copenhagen is just a small town, even though it is the capital," she laughs.
High level of service and expensive wine
It is also easy to use public transport or just go by bike. The family's two boys are teenagers, so they can bike to the international school, an important aspect in their choice to live close to the school.
However, the rented town house is much smaller than what they were used to from Budapest and everything is much more expensive. Compared to being an expat in Hungary, the family cannot afford the same things in Denmark.
"In Budapest, we often went out for dinner. We do not do that as much here. It is simply not fun to pay 10 Euros (75 DKK) for a glass of wine and it is not even a good wine," Susanne teases. On the other hand, she finds life much easier compared to Hungary. "The daily life and the service one could get in Hungary were clearly affected by 40 years of socialism. And in that way there is a big difference to Denmark, here the service level is much better," she explains.
 The children's school is important
Her oldest son was reaching high school level, so it was important for Susanne that he could go to an international school with a high school department. In Hungary, both boys had gone to the German school. However, at the time they were set to move, the German Sankt Petri School in Copenhagen did not offer a high school option.
In order to make logistics easier, they chose to send both boys to the international school, even if the youngest son might as well have gone to the German school. Fortunately, the change has been a success.
"If the children do not thrive, that makes the accompanying spouse unhappy, if the spouse is unhappy, then the working partner wouldn't be happy either. And then nothing works."
From Russian interpreter to German teacher
The family moved, because Susanne's husband had found a new job. However, Susanne hoped that she would also be able to get a job of some kind in Denmark. Originally, she studied Russian and English and worked as an interpreter.
When living in Geneva, she took a course in how, as a native German, you can teach your mother tongue. The course had enabled her to get a job teaching German at a local school in Budapest.
"I hoped that it would be possible also in Denmark to get a job again, "she says. Things evolved much faster than she had expected. Within the first month after the move, the international school offered her a job teaching individual pupils German as a mother tongue, five to ten hours a week. "It is important to remain open and then just go for it," she says and continues, "in fact, no one ever asked me if I was a German teacher. They just noted that I was German and asked me if I would like to do some German teaching. And so I did."
The family's social network comes from the school
Susanne's high energy level and desire to enjoy life is clearly visible as she sits in her chair explaining and laughing about the twists and turns of her life. After arriving in Denmark, she also joined the Parent Teacher Association (PTA) at the school, and even though she was a newcomer, she agreed to take on the chairmanship.
"No one else said they would do it, so I said okay, but I got a lot of help from some of the parents who have been here longer than I have."  Most of the family's social life is linked to the school and the other expat parents and teachers they meet there.
Getting Danish contacts and friends is not easy. Even at her husband's job, the social activities after work are limited. "The Danes separate much of their professional and private lives, and they keep to themselves," she says about their experience.
"Street party" as a door opener
The family think they have been very lucky, because they are on first name with several of their neighbours.
"Shortly after we had moved in, a vejfest (street party) was held. It was very nice. Everyone brought a homemade dish for a starter and dessert and then we barbecued. In this way, we got to know everyone around us. The other day I said to my husband that I have never been on a first name with so many of my neighbours before. Neither in Geneva, nor in Budapest," she recalls.
Her husband is on a local contract, and they can stay for as long as it fits with his career and the family's wishes. Susanne thinks they will stay at least another year. If they stay longer, then she would like to get to know more Danes, maybe get a full-time job, and learn Danish.
"I know that if I can speak Danish, it will be easier to get better integrated into Danish society and find Danish friends. Right now, I do not regret it, because I have my social network through the school and some nice Danish neighbours, "she says at the end.
After this interview, Susanne's husband got a new posting abroad. So the family has moved again, but this time back to Germany.
Read more…