Fastelavn at one of the many family friendly museums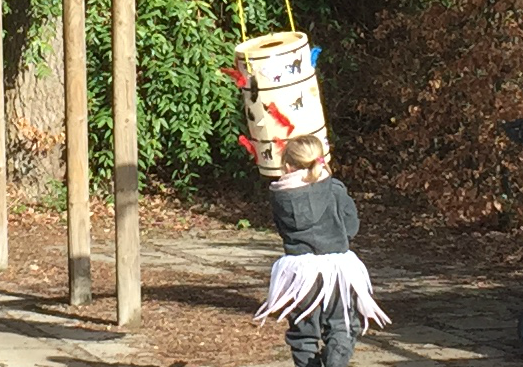 Danish museums love children, so for Fastelaven they of course organise cat bashing events. Find here a few ideas from Copenhagen.
The article continues below.
By Sehrish Haq
Fastelavn is fast approaching with all schools and kindergartens celebrating it Friday 21 February.
However, the real event starts on Sunday, February 23rd (a few are hosting it the 22nd).
One of our favourite spots to attend the barrel bashing is at Statens Museum for Kunst (The National Gallery of Denmark)
Here the children not only get to bash the barrel and eat sweets but have hours of arts and crafts activities and a guided tour of the museum.
Children come dressed up in their favourite costumes and enjoy a few hours of uninterrupted fun. Guests can also purchase food and drinks from the cafe. For families with young children, SMK provides pushchairs and lockers for all, where you can store you jackets, bags or spare clothes.
Children under 18 go for free. The entrance fee for adults DKK 120 or you can purchase an annual card for DKK 295, which is what we would recommend as the children's workshop that takes place every weekend is definitely worth going to, plus other benefits which you can find on SMKs website.
The article continues below.
The 23 February event program is as follows and is free for all annual pass holders and included in the entrance ticket for adults:
11:00 – 11:30 Guided tour of SMK for children and adults
11:00 – 16:00 Make sculptures in the Children's workshop
13:00 – 13:30 Guided tour of SMK for children and adults
12:00 –  13:00 Barrel Bashing
This event is very popular with families with children from 3 years and up. What we love about SMK is you do not have to worry about the unpredictable rain, no matter what the weather, the event will go on.
You are also allowed to leave the children in the workshop where they are supervised, while you grab a drink and they can meet you at the café, obviously not for very small children who might want a parent to stay with them.
We hope you will join us on Sunday to attend this fun event for all art and sweets lovers! Please check the SMK website for more practical information
The article continues below.
At the Danish Design Museum, Bredgade 68 in Copenhagen, children can participate in the cat bashing from 15:00 to 16:00 dressed in their own costume.
Before bashing the barrel they can also participate in the "make your own mask workshop" from 13:00 to 15:00, maybe inspired by the museum's collection of Japanese samurai swords, the tsubae's.
All children are welcome, however signing up is required here:  https://designmuseum.dk/event/vinterferie-og-fastelavn/
The article continues below.