Check your local newspaper to find your local churches' cat-bashing event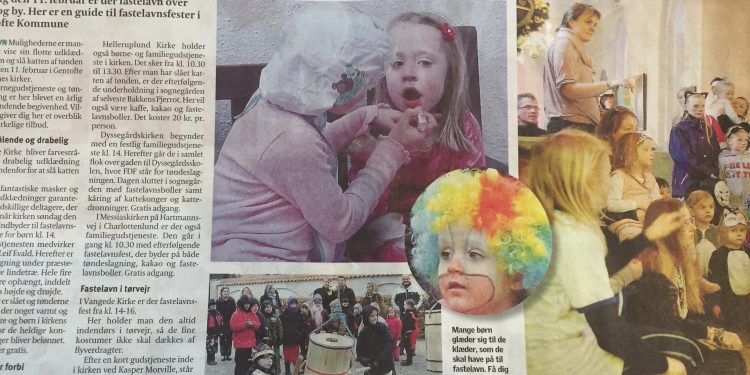 In all Danish municipalities citizens receive a weekly free local newspaper – or can pick it up at the near-by grocery store. You may find them annoying, as they are only in Danish, however, for the coming weekend's cat bashing events at the local churches, they may be quite helpful.
By Bente D. Knudsen
In this local one from the Gentofte area called Villabyerne, their article is easy to find – and with a few key words, you should be all set to find out what they say.
Fastelavnsbørnegudstjeneste = Fastelavn's church service for children – meaning the whole event is based on the children – only a short service and they will go very quickly to the bashing of the barrel all the children are waiting for.
In this article they are describing four churches, where the barrel bashing will take place, for instance at  Gentofte Kirke at 14:00 – arrangementet er gratis – means it is a free event.
Another church is Hellerup Kirke – here the cat bashing costs DKK 30 ( probably to cover for drinks and prizes). In Helleruplund church it is "det sker fra 10:30 til 13:30 – meaning the event starts at 10:30 and ends at 13:30. Det koster 20 kr. pr person means  it costs DKK 20 per person.
All of the churches in the article are offering barrel bashing, tøndeslagning,  after a short service, followed by fastelavnsboller, the famous bun. It will most likely be the light version, so not too much cream inside, but more like the Danish pastry, Wienerbrød.