Closed streets in Copenhagen and on Frederiksberg due to ROYAL RUN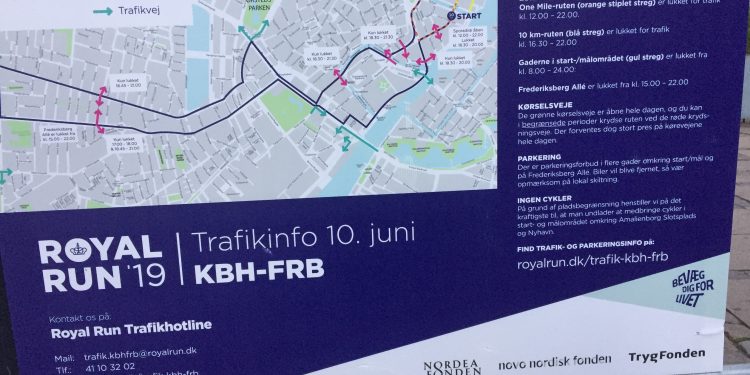 Royal Run takes place in three cities with the last long run in Copenhagen and Frederiksberg on Monday 10 June. HRH Crown Prince Frederik will open the 10 km run in the late afternoon in Copenhagen.
The article continues below.
By Bente D. Knudsen
A repetition of last year's successful royal run is to take place on Monday 10th June.
Unfortunately the Danish Crown Prince Frederik will not be able to run the last long distance of 10 km in Copenhagen.
Due to renewed problems with his back, he has a new slipped disc, (last September he was operated for two slipped discs), he will not be able to run the long distance as planned.
Instead he will walk the one-mile distance in Aarhus.
Crown Princess Mary will run the 5 km distance in Aalborg and in the afternoon Crown Prince Frederik will start off the Royal Run Races in Copenhagen as well as the 10 km run late in the afternoon.
The aim of the event is to share his passion for being active in many ways, one of them by running. He has run several marathons and in general is known to be a very fit and sporty, however, his back problems are limiting his ability to participate this year in the run himself.
The event takes place in Aarhus, Aalborg, Copenhagen and on Bornholm on 10 June. There will be royal participation in Aarhus, Aalborg and Copenhagen.
The event also means that large parts of the inner cities, where the runs take place, is closed off to traffic for more or less the whole day.
The article continues below.
On the site of ROYAL RUN, you can find details of the routes and the traffic.
In general, it is recommended not take your car to town, as well as not bringing your bicycle with you to the start and end area of the runs around Amalienborg Palace as it will be crowded, and bicycles will be in the way.
Crown Prince Fredrik will be in Aarhus, Crown Princess Mary will be in Aalborg and at 15:20 Crown Prince Frederik starts off the different runs in Copenhagen, with the last long one starting at 18:15.
In Copenhagen the route goes from Nyhavn via Frederiksberg and ends at Amalienborg Slotsplads.
Traffic on the route will be closed from 12:00 to 22:00 and the start/end are from 08:00 to 24:00. The route on Frederiksberg will be closed from 15:00 to 22:00.
In Aarhus 17,000 participants have signed up, with Copenhagen at 45,000 the cities are bound to be crowded.
Find information here:
The following streets in Copenhagen will be closed from 08:00 to 24:00: Skt. Annæ Plads, Amaliegade, Toldbodgade, Holbergsgade, Nyhavn og Herluf Trolles Gade, Kvæsthusgade and Fredericiagade to Bredgade