COVID-19 vaccination plan – also for expats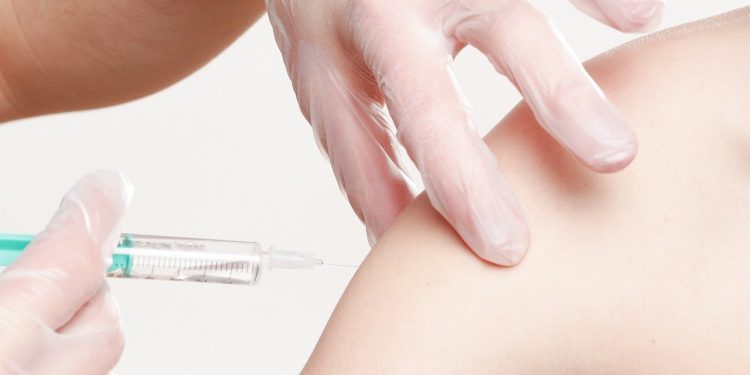 Denmark is well under way with the vaccinations and has already reached the milestone of being the EU country which has vaccinated the largest part of its population. Find out when you are eligible to get your free vaccination in our guide.
The article continues below.
By Bente D. Knudsen
More than 118,000 Danish residents have already received their first dose of the COVID-19 vaccine, all residents in old-people's homes have received it and the next group of people at risk of getting severe effects of a COVID-19 infection are ready to get vaccinated.
In Denmark, the goal is that all who want to be vaccinated will have been so by the end of June 2021.
A detailed plan has been published with information for each group of citizens informing them of where they are on the time schedule and where they can be vaccinated.
All Danish residents, including foreigners who are residents in the country and have a yellow health card, Danish address and CPR number will be offered the vaccine.
The article continues below.
A few groups will not initially be offered the vaccine, such is the case for children below the age of 16 as well as pregnant or breastfeeding women. The director of the Danish Health Board, Sundhedsstyrelsen, Søren Brostrøm said in an interview with DR1 that these groups have been taken out of the plan from a measure of security and he said that:
"In general we are careful about vaccines for pregnant and breastfeeding women so this is nothing new."
Initially there will not be enough vaccine to vaccinate the entire population in one go as the vaccines arrive in limited instalments, however, once the deliveries are up to full speed, the plan is to be able to vaccinate more than 100,000 residents daily.
The vaccine will be free for all residents who will be informed by the health authorities when it is their turn to book a vaccination appointment, information will be sent via digital mail, E-boks.
The article continues below.
During the first three months (January to end March) the plan is to start with residents in nursing homes as well as people above the age of 65 who receive both personal care and practical assistance, then the elderly above the age of 85.
Next are personnel in healthcare, elderly care and selected parts of the social sector who are at particular risk of infection or who perform a critical function in society and those with conditions and diseases that result in a significantly increased risk of severe illness from COVID-19 and some relatives to people at risk. Other prioritized groups according to age are those aged 80 to 84, 75 to 79 and 65 to 74.
When all elderly and others at higher risk have received the offer and more vaccines have been delivered, then the offer will be extended to all from 16 to 64 years of age.
For those who are not in one of the above elderly groups, risk groups or in a critical function, the first vaccine offer will start around 21 April 2021. This can be seen from the plan below. The dotted line means that it does depend on whether or not the expected numbers of vaccine will be delivered.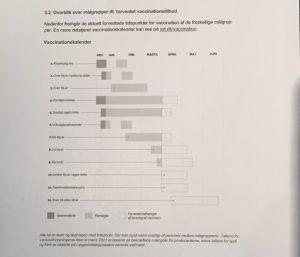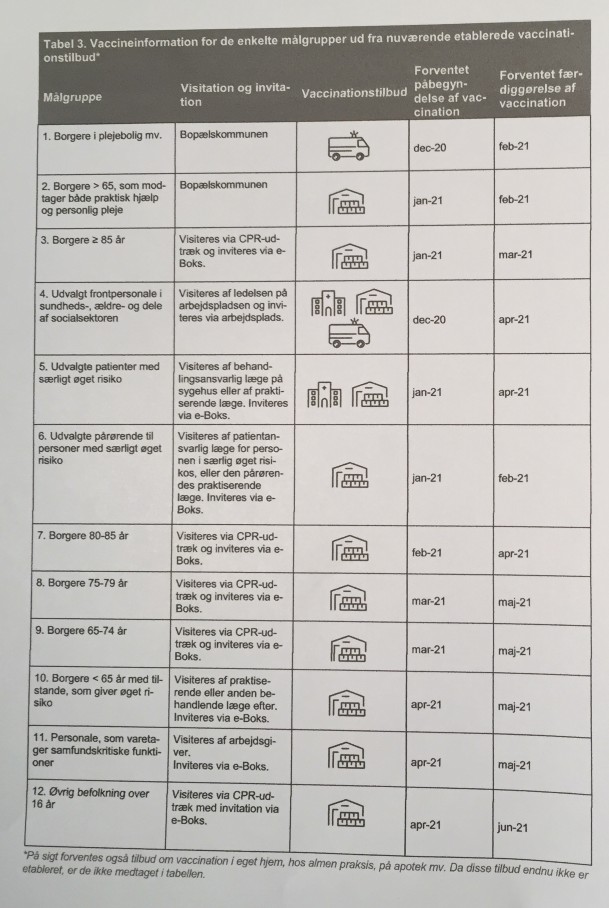 The article continues below.
The target groups have been prioritised based on the aim to:
Minimise death and severe illness due to COVID-19
Minimise the spread of infection and ensure epidemic control
Ensuring key societal functions
Read more about the strategy and information about the vaccines in ENGLISH here.  
You can find all full status report on the first vaccination period (Danish only) here.
The article continues below.
The Danish Regions are responsible for the logistics and the vaccination centres, in Denmark there are five regions.
Vaccination will be offered all Danish residents for free, invitations to get vaccinated will be sent through digital mail, e-Boks.
Amongst speculations as to when this will be, the Director of the Danish Medicine and Drug Board, Lægemiddelstyrelsen, responsible for the purchase and handling of medicine and vaccines, has said to Danish Media and DR1 that he hopes, if all goes well, and the number of vaccines ordered for Denmark are delivered according to schedule, then by the end of June 2021, all who have wanted to be vaccinated, will have been so.
In Denmark, contrary to some European countries, there is a very high support for the vaccine and it is expected that up to 80 percent of the population offered a vaccine will accept it.
In Hungary for instance the figure is much lower at 32 percent, or even France at approximately 50 percent ( Source. The Hope Project).
Read more about The Hope Project here.
Support our magazine with a contribution of any size
We hope that you enjoy the information, insights and inspiration that we provide. We are a small team and we would like to keep delivering high quality, interesting articles for you to enjoy and your support will help Your Danish Life to continue to produce relevant content for expats in Denmark.
We do not want to put up a pay-wall, so we need your support and if you find our content relevant and worthwhile, we would value any contribution, however big or small, as a token of your appreciation of our efforts.
How to support:
Transfer any contribution to our bank account at: Your Danish Life/ Danish Expat Media Aps
Danske Bank Account number: 3409 11405673
IBAN: DK68 3000 0011 4056 73
or MobilePay to 2144 1224
Message: Support