Danish tradition of Sankt Hans threatened this year: Is it an Ancient Pagan Party or a Christian Holiday?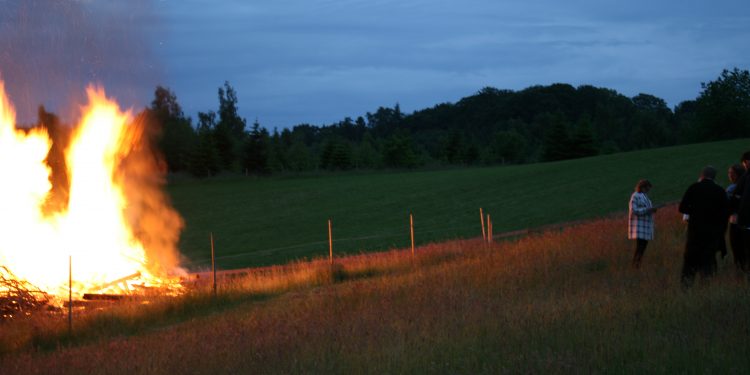 The burning ban imposed in 70 municipalities is a real threat to this tradition. If you ask a Dane why they celebrate Sankt Hans, you'll likely hear it's an old Danish tradition. However, as with many traditions in Denmark, the midsummer celebration is a mix of old Pagan rituals and customs introduced by immigrants.
The article continues below.
By Bente D. Knudsen
You might have been looking forward to celebrating this tradition in Denmark. Usually it takes place with a threat of drowning in rain!
However, this year, the threat comes from the prolonged period of  sun and warm weather producing the most serious drought in more than a decade.
The decision of whether or not to allow Sankt Hans bonfires to take place is a municipal decision taken by the local fire departments – of course after advice from the Danish emergency institution, Beredskabsstyrelsen.
According to the press officer at Beredskabsstyrelsen, at lot will be done in order to let Sankt Hans bonfires take place locally – so if for instance one area receives a lot of rain the night before, the ban may be lifted in one municipality – however the adjacent neighbouring municipality may still impose it.
The article continues below.
Despite the weekend's rain, the evaluation at the moment is still bad and restrictions for Sankt Hans have been made starting 19 June 2018 and until further notice.
For instance in the municipalities under Beredskab Øst  – this is Ballerup, Gentofte, Gladsaxe, Herlev and Lyngby-Taarbæn – a burning ban has been issued until further notice concerning the Sankt Hans bonfire and the use of weed burners.
On the site of Beredskab Øst this message appears:
Forbud mod afbrænding af Sankt Hans bål og brug af ukrudstbrænder
Der indføres forbud mod afbrænding af Sankt Hans bål samt anvendelse af ukrudtsbrænder i Ballerup, Gentofte, Gladsaxe, Herlev og Lyngby-Taarbæk kommuner. ( in English – no Sankt Hans bonfires and no weed burners may be used)
Smaller Sankt Hans bonfires are allowed if the following takes place:
1. Der udvises allerstørste forsigtighed,( the greatest care is taken)
2. Der er vand til brandslukning til rådighed ved bålet, (water to put out the fire is available next to the bonfire)
3. Bålets størrelse er mindre end 80 cm i diameter, (the bonfire's size is less than 80 cm in diameter)
4. Bålets højde er mindre end 1,2 m, ( the bonfire's height is less than 1.2 meters)
5. Bålet antændes på egnet bålsted eller –fad med en sikkerhedsafstand på mindst 15 m til letantændelig vegetation, oplag af brandnærende eller letantændelige stoffer og bygninger med letantændelig tag ( the fire is made on an appropriate place or in a a brazier (a large metal container) and there are at least 15 meters to any vegetation that might easily burn, or to buildings with roofs that might easily burn) take note also of the wind/windirection and  if there is strong wind all fires are prohibited.
6. Blålet alene indeholder tørt, rent træ, træbriketter mv. (dvs. ikke haveaffald, blade, kvas og andet, som kan betyde flyveild fra bålet), ( the wood used is only clean and dry wood – ie NO garden debris or leaves or small branches may be used)
7. Bålet er under opsyn indtil ild og gløder er slukket på en måde, så der ikke er fare for, at der efterfølgende opstår en brand. ( the bonfire is under constant surveillance until it is completely extinguished and all sparks are extinguished as well).
If you are in doubt – do not start your Sankt Hans bonfire. The burning ban is also valid for bonfires placed in lakes and harbours.
The Sankt Hans bonfire and the burning ban is valid from Tuesday 19 June at 8:00 and until further notice. Stay updated at the site of Beredskab Øst for more information  www.beros.dk.
If you would like to know how the situation is in your municipality you can follow this link and click on the name of your kommune – this will lead you directly to the site of your municipalities emergency department – Beredskab is the Danish name.
So for instance in Aarhus municiaplity the evaluation is different concerning weed burners, which are allowed and all Sankt Hans bonfires are prohibited until further notice.
On the site of Østjyllands Beredskabsvæsen ( https://www.ostbv.dk) this message appears:
FORBUD MOD AFBRÆNDING AF SANKTHANSBÅL m.v.
Der indføres forbud mod afbrænding i det fri og afbrænding af bål, herunder også Sankthansbål, i Aarhus, Odder, Samsø og Skanderborg kommuner. Der tillades dog stadig anvendelse af ukrudtsbrændere, mindre bålfade og grill m.v.
Forbuddet gælder ikke en kontrolleret anvendelse af ukrudtsbrændere, mindre bålfade og grill m.v., hvor grillen m.v. er placeret på fliser el.lign. u-brændbart materiale. Forbuddet gælder fra den 15. juni 2018 og indtil videre.
In short only small open fires placed on a brazier/a large metal container are allowed – weed burners are allowed  and grill/barbecues placed on tiles or material that cannot burn are allowed. The ban is in place from 15 June 2018 and until further notice.
Find the link to the situation in your municipality here:
Read more about the burning ban and its causes in our article here:
What is Sankt Hans anyway?
Sankt Hans is actually a Christian holiday, which celebrates the birthday of John the Baptist on June 24. However, it coincides with an ancient Pagan tradition, summer solstice, the longest day of the year on June 21. Christian priests adapted these old customs to help promote Christianity. In Denmark it is celebrated the 23 June.
The article continues below.
The pagan midsummer was filled with magical and natural forces, both evil and good.
Herbs and water sources were holy. At midsummer there was a tradition of seeking out the holy water sources and harvesting healing herbs.
Historians believe the bonfires and the witch came to Denmark with German craftsmen in the 1860s.
The midsummer song, which the Danes proudly sing around the fire also isn't really new. It originates from a theatre music play "Once upon a time" from 1887 by Danish play writer Holger Drachmann.
The article continues below.
A typical Sankt Hans evening ( NOT this year 2018 until miracles appear in many municipalities)
At the first sign of twilight, around 20:30, a bonfire speech is held.
The fire is then lit up, and while the flames reach out towards the summer sky, everyone standing around the fire sings the midsummer song.
If you don't know where to find a Sankt Hans bonfire near you, ask your Danish neighbour or someone you meet at the local grocery store.
Most Danes know where the neighbourhood bonfire is even if they are a little cloudy on its history!