From Prime Minister to Expat – Denmark's first, and so far only, woman Prime Minister has left Danish politics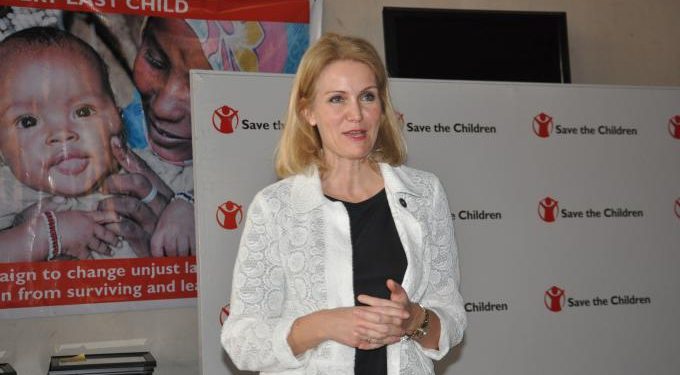 The 30 March was former Danish Prime Minister Helle Thorning-Schmidt's last day in Danish politics, as of 4 April she started her new expat life as the Chief Executive of Save The Children International's umbrella organisation based in the UK (London).
By Bente D. Knudsen and Inger Stokkink  Pictures: PR
Helle Thorning-Schmidt's last day on Borgen – the Danish Parliament's nickname- was celebrated with a huge farewell reception, gathering friends, colleagues and political opponents from all political parties. They took part in the festivities with speeches, gifts, hugs and departing best wishes in such a way that the attending British Ambassador Vivien Life commented on it.
According to Helle Thorning-Schmidt, when interviewed by DR's P3, the British Ambassador said "this can only happen in Denmark", referring to the incredible party atmosphere between fierce political opponents.
Helle Thorning Schmidt leaves Danish politics after 10 years as head of the left wing Social Democratic Party of which she was Denmark's first woman Prime Minister for 4 years from 2011 to 2015.
"Being Prime Minister is really a tough job," she said to P3. "What I do not miss about it is having to set my alarm clock even during the weekends and starting working, reading and preparing for the next week's work during Sundays," she answered when questioned about which part of being head of state she hasn't missed since her defeat in 2015.
Questioned about her worst political enemy, she denied having any.
"There are people who do not like me but they are not my enemies," she said. "People forget that Borgen is really a great place to work, the atmosphere is good, and at the end of the day, even after lot's of arguments, and heated discussions, we are all colleagues and people generally treat each other with respect. That's why a farewell reception ends up being a great party and really hyggelig."
This is probably what the British Ambassador had in mind with her comment at the reception.
WHO IS Helle Thorning-Schmidt?
Her brother and sister placed a crown on her head just days after she was born on 14 December 1966. As the youngest of three, Helle Thorning-Schmidt seemed to have everything going for her right from the start.
Outgoing, blonde and pretty, a quick learner, sociable; you name it. She took her parents' divorce in her stride, maintaining good relations with both, did well in school and university, and managed to gain entrance to an international college that did wonders for her career.
In her own words, she is an optimistic person who cherishes her two daughters and her husband, likes to sing (second soprano), enjoys reading (but never has enough time to do as much as she would like), her all-time favourite being Jane Austen's Pride and Prejudice.
People who have met her are struck by her enthusiasm and, most often, her good mood. And if things don't go well for her, she strikes back with black humour, always searching for a way forward.
She has admitted that during her first years as head of the social-democrats, keeping her good mood could be difficult as she was faced with massive criticism. That's something, she says, that she has learnt to do since then.
Her political drive stems from a deep conviction that it is possible to change things for the better, to break the mould and shape new forms. She is also very goal-oriented.
Thinking with your belly and your heart, as the Danish expression goes, is fine, but using your head every once in a while doesn't hurt. She is practical and looks for solutions rather than resolutions.
Co-operation is in her political DNA. She favours working together, even across party boundaries, because she believes that listening to the minority is what makes a democracy strong.
In line with her consent-driven and practical outlook Helle Thorning-Schmidt is also a networker, both nationally and internationally. Over the years she has built up many contacts with people who are happy to help her if she needs backing up to get things done.
Career
And getting things done is her forte. Her career has been marked by her optimism and her work ethic, and by speaking up if she wants something. She went to Copenhagen University to read political science, and afterwards to Belgian town Bruges to earn a degree from the College of Europe, a post-graduate college in European Studies.
There she met future husband Stephen Kinnock. Here she met adversity, too, as she failed her final exam the first time round. And there she got her first real taste for politics.
Europe was her entrance to political Denmark. Her first role was an administrative one at the European Parliament in Brussels. After that she worked in Denmark at LO (the Danish Confederation of Trade Unions) as a consultant. In 1999, she was elected as Member of the European Parliament (MEP) for the Danish social-democrats and returned to Brussels.
In 2004 she made the decision to come back to Denmark and run for Folketinget. And then it all happened at once. She became a member of Folketinget and two months after that she became chairman of Socialdemokraterne.
A whole generation of social-democrats took a step backwards after a period in which the different 'wings' in the party had fought bitter wars against each other.
The party realised that they needed to turn a corner and to do that they needed a new face. And that face was going to be hers. She won the day with her rallying cry: 'I can beat Anders Fogh!' the latter being the sitting statsminister from Venstre.
A steep learning curve followed. Learning the ropes of being a MF (Medlem af Folketinget, – member of parliament) while being chairman of the opposition party was hard work.
Even though she was popular, there was opposition from within. She didn't have a true working class background; she was too outspoken in favour of the European Union; she was a weak leader and distant, letting her lieutenants do the dirty jobs.
Controversial life style
Some aspects of her personal life were controversial too. Every woman in a visible social position is subjected to acid comments about the way she looks, and Helle Thorning-Schmidt was no exception.
In Brussels she was frequently seen carrying a Gucci handbag, giving her the nickname Gucci-Helle. The label didn't score points with the press or with some of her party.
On the other hand, many of the other party members told her: 'When we send you out to represent us, you should look nice.' Or, in her own words: 'Vanity, and political vanity, is to be too much interested in what your legacy is going to be. But looking good, in the sense of making an effort […] is a good old-fashioned social-democratic value.'
Later, however, Helle Thorning-Schmidt sold the Gucci bag at a second-hand market and gave the earnings to a hospital in Hillerød.
Another controversy is the way in which she and her husband lead their lives. For most of their marriage, she and Stephen Kinnock have had different addresses – she living in Denmark, he in (among others) Russia, Switzerland and, more recently, Wales. The family's base was in Copenhagen though, and Stephen returned every weekend.
This arrangement raised both eyebrows and questions among Danes (not understanding the expat life, the Thorning family's lifestyle also represents). One of those big questions being whether Stephen was evading Danish taxes. The issue developed into a full-blown political affair lasting several years, the Skattesag.
First and so far only woman Prime Minister
Nonetheless, Helle managed to bring her own and other opposition parties together, and in the Folketing elections of 2011 the 'red block' won the majority; albeit a slender one.
A historical siege, because she became the first woman statsminister in Denmark, leading a minority government of three parties: Socialdemokraterne (S), Radikale Venstre (RV) and Socialistisk Folkeparti (SF).
As statsminister, a new learning curve started. And again waves of criticism came over her and her cabinet. Too many compromises had been made with Radikale Venstre, who wanted a more liberal approach to economic issues. 'Løftebrud', you broke your promise was the mantra that haunted her and her government.
Despite that and some other setbacks, she held on and her popularity crawled up again in the opinion polls, so much so that she was far more popular than the blue block leader, Lars Løkke Rasmussen.
However, not enough to win last year's June election. After her defeat, she resigned as head of the Social Democrat Party leaving the leadership to her crown princess Mette Frederiksen.
She embarked on a job hunt and finally managed to secure a new top job starting 4 April 2016 as head of Save the Children International in London the world's leading independent children's charity, with responsibility for programmes reaching over 55 million children in 120 countries.
She was often asked what the differences were between being a woman as Statsminister compared to a man. But, proving that she was the archetypal politician, she refused to be drawn: "When I am old and have time to write a book, I can fill a full one with all of my experiences" is all she would say. With her new top job, we probably have to wait for a while before being able to read her thoughts on gender and politics.
Sources:
Helle for magten, Jakob Nielsen, Politikens Forlag 2007
Helle i samtaler med Ninka, Kastaniehøj 2011
Den første, Noa Redington People's Press 2007
DR 1 and P3 interviews (April 2015 and March 2016)
Skattesag
In 2011, the newspaper BT got hold of details about Helle Thorning-Schmidt and Stephen Kinnock's tax forms. It was frowned upon that a prominent Danish politician like her had a partner who worked abroad and didn't pay his taxes in Denmark. Danish SKAT then started an investigation into Kinnock's whereabouts and working life, and in the end decided that he (and his wife) had declared their taxes correctly, according to Danish law.
The leaking of private tax details to the press unleashed a public outcry, so an investigative committee was set up. During hearings, it was found that the Minister of Finances, Troels Lund Poulsen from the party Venstre, his political advisor and other civil servants had checked the handling of the Thorning-Schmidt-Kinnock tax files. This is against the rules: the political side of the ministry is disconnected from the part of the ministry that handles taxes, in order to prevent the details being used for political gain.
The investigations did not identify the person who leaked the files but as a result of this skattesag, files on a hundred similar cases were opened again.