GUIDE TO CULTURE NIGHT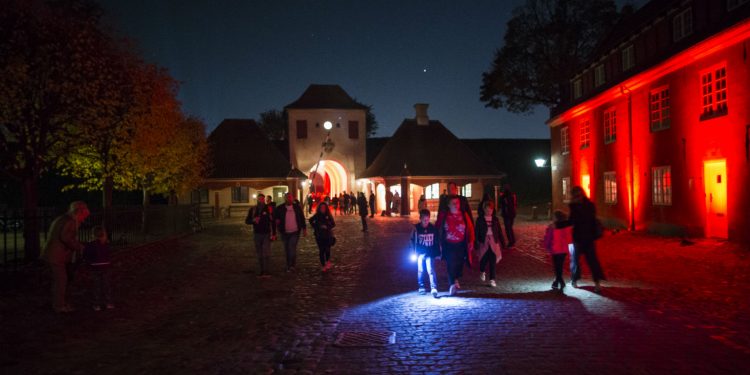 If you are in Copenhagen or nearby – don't miss the special Culture Night. With the promise of decent weather you can enjoy a rather magical evening with a unique atmosphere of locals and visitors enjoying the open house atmosphere of their city.
The article continues below.
By Bente D. Knudsen   Pictures: Maria Sattrup/Sattrup & Høst
The Danish KULTURNAT, the culture night, is an evening with numerous events not to miss if you are here on Friday 14th October.
For only DKK 110 you can visit more than 250 events and museums all open from around 18:00 to midnight. And public transport in the Copenhagen area is included for free.
You could choose to visit one of the museums you have never been too, or take advantage of the doors open to places you would otherwise never be able to visit.
The events are numerous – but we hope you can feel inspired by our short selection. Take note that some events in places that easily get crowded are only available if you prebook a visit, prebooking can be done at the site of KULTURNATTEN.
The best way to get around is certainly with your bicycle, certainly if you want to go to Holmen on Amager, and even if all public transport is included in your Culture Night ticket, remember the busses and trains will be crowed as more than 80,000 people take advantage of the evening.
The article continues below.
1. Visit the  Rosenborg Castle, right in the middle of town. Livgarde frrom 18:00 until midnight at  Østervoldgade 44, the castle invites you to join in a royal party and dance, music and dancing will take place to make you feel like a royal guest at a festive evening in the 17th century.
2. ) Denmark's Royal Military Academy's training centre at Frederiksberg Slot opens its doors to an evening of guided tours around the old castle, taste samples from field rations, or dine in the canteen and visit the cadet bar. You can also experience the work of the army chaplain and here a field service. Visitors are welcomed by cadets studying at the Academy and the Home Guard Band Roskilde. Frederiksberg Slot Roskildevej 28A, 2000 Frederiksberg (next to the Copenhagen Zoo).
3. Copenhagen's old Citadel / Kastelet is the magnificent fortress just behind Langelinie – an enchanting part of old Copenhagen. On this evening you can discover the fortress in the light of flaming torches. Do you think you can find your way in the dark to one of the three open sites – such as the prison? Taste roasted insects, try a gas mask and put on camouflage. The old Dutch mill will be open (expect a queue as it is small inside), here you can have a go at making your own flour. Apart from wandering on the ramparts at night you can visit the three open sites; Krudttårnet, Vaaningen and Arresten. Buy coffee, hot cocoa, snacks, etc. From 18:00 to 22:00 at Kastellet.
The article continues below.
4. At Christiansborg Castle there are a range of great activities – such as the the Royal Stables – visit the white horses at night time in their magnificent centuries old marble stables and take the opportunity to see also some of the other rooms open at the castle on this night. The royal stables are open from 18:00 until midnight.
You can also check out the Christiansborg castle's legendary Royal Kitchen which has been restored to its former glory. Visitors are given exclusive access behind the scenes and they see the preparations for a royal banquet in 1937 in the newly refurbished Royal Kitchen, which boasts one of Europe's largest collections of copper-ware. From 18:00 until midnight.
5.Visit the beautiful old palace of Moltkes Palæ, which is home to the Tradesman Association of Copenhagen and is undoubtedly one of the oldest and finest mansions in the city. Stroll through beautiful saloons, and the magnificent Grand Ballroom. The palace is normally only open to members of the association and here at formal ceremonies medals are awarded to the most skilled apprentices upon completion of their training. Medals will be on display and this year every visitor will receive their very own edible medallion. Håndværkerforeningen København, Dronningens Tværgade 2, 1302 København K
6. At the moment you can't see much of  Nyboder's historic row house district of former Naval barracks in Copenhagen. They are being extensively renovated and brought up to modern living standard. However, for the Culture Night, one is open, called Nyboders Mindestuer. The whole district was planned and first built by Christian IV in 1631 to accommodate a need for housing for the personnel of the rapidly growing Royal Danish Navy and their families during that time. Once renovated the small yellow houses will again accommodate personnel from the Danish military. Have a peak inside to see how navy personnel lived 400 years ago at Nyboders Mindestuer, Skt. Pauls Plads 6, 1313 Copenhagen K
The article continues below.
7. Check out a couple of the church events
For instance Allehelgens Kirke to listen to two concerts, the first one is by Mads Mathias,Denmark's leading jazz vocalist and the other by the gospel choir AllSaints, both concerts accompanied and directed by Fredrik Mellqvist. The bar will be open for both concerts at Allehelgens Kirke, Ungarnsgade 43, 2300 Copenhagen S from 18:00 to 22:00. Or at the site of Kulturnatten search under koncerter for more options.
9. The Lapidarium of Kings is located in the the so-called brew-house of Christian IV, under the rustic arches you can visit an extraordinary museum where 384 sculptures have been gathered from the royal gardens and palaces consisting of equestrienne statues, busts of kings, Greek goddesses, Roman heroes. The atmosphere created is eerie and supernatural as it is all illuminated only by coloured candles. Stroll through this magical place accompanied by the music selected by the local DJ. From 18:00 until midnight at Kongernes Lapidarium Christian 4.s Bryghus,Frederiksholms Kanal 29.
10. Be a hero for one night at Cinematheque – here an evening of film and cinema activities for the whole family have been planned.At Gothersgade 55. From 18:00 to 23:00. For all ages!
The article continues below.
11. The Danish naval base on Holmen is host to a range of unique events and you can easily spend the whole evening just visiting them. Our choice would be to visit the historic frigate HDMS Peder Skram and hear more about the flagship's activities during the Cold War, NATO operations in the Atlantic  and many other stories. Former frigate sailors will guide you around many of the 250 rooms on the seven decks.
Also climb high in the 40 meter high Navy Crane from whose upper deck you have a unique view over the city.
12. Sofiebadet is an old historic bath dating back to 1909, which only recently was extensively renovated. You can experience the historical bath during a tour, it takes place every full hour also – with stories from the more than 100 year bath history and take a look into the Hamam. Extensively renovated and renewed in 2008 it has still managed to retain the 100 year old atmosphere. Open from 18:00 until midnight at Sofiegade 15 A-B stuen on Christianshavn.
The article continues below.
The
Kulturnat
website has an excellent English option – visit it
here
.
You can find all events on a city map – and each event has a detailed description with opening hours and location.
Remember to buy your KULTUR PAS/Culture Pass for DKK 95 at any 7-Eleven, the pass gives access to all events and to public transport
Enjoy – but remember – it's a popular evening so you will not be alone.
Why do the Danes say: you lucky potato ? and why is the autumn holiday called the potato holiday ?
Find out more in our article here