If you find it difficult to get into the Christmas mood, just visit Tivoli.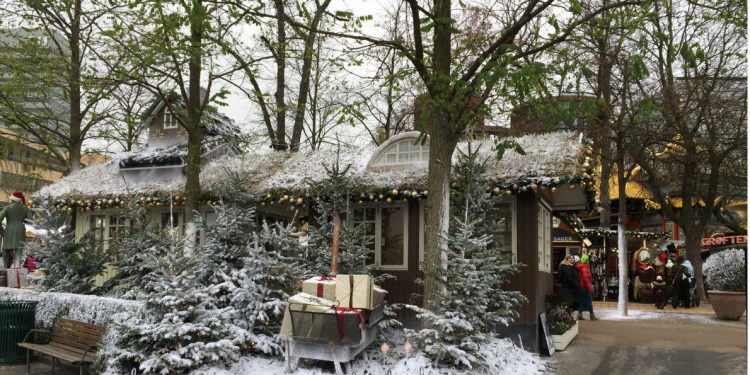 Tivoli's enchanted garden is a mesmerizing winter wonderland otherwise not found in a mild, grey and wet Copenhagen. Report from Tivoli's Christmas season opening.
The article continues below.
By Bente D. Knudsen
When 25 years ago, Tivoli opened for Christmas the first time, it was a bit of a revolution to transform what was otherwise a mostly open-air park only suitable for sunny and warm summer days.
However, since then, it has become an incredible success, attracting visitors from all over Denmark as well as the rest of the world.
And the reason is simple.
White winters in November and December are hard to find, so upon entering this Christmas world, standing amidst snow covered trees, bushes and grass, it suddenly feels much colder than the plus five degrees C of a dark November evening!
The air smells of freshly cut fir, the large outdoor fire pits burn heartedly, there are candles placed in front of the small wooden booths, and big red hearts dangling from the old trees. For an evening at least, a white winter has come to Copenhagen.
This year, for the park's 25th anniversary of opening for Christmas, Tivoli has added a new feature. In front of Nimb Hotel stands an almost 10-metre-tall Christmas decorated with 3,000 Swarovski crystals.
The crystals selected in a new partnership with Swarovski are of the type called clear crystal and have been given a special Nordic look. Copenhagen has is now on a par with New York, Milan, Paris and Zurich.
The article continues below.
What is open?
All rides are open during the Christmas season, much to the enjoyment of young and old. The wonderful old carriage ride, one of the most popular ones for young children, stands decorated all in snowy white, huge amounts of fir, and baskets filled with large red baubles.
Also, a new ride will be added, when on 6 December, The Milky Way Express will replace the Odin Express with a taller and even faster ride than its predecessor.
If the winter feel just becomes too much, and the longing for the warmth of the southern hemisphere takes over, then head off to the new food stall, La Playa, in Tivoli's food hall, complete with a sandy beach, sun loungers and Latino inspired food.
Tivoli remains open until 5 January 2020 daily Sunday to Thursday from 11:00 to 23:00 and Friday and Saturday from 11:00 until 24:00.
Take note that the opening hours on Christmas Day 24 December are only until 16:00, however, on 31 December Tivoli remains open until 00:30 to celebrate the new year, and of course the 1 January as well until 23:00.
Firework festival in Tivoli
If you enjoy the sight of fireworks, you are in for a treat as Tivoli will be lighting the sky above this old park on the 25, 26,27 and 31 December.
The article continues below.