It's going to open with a ROAR – Bakken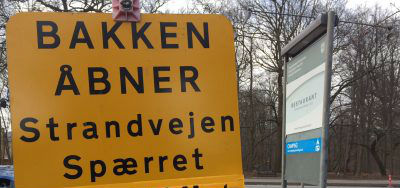 Every year, the surest spring sign is the opening of Bakken, the world's oldest amusement park located in the woods of Dyrehaven in Klampenborg (about 10 km north of central Copenhagen).
The article continues below.
By Bente D. Knudsen
In April, people living along the beach road (Strandvejen) stretching from Hellerup to Klampenborg look out for the signs put up announcing the opening of Bakken.
Why? Well because the beach road simply closes to all other traffic for two hours –  between 19:00 and 21:00 – as more than 6,000 motorbikes join the official opening.
They meet-up on Nørrebrogade in Copenhagen from about 16:30 and the streets start closing in that area as they gather and fill up the streets.
At  around 19:00 they leave following the traditional route, dating back to 1965 when the motorbike tradition began.
They drive from Nørrebrogade along Lygten, Tagensvej, Tuborgvej, Strandvejen (Hellerup), following all of Strandvejen to Dyrehavevej, Christiansholmsvej, Klampenborgvej until they reach the big parking lot at Dyrehavsbakken.
It takes them about an hour and thirty minutes to get there – and if you are in the area by car, have patience as you will need to wait until they all pass through, which can easily mean waiting for an hour until you can move on.
Celebrating its Opening 12 April 2019
The roads the motorbikes take will be closed from 19:00 to 21:00 in the Hellerup / Strandvejen/ Klampenborg area. It is a great sight though.
If the weather stays dry up to 7,000 bikes roar through the streets – some really original and funny ones as well as two seaters, old vintage Harley Davidson's mixed with new and modern bikes. For many motorbike clubs the opening is an important yearly event.
Maybe a nice excursion idea for a Friday evening in April with or without motorbike.
The article continues below.
The amusement park Bakken is located in the deer park Dyrehaven and can be reached by train (Klampenborg Station) or by car. There are abundant parking (paying) options.
Bakken is actually the oldest amusement park in the world. And its 33 rides are equally popular whether on a sunny spring or summer day, or on a warm evening. There are also 78 other attractions such as shooting stalls, gaming arcades and much more.
If you are going with children, take note that in the evening, it's more for teenagers than younger children.
Free Entrance
The particular thing about Bakken is that entrance is free, and, as it's adjacent to the deer park, it can be great to combine taking a ride around Dyrehaven on your bicycle or in one of the horse carriages, ending up at Bakken either for lunch or for dinner.
The park offers a perfect blend of children's amusements, restaurants, pubs and bars with entertainment and live music. It's is not just a small children's amusement park but a place of leisure for the whole family.
Because of its historic value and unique location, no big brands are allowed to set up stands at Bakken and neon signs are banned. Instead a jumble of colourful wooden structures, small independent shop owners and quirky stalls greet the park's visitors.
You can buy a ticket giving unlimited access to all the rides, or just purchase single ride tickets from automats placed around Bakken. This year,if you buy the ride tickets on-line, there is DKK 50 to save.
BAKKEN FACTS
Founded in 1583, Bakken, or Dyrehavsbakken as it is officially named, has been a favourite with the people of Copenhagen for centuries.
During summertime families, young couples and seniors alike flock to the amusement park and the surrounding woodland to indulge in a day of fun. Many Danish families have been coming back to Bakken for generations.
Bakken's longest standing visitor is, however, Pjerrot. The well-known white-faced clown, who visits Bakken every day, has been a hit with the amusement park's youngest guests for more than 200 years. Not to mention  the park's many fun rides, including an 83-year-old wooden roller-coaster.
Dyrehavevej 62, 2930 Klampenborg. Open daily from 23 March to 30 August. www.bakken.dk