January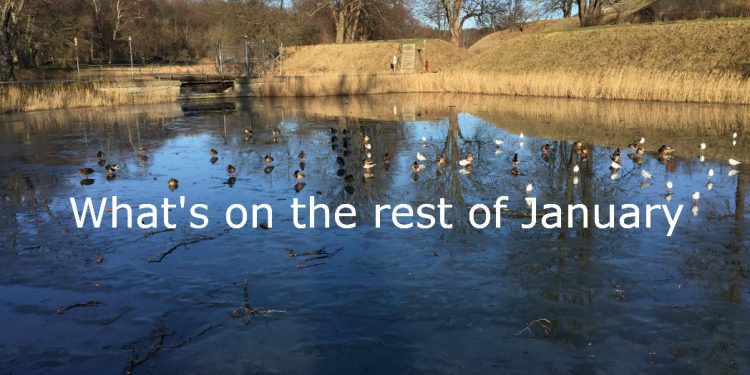 What's on the last weeks of January? Find here a few tips for things to do in Copenhagen
January can be a hard month to get through. The days are still short, and this year the weather is tiresome with lots of grey and rainy days. Find here a few tips for things to do to keep your spirits up.
1.
18 January in Lyngby, north of Copenhagen, at the annual Ungdomskirkens Byttemarked at Christianskirken you can bring all your old clothes, shoes and books ( that are still wearable and usable) for the annual give away and trade market, at 12:30 you place all your give away items on a table and when the market opens at 13:00 you can walk around and find new used items from all the others present. Everything is free at this flea market trading event
2.
Join in the World Snow Day for all children on the 19 of January at Copenhill, when they open the (grass)hill for children aged 4 to 14 to encourage and promote skiing. First time ever in Denmark (country is NOT known for its mountains) as the new ski-hill in Copenhagen makes this possible. Special offer for children: one-hour rental of all equipment needed and a ski-teacher for only DKK 75. More info at copenhill.dk
3.
What better way to spend a dark and cold night than by dancing? 19 and 26 January you could spend an evening dancing salsa at Kedelhallen right at the heart of Frederiksberg! You do not need to be an expert as there are classes for both beginners and more advanced. From 19:00 until just before midnight. Check out the program and how to sign up at www.salsalibre.dk
4.
On the 22 January the Australian Embassy in Copenhagen invites all to an afternoon and evening with two great Australian movies at Cinemateket in the heart of Copenhagen. Entrance is free but tickets must be ordered in advance from the link below. At 16:00 the first movie is shown a comedy called, Top End Wedding, at 18:00 the embassy offers a light meal and drinks before the next drama, The Turning, unfolds. Tickets can be ordered at Cinemateket from this link https://bit.ly/2QY81aR. Tickets must be picked up two days before the event or they are released again.
5.
On the 24 January you can lift your spirits at the wildest Latin party in Copenhagen when the Kayak bar hosts the band TRYPICAL CUMBIA. The doors open at 20:00 and the concert starts at 21:00, DJ TBA will warm-up Tickets are DKK 70, available at the door but buying them in advance is recommended. The band, Trypical Cumbia, has seven members many of them from Latin America, all living in Scandinavia. Find for instance José Lezaeta on the saxofon. Tickets at kayakbar.checkfront.com
6.
Until 26 January visit the delightful exhibition at the Nivaagaard Collection, Brother Artists, which will give you an interesting insight into life in the countryside and amongst peasant in Denmark. The two artists have reached international fame and the exhibition will travel to Paris in the spring. More information in our article here.
7.
A huge flea market takes place on the 25 January and 26 January at Nørrebrohallen from10:00 to 15:00 – entrance is free. Here you can find a variety of used items on sale, both clothes, furniture, bicycles, tableware and of course the odd bric-a- brac and all kinds of items that are too good to be thrown out. Entry from the parking lot on Mimersgade 69, Nørrebro.
8.
Go fishing! On 25 January join in a cold but different experience and catch your own cod or herring with a fishing expedition on board the fishing boat Kutteren. The boat will sail from Copenhagen to the north of the Swedish island of Ven. You can rent fishing equipment on board from DKK 100. The trip lasts a whole Saturday from 10:00 to 15:00, price is DKK 350 for adults and DKK 200 for children. Kutteren m/s Odysseus from Lautrupkaj 3, 2150 Copenhagen. More info phone: 28 19 84 73. There will also be trips in February.
9.  Until the 23 February, you can enjoy the passionate story of Pablo Picasso whose inspiration came from his five beloved and strong models; Olga Khokhlova, Marie-Thérèse Walter, Dora Maar, Françoise Gilot and Jacqueline Roque.
Not only were they his models but also wives and loved ones. The exhibition is created in close collaboration with Musée national Picasso-Paris and presents a total of 51 works including paintings, sculptures, drawings and prints, many of them masterpieces from the museum's collection. An amazing insight into the art and passions of Picasso, whose life (and art) it seems would have been nothing without his models. The museum Arken in Ishøj just south of Copenhagen. More info here 
10.  Do you find museums expensive? Then make the most of the days with free entrance and visit the Glyptotek in Copenhagen when they open their doors with free entrance starting om Tuesday 28 January from 10.00 to 17:00. They will continue with Free Tuesdays all of February and March as well.
11.  Starting the 29 January, you can enjoy the CTC pantomime, Beauty and the beast, which is performed in the theatre at Copenhagen International School.
12.  On the 31 January the gigantic sculpture, The Wave, will again grace the square at the waterfront, Ofelia Plads. The vernissage will take place at 16:30 in the hall of the theatre, Skuespillhuset, right in front of Ofelia Plads where the public is invited to enjoy a drink and listen to music. At 17:00 the 80 meter long sculpture will be lit.