Looking for places to bash the cat on Fastelavn's Sunday?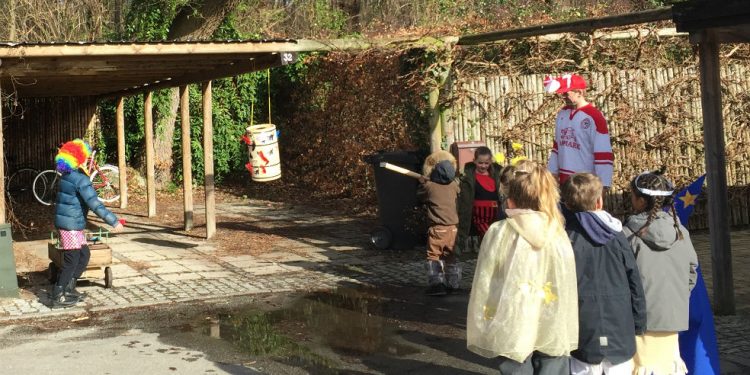 The Carnival season in Denmark is really NOT as big a thing as at our neighbours' further south, however, Danes with children do celebrate it as the "bashing of the cat in the barrel" is a recurring family event.
The article continues below.
By Bente D. Knudsen
In 2022 Fastelavn is officially celebrated on Sunday  27 February.
However, many schools will be celebrating it already on Friday 25 February, whereas churches and other public locations will be doing it on the day itself (Sunday 27 February)
It used to be a tradition for adults and is linked to all the catholic traditions of lent (the 40 day period before Easter where you only eat fish).
The name actually comes from the old German name Vastelavent, which means the night before lent starts. In modern Germany, Vastelavet has become Fasching and here it is still a big thing, with the schools' mid-term winter breaks placed in the same week and a lot of wild partying and drinking taking place.
Further south it is the carnival season, with the more famous ones taking place in Italy – amongst other in Venice.
In Denmark it is mainly a family affair, with children looking forward to dressing up and getting their share of the buns – fastelavnsbolle – and candy inside the barrel.
It is called "slå katten af tønden" – bashing the cat in the barrel until it falls apart. Rest assured these days there is no cat inside.
If you do not know where to celebrate it – the DANISH CHURCHES are a good place to start. All the events are free and sponsored by the local church or sponsors.
Celebrating it on a Sunday means that the traditional Sunday service has been updated to include also the cat-bashing, the eating of buns – yes some even have  nice Danish hot-dogs and coffee for the parents.
The article continues below.
One of the bigger churches is conveniently located on Strøget – Helligåndskirken so you can even combine Sunday shopping with cat bashing.
Fastelavn for children and adults in Helligaandskirken
Sunday  27 February at 11:00.
Niels Hemmingsensgade 5 – corner of  Strøget – in København K.
All adults and children are invited to a "hard-hitting" fastelavn service in Helligaandskirken. The amazing girls' choir from Sankt Annæ Pigekor will participate adding to the atmosphere in this beautiful inner city church. A popular event – be early and patient.
There will be fastelavn's buns and hot cocoa for all, with great prizes for the best costumes.
If you have never been inside the old navel church Holmens Kirke, this is an opportunity as they have their fastelavnsservice – with catbashing at 11:00. In this church pirates, sailors and mermaids are particularly welcome!
Holmens Kirke
Saturday 26  February at 11:00
Holmens Kanal 21 in  København K
On Østerbro, do not miss out on the big Sankt Jakobs Kirke, located right on Østerbrogade – here you will be entertained with rock songs and vocal tunes as well.
Sankt Jakobs church
Sunday 27  February at 15:00
Østerbrogade 59, 2100 København Ø
It starts with a service filled with music as the church's rock-band and vocal ensemble will perform for adults and children. Everyone who feels like it can come in disguise. Afterwards the barrel bashing will be done out in front of the church on the church square, and there will be a catwalk to elect the best costumes.
Of course fastelavnsboller, softdrinks, coffee and tea is served. Arranged in cooperation with the De grønne pigespejdere.
The article continues below.
You can find a calendar for all of the churches in the Copenhagen area in our link below
Even if the calendar is in Danish – with a few Danish words – you should be able to understand where and when the event takes place.  You can search a particular church in the Copenhagen area, just put in the name of the church..
Fastelavnsbørnegudstjeneste = Fastelavn's church service for children – meaning the whole event is based on the children – only a short service and they will go very quickly to the bashing of the barrel all the children are waiting for.
For other parts of Denmark – check with your local church – they are bound to have events as well, your local newspaper will have them listed