"You just have to make the effort and steel yourself to do it and if you go to something that doesn't work, you have to do something else. And be ready to introduce yourself," is British Ambassador Vivien Life's advice to new expats.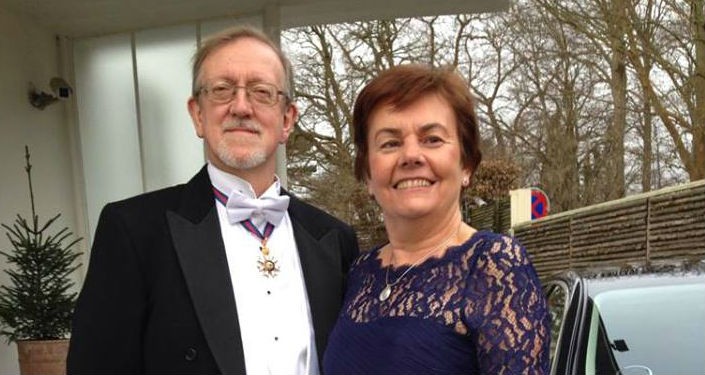 "Denmark is a great place to live – safe – and the great quality of life is wonderful. But it's harder than some places to become part of Danish society. It's quite charming, very attractive, but harder to get into."
When Vivien Life applied for the job as British Ambassador to Denmark, she thought she might become the first woman from the United Kingdom to take up the prestigious role. She was wrong. That title went to Dame Anne Warburton in the 1970s – a lady who became Britain's first ever female ambassador. But unlike Ms Life, Dame Anne was single, which believe it or not, was a Foreign Office stipulation for any woman working there up until 1972.
By Alex Forrest Pictures: British Embassy
Thankfully, things have moved on and in October 2012, Vivien became Britain's first ever married female ambassador to Denmark, a position she obviously enjoys. It has, though, brought with it some tough decisions. First and foremost, her husband, Tim Dowse, and their two daughters, spend the majority of their time in the UK.  It means there's some shuttle diplomacy involved as Tim too is a senior official in the British Foreign Office.
"It has been a challenge managing the arrangement my husband and I actively chose, which is that he is in London for two weeks and works here for two. It's a fantastic arrangement and it works really well for us as our daughters are at university so there is a kind of base for them in the UK. But I really wanted to be an ambassador, and coming somewhere that is such an easy trip from London and with this kind of arrangement was the best package," she tells me.
That's not to say it's been easy. "I miss him and I miss having his company," she admits. "After 25 years it's quite nice to remind yourself that you do miss each other. And when we do see each other again, we really appreciate it," she laughs.
Vivien also pines for her children. But as her youngest was also leaving for university it seemed a good time to fulfil her ambassadorial dream. "It was a good solution to the empty nest syndrome," she smiles. "I wouldn't want to be there (at home in London) either wandering around the empty rooms missing her. And I threw myself into this job. But it can be tricky." Although it's been hard finding the balance between the job in Denmark and her family back home, it hasn't put off at least one of her daughters from wanting to pursue a similar career. She has just applied for a job in the Foreign Office, telling her mum: "I just want to be you!"
After more than twenty-five years of marriage, learning to adapt to so much time apart, has been something at which the ambassador has had to work hard.
But she tells me she's found some good networks and in particular a book club. "It's expat and all nationalities and that's what's so stimulating," she explains. Having spent some time working abroad, she already has experience of how to live the expat life.  "You just have to make the effort and steel yourself to do it and if you go to something that doesn't work, you have to do something else. And be ready to introduce yourself," she advises.
Vivien Life has no difficulty doing that. Both friendly and likeable, she succeeds at putting people at ease. When I first met her almost two years ago, I was surprised at just how relaxed she was. If I'm honest, her hair colour helped. At that time it appeared to be almost pink, turning redder over the following months while lately it's a more natural brown. Whether intended or not, Vivien Life's hair is a good talking point.
But even this easy-going diplomat, who's worked hard at building relationships with people from all backgrounds, admits it can be difficult breaking into Danish circles. "Denmark is a great place to live, safe, and the great quality of life is wonderful. But it's harder than some places to become part of Danish society. It's quite charming, very attractive, but harder to get into."
She believes that many Danes are comfortable with those whom they already know and that they aren't particularly out for making new friendships. She also thinks that goes some way to explaining why Denmark so often comes top in happiness surveys. "It's partly down to a cosy, relaxed group of friends who've known each other for a long time and have been connected for a long time," she says.
Vivien clearly enjoys living and working in Denmark and describes it as a country in which it's very easy to do business. Danes are "very open and very frank" when it comes to work, she tells me, and that makes things much easier. She also relishes being in a country where there are so many women at the top of politics. "On the political side of the job it does give you a connection that you might not otherwise have. You can move back and forward from the personal to the political, it can feel companionable, I think it helps and it's been a fun part of the job."
But it was the subject of women in business, or the lack of them, that most surprised the ambassador on her arrival to Scandinavia.  "I thought as Denmark is a very equal society with amazing childcare that women would be reflected in business  and it wasn't."
She believes one of the reasons for this void is down to something Denmark is usually praised for – it's childcare.
"I think there is a downside to the fantastic childcare which is that it stops bang on 4pm or 5pm. I see it here (at the embassy) and it's great that both men and women leave to pick up their children. But there is no tradition of having care at home. I got where I am partly by having a fantastic live-in nanny. And if someone has to go home at the end of the day it's often mum rather than dad. If you're working for a company with an international profile, those wonderful, short Danish working hours aren't enough to get you to the very top."
It's even a subject that she's discussed openly with Danish politicians including with the equalities minister. But it will be a difficult mind-set to change.
Another area that is close to Vivien's heart is climate change. Up until she became ambassador, the diplomat headed up the energy and climate change department in the British Foreign Office.  No wonder then that she takes great interest in Copenhagen's green aspirations, including its desire to be carbon neutral within ten years.
Although she can point to the success the capital has made of, among other things, cycling, she also highlights one less successful area – the city's poor record of recycling rubbish. Although Copenhagen is working to reduce the amount of waste that's being incinerated, the country has been burning up to 80 percent of its household rubbish. Vivien tells me: "I think not recycling your rubbish in the kitchen is a bit like no women on boards. You have this image that everything is perfectly green (in Denmark) and perfectly equal and there are some gaps."
So where does Vivien Life choose to go to get away from it all? "Louisiana," she says immediately. "It's not particularly secret but I just love being there. And every guest I take there loves it from my 84-year old mum to my daughters."  She tells me that watching friends "looking out across that beautiful sea and all the troubles of the world floating off their shoulders is great."
Back in the real world, we are sitting in the ambassador's office and it's hard to ignore the ringing phone. My time is up, and Vivien has calls to make.  No Danish working hours for this woman. But I honestly don't think she'd want it any other way.