Teaching Vikings Good Manners and how to behave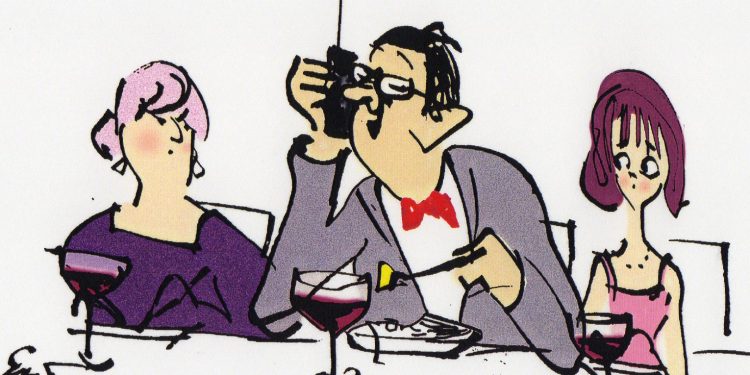 Inge Correll is a Danish institution in the dos and don'ts of good manners and how to behave properly.  She shares her insights on why Danish Vikings had to be taught how to behave.
For more than a quarter of a century, she has helped businesses, employees, and students ensure that they make a good impression in any social or cultural setting.
The idea, to start running courses teaching, takt og tone, the dos and don'ts of how to behave, wasn't even her own.
In Denmark for many years, the importance of learning takt og tone, good manners and how to behave, was perceived as something rather controversial, archaic, and really old-fashioned.
This was all the result of the so-called 1968 generation who had discarded the rules of society and the formal ways of behaving and actually put honour in "misbehaving".
Inge Correll had for many years worked in different internationally-oriented companies, amongst others for SAS (the Scandinavian airline company) as head of the Danish and Japanese stewardesses.
She had just started her own hotel and conference centre when she was contacted by the director of the Danish Export School asking her to teach his students good manners; so she wasn't quite sure how to respond.
The article continues below.
However, good friends and family told her to give it a chance, and she embarked on a 25-year-long career as THE good manners expert, holding courses, for example, for new managers at A.P. Møller (Maersk) for more than 12 years.
"I think it helped me a lot that there were a lot of celebrations and events in the Royal Family during the first years, among other things, with the celebration of the Queen and Prince Henrik's silver wedding anniversary and the first royal wedding since 1967 when Queen Margrethe and Prince Henrik were wed,  when Prince Joachim and his first wife Alexandra were married in 1995.

All this was transmitted live on TV and I was asked to comment. All of a sudden there was more interest amongst Danes to learn more about good manners and proper behaviour in different social settings," Inge explains when describing the background for her success.
The article continues below.
Since the 1970s, old-fashioned things such as how to sit properly at a table, how to hold your fork and knife, dress codes, and learning how to address fellow guests at receptions and dinner parties has not been part of Danes' standard education.
"When I started in the beginning of the 1990s, more Danes were travelling and businesses were expanding internationally. The need to understand how to behave in different social settings, and also other cultural settings, was only beginning to be accepted. At the time, if I came to an international conference or reception, I could always tell whom the Danes were," Inge laughs as she relates her memory.

"I just had to look for the worst dressed group, who had all supplied themselves with drink and food and then found a corner to sit and chat with the other Danish participants they knew, rather than mingle and make new acquaintances."
As her courses were easy targets for ridicule at the time, she decided to use humour in her presentations, trying to make people understand through caricatures and funny drawings.
She has one such drawing with really well dressed business men looking very professional, and one where another business person has his tie undone, a bad haircut, and white tennis socks sticking out of trousers that are too short.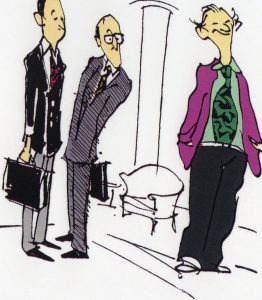 "This one helps illustrate the image you are conveying to other people with your appearance. How can they see you as a professional and able business partner, when the personal image you convey is one of a sloppy person?" she asks.
The article continues below.
Inge believes that the attitude towards learning good manners and how to behave in different settings all changed with increasing globalisation, the internet, and social media, and she thinks Danes have improved their manners and understanding of the importance of them.
So what are good manners? Is it all about how you hold your fork and knife? Inge laughs at the question. She has probably been asked that a lot.
"No," she says. "It's really about how you behave towards other people, and the respect and attention you pay them when you meet socially or in a business context. And I think that is something Danes at the time didn't think so much about.

When you are at a business dinner or reception, it's a great opportunity to learn more about the people you are dealing with, their country or culture, so why on earth only talk about yourself or your career, the weather, and football?"
Three subjects she always teaches her students to avoid.
Instead she says, "Ask questions and show interest in them and their lives and cultures. You might learn something new and also be able to convey something about your own cultural background for their benefit."
Inge Correll has published two books with all her tips and insights, and she gives here a funny example concerning what is the correct time to leave a business party or dinner:
According to Inge, it all depends, but if it is on a weekday with a working day the next day, guests should leave no later than 23:00.
She has a great example of what can go wrong if you do not know the local cultural and social codes.
A former American ambassador was asked to a dinner party at a manor house on Funen. Arriving there, he told his chauffeur they would be leaving around 22:30. The clock struck midnight but none of the guests were leaving, and as time passed, the Ambassador got worried.
He had an important business trip the next day and got more concerned that he would not be fit for it as the dinner party dragged on into the early morning.
Finally, he discreetly approached the hostess, explaining he was really sorry, but he had to leave, only to be met by the response,"Thank goodness! That is no problem at all. We were all waiting for you to leave – first".
As he was the most important person there and the guest of honour, he was expected to leave first (according to Danish etiquette).
The story was related to her by the Ambassador, who ultimately asked her to do courses for his embassy staff.
The article continues below.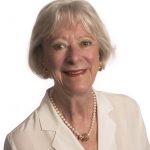 Inge Correll has a long career working for SAS, Hotel D'Angleterre,
and the SBM hotels in Monaco (Hotel de Paris, Hermitage, etc.) She ran the hotel Havreholm Slot for 25 years. In 2000, she was awarded the international prize "Leading Woman Entrepreneur of the World". She has retired from the hotel business – but cannot stop being active, and in 2016, she decided to start a new business as a wedding planner.
By Bente D. Knudsen    Pictures: Inge Correll and Erik Werner