The 100 year fight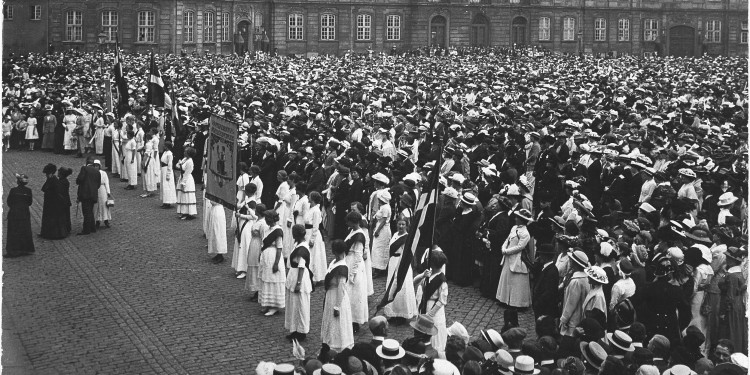 On 5 June 1915 the Danish constitution, Grundloven, was amended, finally granting Danish women the right to vote. This year on 5 June, Denmark celebrates 100 years of women's participation and representation in politics. Numerous events and manifestations around the country will take place to mark the anniversary.
But, although they'd won the right to vote, the fight was not over. What's important to note, according to Dr. Christina Fiig, Associate Professor in European politics and gender at Aarhus University, is that it actually took more than 60 years before even a quarter of the members of Folketinget were women (in 1979). And even almost 100 years later, at the latest elections (2011) the figure stands at less than half (39 %).
By Bente D. Knudsen Pictures: Statsbiblioteket Kvindehistorisk Samling
So is there reason to celebrate? "Yes," Christina Fiig confirms. "Celebrating the 100 year anniversary is important in democratic terms. The right to vote granted in 1915 was the culmination of a decades-long struggle for political empowerment of those in the society who had no democratic rights.  At the time only 15 percent of Danes had the right to vote for parliamentary elections and hold public office. These were men over 30 who were property owners. The rest of the population had no political rights in relation to the parliament, whether men or women. One of the arguments against women's political rights at the time was that women were too immature for political work, so finally getting recognition and equal democratic rights was important. In a way you can say we are celebrating that we got the equal rights 100 years ago, but also that it took us almost 100 years to reach (almost) equal parliamentary representation."
Was Denmark first? "Denmark was one of the first countries in the world to grant universal suffrage to men and women. And the international inspiration to do so came from our neighbouring countries, amongst other Finland, who granted universal suffrage in 1906, and Sweden and Norway. The other Scandinavian countries had granted the right to vote at municipal elections to certain groups of economically independent women such as widows and single working women. This is something all Danish women were granted in 1908."
Interestingly, international dialogue and cooperation had a great impact on the Danish women's voting rights organisations. "The Danish organisations participated in meetings and conferences held abroad, and used the insights and inspirations gained from the American, British and Irish suffragette organisations amongst others. They learned a great deal about using the press and media, and created a press strategy. This was an idea generated after inspiration from the more radical suffragettes abroad who were extremely good at getting press coverage and sought to use it to their advantage. "
On an international scale, how is Denmark performing regarding equal democratic participation, if the status after 100 years is only 39 percent?  "I think Denmark is doing fairly well regarding parliamentary representation, but there are only 30 percent of women politicians in our local governments. However, Danish figures for women's participation on the labour market are top of the class in a European perspective," Christina points out.
Christina suggests that there is an alternative way of looking at democracy to parliamentary representation, and that is where the picture for Denmark changes.  "If we look at the power elite, that is top management positions within the private sector, the percentage of women is quite low, even in a European perspective. This is also the case if you look at the elites of universities, the media, arts and sports. I recently heard that the American Ambassador Rufus Gifford asked the rhetorical question; where are the women? He, of course, as an Ambassador, is part of the power elite and has that as his reference point, but still it does show the Danish dilemma. We also have a significant wage gap between women and men's wages, which cannot be explained by structural differences. "
So, celebrating 100 years anniversary for parliamentary rights and a positive political representation development is all very well, but the struggle is not over? " Of course Denmark is doing well in a global perspective and we should be proud of ourselves and celebrate that, but as I always say, even when making a celebration speech, there is no harm in reflecting also critically on  the present status," Christina concludes.
Important dates
1908 Danish women are granted the right to vote at municipal elections.
1915 on 5 June the constitution is amended granting universal suffrage to all men and women.
1918 at the first general elections with women's participation, four women were elected to parliament, representing 3 percent of its members.
1953 almost 40 years later still only 10 percent of Folketinget's members are women.
1979 a new high is reached as 24 percent of Folketinget's members are women.
2011 Denmark's first female prime minister Helle Thorning Schmidt is elected and the highest rate to date is reached; 39 percent of Folketinget's members are now women.
Denmark celebrates 5 June as Grundlovsdag, the day of the constitution, due to the 1915 amendment.
Dr. Christina Fiig is a political scientist specialised in gender and politics. She is an Associate Professor in European politics and gender at the section for European Studies Aarhus University, Denmark.
Find more information about Danish politics in our Summer issue.
Read more…