Treat yourself to Danish caviar called stenbiderrogn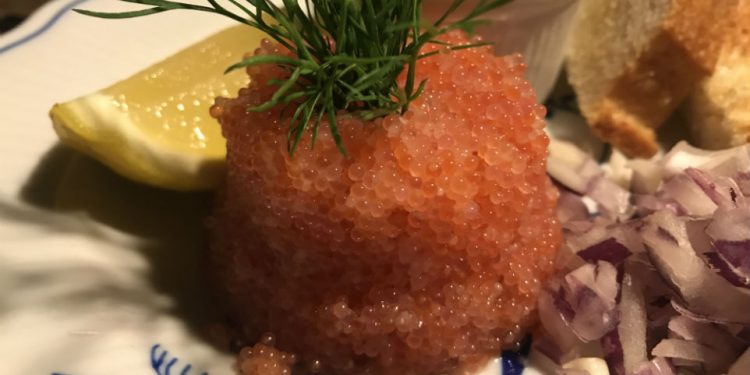 Danish caviar, Stenbiderrogn, is a real treat and a small luxury Danes enjoy either in the late winter or early spring. The season has started late this year.
The article continues below.
By Henrik Stender
During the late winter and early spring you will find many menus using stenbiderrogn in the Danish up-market restaurants.
This year enjoy the delicate, salty and fresh taste of the Danish caviar at home.
The caviar comes from the eggs of the roe of the lump-fish (in Danish stenbider).
The big, bulky and rather ugly fish comes to the Danish waters every year in the late winter and early spring to lay its eggs.
From February until March you will see huge variations in the price, in the beginning, if supply is low, it is quite high, but then if weather permits (meaning more fishing boats sail out to catch them) the supply becomes more abundant and the price goes down.
The article continues below.
When the supply is abundant, prices can droppe to DKK 25 for 100 grams allowing for a real indulgence.
It will only go that low if there is a huge supply and some years that is not the case. We do not yet know what will happen this year, so you just have to keep watch to find out when it happens.
We are not quite there yet, however, prices are coming down to around DKK 80 to 100 for 100 grams if you buy in bulk.
So what are you waiting for?
Indulge in this delightful and luxurious delicacy. The good news? It's healthy as well.
There are a number of recipes, but here I give you my favourite, the old-fashioned version. Depending on your purse calculate from 50 grams per person.
When the price is at its lowest, I always calculate more, as the indulge recipe below reflects!
If you do not have time to make blinis, you can opt for toast instead. Use all the same ingredients and just replace the blinis with toast.
Ask your fishmonger if you should add salt, I sometimes do before serving as it enhances the taste.
It also depends on whether or not they salted it – look for salted or usalted.
You can of course buy them urenset – this means you have to clean them yourself, the price will be cheaper, but it is also more work.
Old-fashioned stenbiderrogn with blinis
BUY  700 g cleaned (renset) Stenbiderrogn ( okay this is the indulge recipe!)
Blinis:
600 ml milk
100 ml crème fraiche
30 g fresh yeast (look for Gær in Danish supermarkets)
1 teaspoon honey
180 g all purpose (plain) flour
180 g buckwheat flour
3 egg whites
3 egg yolks
A pinch of salt
Butter and oil for frying
TIP: You can add spinach to the blinis if you want a more "green" feel to them.
Topping:
4 large spring onions (many people use red onions, but I prefer the spring ones due to their delicate taste)
Dill or chives
Cremefraiche 38 %
The Stenbiderrogn:
Taste the cleansed stenbiderogn, if it is not salty enough, rinse it in cold water, drain the water off, add salt to taste and put it in the refrigerator for two hours before using it (you can cheat and just add salt if you are pressed for time).
Making the blinis is simple ( they are really like small pancakes):
Warm the milk, until 27°C (finger warm), mix in the yeast, add the creme fraiche, honey, egg yolk and the two flours and mix until the dough is firm and smooth. It is easiest to make the dough in a kitchen machine with a dough hook.
Let the dough rise until it has doubled its size, 45-60 mins. While the dough is rising, whip the egg whites and then fold them gently into the risen dough with a wooden spoon.
Heat a frying pan over medium heat and melt butter and oil in the pan. Portion spoons of dough into a hot frying pan and fry them on both sides, until golden brown.
Coarsely chop the spring onions and finely chop the dill and chives.
Serve the blinis with Stenbiderrogn, topped with crème fraiche, spring onions and dill or chives.