Unique opportunity for a FREE experience of the Royal Danish Ballet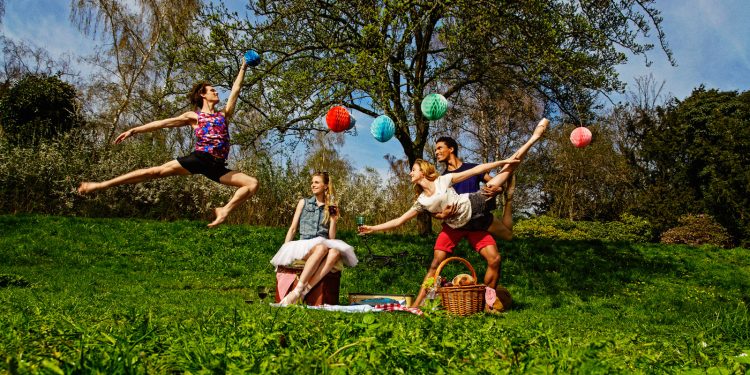 The Royal Danish Ballet's country wide summer tour is a yearly recurring event, where the talented dancers present a selection of the coming season's ballet performances.
By Bente D. Knudsen Pictures: Det Kongelige Teater
You may not be a ballet fan, or maybe you never had much opportunity to explore this art form?
The philosophy behind the yearly summer tour is to do exactly that – to catch an audience who might otherwise not be familiar with what a ballet performance is all about.
The Royal Ballet have early expressed how they find that the tour around Denmark during the summer  makes it possible as a  national institution to reach an audience who might never have been to the Royal Theatre.
It is the effort of the local  resources that make the tour possible enabling the Royal Ballet to give locals around the country an insight into the Royal Ballet's performances at the Royal Theatre in Copenhagen.
The event locations are usually selected so that the audience can make a nice excursion out of it.
If the summer evening is warm and dry, many people go early to get at good spot on the lush green lawns, bringing a picnic or drinks, ready for an evening of free entertainment.
The events are very popular, also because they are free of charge, so expect it to be crowded, go early and make an excursion out of it.
In June 2022, the Royal Ballet's visits begin on 6 June and end on 19 June at the Karen Blixen Museum in Rungsted, a spectacular venue as one of the ballets performed on this year's tour is from the ballet about the life of this famous Danish storyteller, the ballet is called BLIXEN.
A selection of different ballet styles will be presented together with audience favourites such as The Black Swan, The Sylfide, Giselle, Blixen and Got to Dance.
More information about the venues and the ballets performed can be found at the site of the Royal Theatre, unfortunately the page has not been issued in English. Find the link here.
Monday 6 June 2022 at 19.00: Augustenborg Slotspark
Tuesday 7 June 2022 at 19.00: Byparken, Skanderborg
Wednesday 8. juni 2022 kl. 19.00: Krabbes Grønne Ring, Kjellerup
Friday 10 June 2022 at 19.00: Rebild Bakker, Skørping
Saturday 11 June 2022 at 16.00: Resenlund, Skive
Sunday 12 June 2022 at 16.00: Nørre Vosborg, Vemb
Monday 13 June 2022 at 19.00: Anlægget, Billund
Tuesday 14 June 2022 at 19.00: Munke Mose, Odense
Thursday 16 June 2022 at 19.00: Byparken, Korsør
Friday 17 June 2022 at 19.00: Ofelia Plads, Copenhagen City Center
Saturday 18 June 2022 at 16.00: Sydkajen, Nakskov
Sunday 19 June  2022 at 19.00: Karen Blixen Museum, Rungstedlund, Rungsted
No chairs will be put up, bring a blanket or your own chair
You can also experience the dancers' warm up which starts about 1 1/2 hour before the performance ( maybe less crowded)
The performance may be cancelled with very short notice due to bad weather ( rain on the open air stage is dangerous for the dancers as it becomes very slippery)
Support our magazine with a contribution of any size
We hope that you enjoy the information, insights and inspiration that we provide. We are a small team and we would like to keep delivering high quality, interesting articles for you to enjoy and your support will help Your Danish Life to continue to produce relevant content for expats in Denmark.
We do not want to put up a pay-wall, so we need your support and if you find our content relevant and worthwhile, we would value any contribution, however big or small, as a token of your appreciation of our efforts.
How to support:
Transfer any contribution to our bank account at: Your Danish Life/ Danish Expat Media Aps
Danske Bank Account number: 3409 11405673
IBAN: DK68 3000 0011 4056 73
or MobilePay to 2144 1224
Message: Support