What's on in February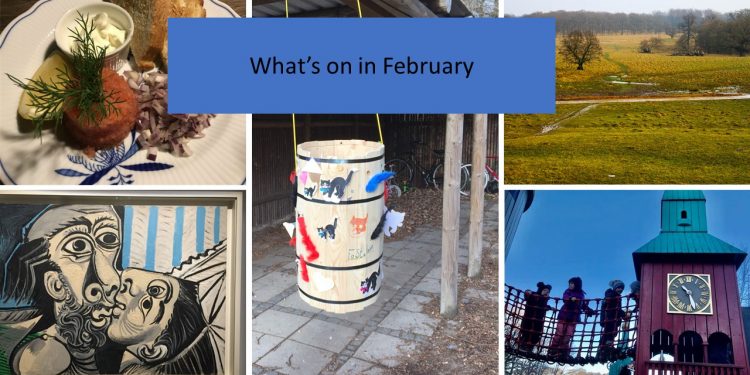 What's on in February? Find a few tips for things to do here.
February should be the last winter month and usually brings some frost and sometimes snow.
This year nothing much of that kind seems to be in the long-term forecasts. It may at times even be more like late March, at least temperature wise.
Find here a few tips for what's on this month.
1.
The winter break from 8 to 16 February means that many museums and other attractions will be open and full of child friendly activities, many of those normally closed on Mondays will stay open on the 10 February. You can find ideas for things to do with children that will not make you break the bank in our winter break article.
You could also visit Aarhus, here the semi open-air museum, Den Gamle By in Aarhus follows the seasons and winter games feature high on the agenda during Danish vinterferie. Mostly indoors though. There is a special winter workshop where children can learn to make their own night lamp, used to visit the privy when it was dark.
2.
Again, this year, Tivoli is open for the winter season, until 23 February delight in this magical Copenhagen winter garden.
3.
From the 1 of February until the end of the month the Copenhagen Light Festival takes place.
Make the most of the long nights by experiencing the amazing Copenhagen Light Festival. No need to join a tour, you can pick out the installations you'd like to see and take the children on an after-dark walking tour of their city.
4.
Starting 6 February and running on the 29 February the annual winter jazz music festival brings jazz in all shapes and sizes to Copenhagen and many other venues across the country. More than 600 concerts at 150 different venues ranging from concert halls to bars, hotels and churches. More information at www.jazz.dk
5.
SMK, Statens Museum for Kunst, free entrance from 16:00 until 22:00 on Friday 7th February to the vernissage of the new special spring exhibition as they turn the popular Friday Bar into a vernissage. The first 1,000 guests will get free bubbles. The spring exhibition features the female artist Anna Ancher, married to renowned Danish Skagens maler, Michael Anker. The couple were part of a surprisingly modern group of both male and female painters, also known as the "impressionists of the north".
Anna Ancher (1859 – 1935) was the only one who grew up in Skagen. Before Anna got married she found a private teacher in Copenhagen, who believed she was truly talented. Some of her paintings can be compared to the work of the French impressionists in the way she puts light into her colours.
At that time it was not possible to gain access to the Danish Academy of Art as a female artist. In her paintings, Anna represented daily life and she drew on experiences from friends and family. Her favourite subjects were found in her near surroundings; the home, the world of women and children. Read more about the Skagen's painters in our article here.
6.
If flea markets are your thing take advantage of the one running the 15 and 16 February in Valby hallen where more than 200 stalls with vintage articles are there for you to peruse. Open from 10:00 to 16:00.
7. Revisit the world of Grease, the movie with John Travolta and Olivia Newton John when Your Danish Life invites to their first reader event in collaboration with MovieHouse in Hellerup.
On 25 February, join the "coffee movie morning" at 9:30 to 12:00, ticket price will include a hot drink. This is your chance to see this iconic feel good music movie on a big screen in soft cosy seats. Stay tuned for more information at www.yourdanishlife.dk
8.  Free classical concerts on Wednesdays.
With more than 200 concerts a year, The Royal Danish Academy of Music is one of the largest concert givers in Denmark. A great many of their concerts are with free admission, for instance what they call their Wednesday concerts, Onsdagskoncerter.
If you enjoy the delightful piano of Chopin and Schumann do not miss the free concert on 26 February from 17:00 to 18:00 at Stefanskirken, Nørrebrogade 191, Copenhagen N. The concert is free. Check out their vast concert calendar here: www.dkdm.dk/Det-sker/Kalender
The article continues below.
9.   At the museum Arken in Ishøj just south of Copenhagen, last chance to see the exhibition (it runs until 23 February) created in close collaboration with Musée national Picasso-Paris presenting a total of 51 works by Pablo Picasso, including paintings, sculptures, drawings and prints, many of them masterpieces from the museum's collection. An amazing insight into the art and passions of Picasso, whose life (and art) it seems would have been nothing without his models.
Enjoy the passionate story of Pablo Picasso whose inspiration came from his five beloved and strong models; Olga Khokhlova, Marie-Thérèse Walter, Dora Maar, Françoise Gilot and Jacqueline Roque.
More info here 
10.
In the heart of Copenhagen, a few minutes from the Central Station, you will find the Ny Carlsberg Glyptotek. Ideal for the discerning art critic or just a casual family outing, the Glyptotek is a fantastic spot to spend an afternoon.
Although free entrance until the age of 18, adults are paying, however on Tuesdays the entrance to the museum's permanent exhibition is free (DKK 60 for the special exhibition running at the moment Palmyra).
11.
In 2020 Fastelavn is officially celebrated on Sunday 23 February. Further south it is the carnival season, with the more famous ones taking place in Italy – amongst other in Venice.
In Denmark it is mainly a family affair, with children looking forward to dressing up and getting their share of the buns – fastelavnsbolle – and candy inside the barrel.
It is called "slå katten af tønden" – bashing the cat in the barrel until it falls apart. Rest assured these days there is no cat inside. Find places to bash the barrel in our article here.