Reader Event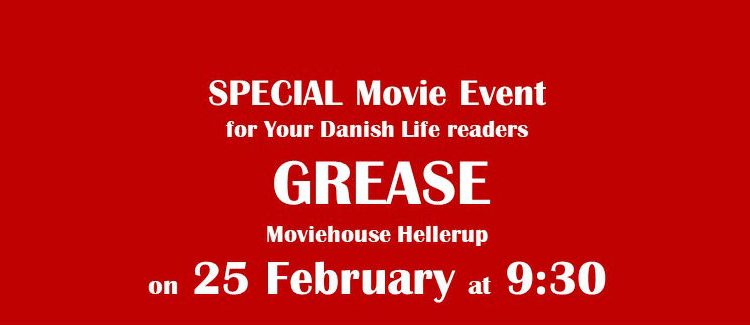 JOIN US for the special screening of GREASE on 25 February
Looking for something hygge to do on a winter morning in February in Copenhagen?
We'd love you to join us for a special Your Danish Life movie event on Tuesday 25 February at 9:30 at MovieHouse Hellerup to revisit the enjoyable sugar-rush musical movie, Grease.
Your Danish Life has secured a private screening of the 2018 Grease rerelease, which celebrates this nostalgic rock'n'roll high school musical's 40th birthday.
The ticket price includes a hot beverage prior to the movie, so bring a friend (or make a new one), enjoy a coffee or tea, and sit back and enjoy the music and dancing in the exceptionally comfortable chairs of the amazing MovieHouse cinema.
Location:
Moviehouse Hellerup (on top of the Experimentarium), Tuborg Boulevard 10, 2900 Hellerup
When: 25 February from 9:30 to 12:00 Price: DKK 120 including coffee/tea
HOW TO GET TICKETS:
MOBILEPAY: DKK 120 per person to 2144 1224, with "Grease" as the message, and we will have your ticket ready for you when you arrive. PS: The mobil pay number will say Bente D. Knudsen (our Editor in chief) as we are still working on securing a mobilepay number for Your Danish Life.
BOOK AT MOVIEHOUSE: Follow this link to buy tickets through the MovieHouse booking system http://www.moviehouse.dk/OrderMovieTicket.aspx?showId=9661