Make your voice heard – Vote at the Danish Municipal Elections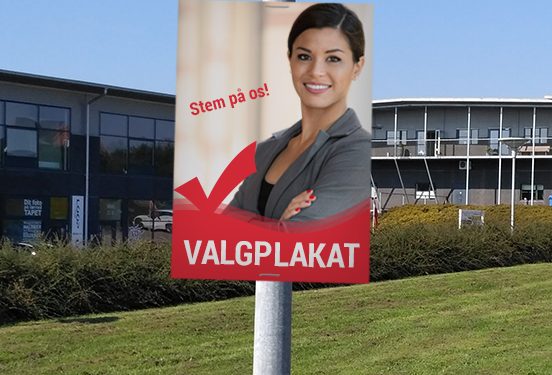 Are you an EU citizen or have you been living in Denmark for more than three years? If you can answer yes to either of these questions, than as a foreigner living here, you can vote at the coming local elections.
By Bente D. Knudsen  Picture: Elephant print election poster sample
In Denmark five regional and 98 municipal councils run the 5 regions and 98 municipalities. Every four years, Danes vote on a fixed date for the local candidates they want to represent them in them.
Since 1970, the turnout for the local elections has been stable at around 70 percent according to Kommunernes Landsforenings statistics.
The next municipal and regional elections will be held on Tuesday 21 November 2017.
Any citizen can become an independent candidate if they collect enough significant signatures among the electorate, normally 25 signatures are enough, in the larger cities more are needed- in Aarhus, Odense and Aalborg municipality a candidate needs 50 and in Copenhagen 150.
However, most candidates come from local divisions of national parties and thus compete for representation in the municipal and regional councils.
It is not possible to vote directly for the municipal mayor, as they are elected indirectly by and among the members of the municipal council once the council has constituted itself after the election.
The article continues below.
As a foreign national you are entitled to vote under the condition that you are above the age of 18, are an EU citizen (or if you are a non EU-citizen that you have been living in Denmark for more than 3 years), and that you have a permanent address and a CPR number.
If you fulfil all of these conditions, you will automatically be put on the election list (valglisten) and you should receive your poll card via mail about a week prior to the election day.
Your poll card will tell you which polling station you belong to – typically the nearest local school or sports hall in your area.
Whom to vote for? You can either vote for a candidate or a party, but not both. Posters with local candidates indicating their party of affiliation are allowed to be put up from the fourth Saturday as of 12:00 prior to the election date. This means that you can see the local candidates in your area as of the 28 October.
You can read more about the Danish political parties in our article here on the Danish political system.
The article continues below.
At the polling station, you have to present yourself at the voting table indicated on your poll card, so do remember to bring your poll card. You may be requested to give not only your poll card but also your name, address and/or date of birth.
If you have not received your poll card, or you have forgotten to bring it to the polling station, you can still vote and you will be asked to identify yourself by some form of documentation, so bringing your passport, driver´s license or other photo ID can be a good idea.
You will be handed one ballot paper for the local municipal election and one ballot paper for the regional election, as they are represented by two distinct councils.
Take note that voting takes place in the voting booth and that only the voter can enter, so your children will need to wait outside without you should you bring them.