Royal Run, started by Crown Prince Frederik, takes place on 20 May 2024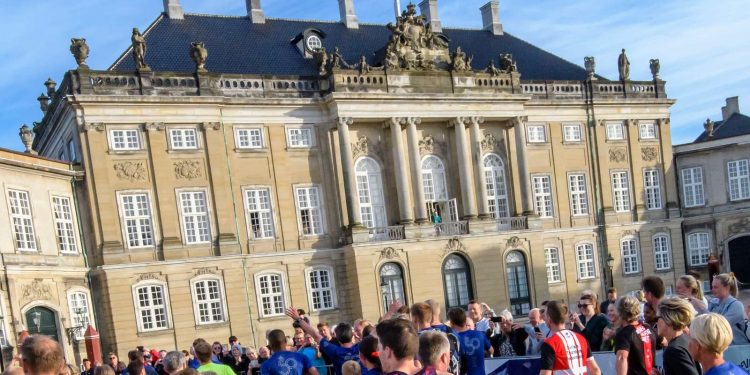 Royal Run was just supposed to be a celebration for his 50th birthday but has since become an annual event which appeals to thousands of Danes. Sign up for 2024 is now open.
The article continues below.
By Bente D.Knudsen   Pictures: Royal Run, Lars Møller and Matthew James Harrison, Aarhus Inger Stokkink
The recurring event takes place in the late spring and has become a great hit amongst the Danes with close to 95,000 participants.
The event features the whole Crown Prince family as well, each participating at different locations ,usually Crown Prince Frederik does a one mile run somewhere in Denmark as well as a 10 km run in Copenhagen/Frederiksberg and Crown Princess Mary runs a 5 km race.
The article continues below.
Royal run takes place within three categories depending on location:
One mile (1.6km) in all locations
5 km (in selected locations)
10 km in all locations
In 2018, the first time the event took place, a total of 70,575 participated in five cities.
Royal Run is organised by the NOC & Sport Confederation of Denmark, DGI and the Danish Athletics Federation as part of the ambitious "Bevæg dig for livet" (Move for Life) campaign. Royal Run is supported by Nordea-fonden and TrygFonden with TV2 as the media partner.
This year the Royal Couple will split up to enable royal participation in five Danish cities Copenhagen/Frederiksberg, Brønderslev, Aarhus, Fredericia and Kalundborg.
Where the Crown Prince runs is not yet official but he usually ends with a 10 km in Copenhagen and Frederiksberg: The Crown Princess usually runs in two cities outside of Copenhagen..
When and where the royal children will participate has not been announced and is only known on the day itself.
You can sign up at www.royalrun.dk, only in Danish, as there is no English language option.
Want to know more about the Crown Prince? Read on below.
The article continues below.
As the firstborn son his place in life was decided with his first breath on the 26 May 1968; when his mother passed away he would be the future King Frederik of Denmark.
This knowledge affected him all through his childhood and early adult years.
To those surrounding him, and to the watching media, it was obvious that he did not want to be that person.
In numerous books and interviews, he has explained that the turning point (for him) came when he completed the physically and mentally demanding education as frømand, frogman as the Danish naval special forces (equivalent to the US Navy Seals) are called.
In this service everyone has a nickname, and his was Pingo. He almost didn't make it and no special treatment was accorded to the royal applicant. Here he had to do it on his own. And he did.
Another turning point, and one the Danish Crown Prince is quite open about, was his meeting with Australian Mary Donaldson – the present Crown Princess Mary – at the Sydney Olympic Games in 2000.
The article continues below.
His desire to be just another regular guy has meant that he – in his role – has always wanted to be the people's Crown Prince. This was illustrated last year with the Royal Run, which brought him close to Danes as he ran along with them in five Danish cities.
You can also just chance meet him, when he for instance goes to the coffee shop Kafferiet just around the corner from his palace – much to the surprise of other early morning coffee-buyers, to get his coffee himself.
Or when he tries to get through the palace door with his bicycle and fiddles with his keys like the rest of us as one expat related of his chance meeting with Crown Prince Frederik.
Before settling down with wife and children, he says that he had many considerations and thoughts about how he wanted to bring up his own children, saying quite honestly that his children would be brought up quite differently than the the way he and his brother Prince Joachim had been.
They spent most of their time on the fourth floor of the palace with their nanny. His children are all over the palace he explains in the book  " Under Bjælken".