A festival focusing on the importance of our homes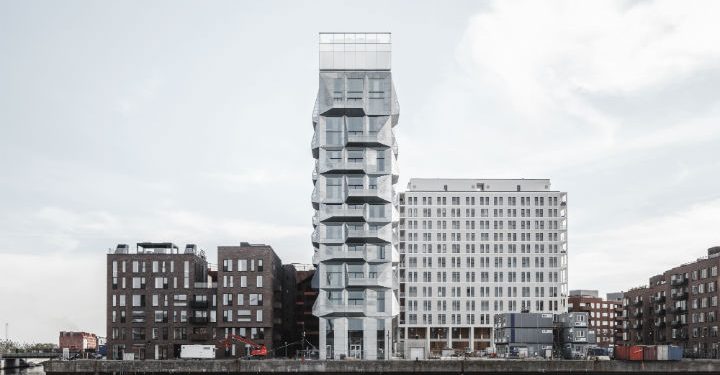 The Copenhagen Architecture Festival, CAFx, embarks on its fifth edition on 3 May. This year, the program's theme, HOUSING HOMES, touches on subjects that are well known to most expats – those of home, housing and belonging. Find here our guide on what not to miss.
The article continues below.
By Bente D. Knudsen
The festival was originally started with the aim of expanding what architecture is, and can do, exploring how it influences our lives and world, and how our lives and world affect it.
Through film screenings, exhibitions, lectures, debates, city walks, bicycle tours, workshops, conferences, and more, CAFx strives to become a platform where some of the most important topics and challenges of modern day living can be raised, explored and discussed. The program thus strives to create new encounters between the city(cities) and its (their) inhabitants. Everyone is welcome to participate.
This May, you can explore areas of Copenhagen you might never otherwise have set foot into, visit the headquarters of some of the most known Danish architects' offices, join the debate on affordable housing in Scandinavia or take part in a scavenger hunt!
Here is our selection of events for expats living in Copenhagen. All the events are in English (the dinner will be in "universal language").
The CAFx festival runs for two weeks from 3-16 May in Copenhagen, Aarhus, Aalborg and Odense.
The article continues below.
FREE OPEN AIR SCREENINGS AT VIDEOMØLLEN
Together with DR K and Videomøllen, CAFx invites you to four open-air screenings in Nørrebro at Videomøllen, Sankt Hans Gade 10.
1) 4 and 5 May at 21.30: Getting Frank Gehry
Drawing on a life's work defined by controversial and groundbreaking ideas, the world's greatest architect creates his first Australian building in Sydney – where debate already rages over whether it will be eyesore or icon.
2) 5 May at  21.30: Citizen Jane – A battle for the city
Writer and urban activist Jane Jacobs fights to save historic New York City during the ruthless redevelopment era of urban planner Robert Moses in the 1960s.
3) 10 May at  21.30: Big Time – a film about Bjarke Ingels
Big Time follows Bjarke Ingels during the course of seven years (2009-2016), while he struggles to finish his biggest project so far. We are let into Bjarke's creative processes as well as the endless compromises that his work entails.
4) 11 May at  21.30: How Much Does Your Building Weigh, Mr. Foster?
The film traces the rise of one of the world's premier architects, Norman Foster, and his unending quest to improve the quality of life through design.
Venue: Videomøllen, Sankt Hans Gade 10, Nørrebro
Dates:  4 to 11 May
 Conference: The future of affordable housing in Scandinavia on 14 May at 8:30
This one-day conference compares experiences and experiments from housing estates in Denmark Norway and Sweden in a dynamic past, present and future perspective.
Nordic experts of different disciplines will discuss how post-war housing estates were designed as avant-garde welfare architecture and 'social engineering', physically framing the residents' everyday life from cradle to grave.
Also experiences with renovation, rethinking the existing housing estates from the post-war period in relation to new ideals, values, demographics and needs will be discussed. And the conference will look at new designs and concepts of affordable housing, considering new needs of housing with a different mix of residents and new family patterns including experiments with co-living, sharing facilities, etc.
Venue: Bygningskulturens hus, Borgergade 111
Date: 14 May 8:30
Goodnight Brooklyn, the story of death by audio
A deepfelt documentrary on the origins, community, influcene and closure of one of Brooklyn's best DIY venues in the shadow of gentrification.
Every city needs a place like this one: a spacious home for uninhibited creativity, underground music, and rebellious art. For nearly a decade, Williamsburg Brooklyn had Death By Audio, a venue and sanctuary for musicians and emerging artists. It doubled as a commune for a dozen residents, with no rules and plenty of noise. The building DBA inhabited was taken over by media outlet "Vice". Instead of supporting the venue the powerful interests behind Vice pushed them out. The last month is emotional and rich with innovative music and art as this community works to exit on their terms, before their space gets demolished.
Venue: Cinemateket, Gothersgade 55
Date: 4 May at 21:00
Conference. New demographics, new housing needs
Cities are currently undergoing dramatic demographic changes that have a significant impact on urban society as well as housing demands. The different housing needs of household types vary tremendously according to the age, family structures and profile of the population. Many Europeans are currently searching for more flexible and affordable types of housing. In Scandinavia, society is faced with questions of how to satisfy the needs for welfare, health care and nursing for the growing number of seniors who depend on social services.
The conference aims to provide a platform to reflect and discuss current housing needs vs changing demographics in Scandinavia from different perspectives and with an intention of creating diverse and inclusive future housing typologies
Venue: Fæstningens Materialgård Bygning A, Frederiksholms kanale 30
Date: 7 May at 09:00
Long table dinner at the city's greenhouse
A 3-course biodynamic long dinner table at the city's Frederiksberg greenhouse. The house is built on urban ecological principles to inspire and convey ecology to the city's citizens. The environment is protected with waste sorting, water conservation, water recycling, energy savings, alternative energy, composting,  natural ventilation and material selection. Experience, eat and listen to how the house works as the city's greenhouse.
Venue: Det økologiske inspirationshus, Allegade 7
Date: 16 May at 18:00
Talk in Danish / Dinner in Universal language
Langbordsmiddag i Byens Grønne Inspirationshus med Jytte Abildstrøm
ANDEL 1.0
Public workshop to co-design the andelsbolig of the future, a collaboration with in-between economies and the international architectural offices Doma and Uutropian.
A century ago Denmark gave us the first collective housing model – andelsbolig. With cities around the world crippled by inaffordability, perhaps it's time to turn our gaze back. Designed as an alternative form of ownership, andels promoted collective financing, operation and maintenance, supported by fair distribution of risk and responsibility amongst its members. Sounds sensible enough. So why don't we produce homes like this today?
We use public funds to build public space all the time, channelling tax money into livability. We do this because we view it as shared infrastructure. What might shared infrastructure for private space look like? Join in for an evening of co-creation at Kvarterhuset, with local and international speakers, and help define the parameters for Andel 2.0.
Venue: Kvarterhuset, Amager i Salen, Jemtelandsgade 3
Date: 7 May at 17:00
The event is free, just sign up.
COLUMBUS
A sweet story of friendship between an odd couple, beginning in the meeting with the great modernist architecture of Columbus, Indiana.
While his father is in a coma, Jin finds himself stuck in an unusual Midwestern city renowned for its modernist buildings. Though not fond of architecture, Jin strikes up a friendship with Casey, a bright girl who works at the city library (avoiding college and her future), and she shows him the local marvels.
With a curious intimacy reserved for strangers, Jin and Casey explore both the town and their conflicted emotions.
Kogonada's debut feature unfolds his atmospheric style with gorgeous tableaux that elegantly incorporate the city's architecture. Columbus is a lyrical meditation on spiritual spaciousness-and on being in the modern world.
Venue: Grand Teater, Mikkel Bryggers Gade 8
Date:  6 May at 19:00
A wonderous walk in Kødbyen, the meatpacking district
Imagine you found a notebook. Your curiosity doesn't allow you to just return it. You want to know what is inside and whom it belongs to. When you finally open it you realise that somebody is playing a game with you.
During the puzzle walk, you will get a chance to explore the crooks and nooks of  Kødbyen and uncover intriguing stories about its development. It won't be that easy though! Prepare to be challenged by the tricky puzzles that can be solved only if you work together.
Practicalities
• When you buy the ticket, you will get a mail with an address and a puzzle from where you will pick up the package.
• The pick up time is Mo-Fri from 16:00 to 22:00 / Sat-Sun from 14:00 to 22:00
• The game is designed for groups of 2-4 persons/ designed for adults, but children are welcome to join with adults.
• The game takes between 1.5 and 2 hours. Played anytime – we recommend to due while there is still daylight.
• The event will be in English
• Price: 2 persons DKK 180 /3 persons DKK 240 / 4 persons DKK 360.
Venue: Kødbyen
Date: 3 May from 11:00
A documentary on the Canadian Da Vinci, the mathematician and violinist Jim Steward and his unconventional Dream House.
He decided against Frank Gehry, considered Rem Koolhaas and ultimately chose two young architects that would come to influence contemporary architecture. Jim Stewart is the most published mathematician since Euclid, a concert level violinist, calculus professor, philanthropist and a gay rights activist. He is a true polymath, a modern day renaissance man.
It took almost 10 years to realize his dream, the Integral House, which was completed in 2009. Designed around a stunning concert hall, it was hailed as a masterpiece by some of the greatest architecture and design critics in the world. Integral House, like Jim, was unlike anything else.
Venue: Cinematektet, Gothersgade 55
Date: 10 May at 16:45