Koldskål with kammerjunkere – a summer delicacy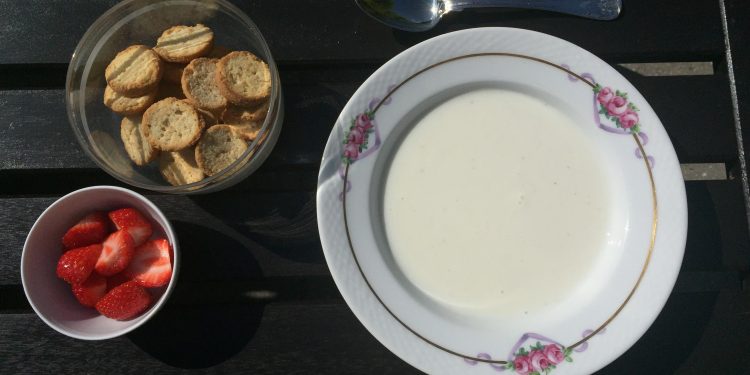 There is nothing more Danish than enjoying a bowl of koldskål with kammerjunkere in the summer.
The article continues below.
By Susanne Simmons Kee
As the weather gets warmer, certain Danish treats start reappearing in stores.
While enthusiastic chefs and bakers can make their own koldskål and kammerjunkere, you can find excellent ones premade at your local grocery.
Premade koldskål has been around since 1979 and is extremely popular.
On average Arla for instance sells 2.7 million litres during the month of May. If the month comes with record warm weather as it did in May 2018 sales can go even higher, at the time they went up one million to 3.8 million litres.
When it is warm outside, Danes certainly top up on this summer delicacy.
Koldskål or "cold bowl" as it the literal translation, has a sweet buttermilk taste, usually with hints of vanilla and lemon, and a thick soup-like consistency.  At the grocery you will find it in a carton among the yogurts and milks. The base of koldskål is kærnemælk and tykmælk, varying forms of Danish buttermilk.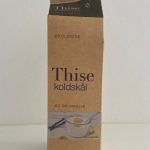 Kammerjunkere are small sweet dense cookies. These can also be found at your local grocery store or bakery.
The article continues below.
Recipes for both koldskal and kammerjunkere can be found easily online.
The kammerjunkere are usually served in a bowl of koldskål. Fresh fruit or berries are often added as well, in May and June usually Danish strawberries as they are in season during these months.
The tangy koldskål mixes well with the crunchy sweetness of the kammerjunkere and is especially refreshing on a hot day.
It can be eaten as a snack, dessert, or sometimes as the meal itself.  If you haven't tried this Danish dish yet, definitely give it a go this season.
Support our magazine with a contribution of any size
We hope that you enjoy the information, insights and inspiration that we provide. We are a small team and we would like to keep delivering high quality, interesting articles for you to enjoy and your support will help Your Danish Life to continue to produce relevant content for expats in Denmark.
We do not want to put up a pay-wall, so we need your support and if you find our content relevant and worthwhile, we would value any contribution, however big or small, as a token of your appreciation of our efforts.
How to support:
Transfer any contribution to our bank account at: Your Danish Life/ Danish Expat Media Aps
Danske Bank Account number: 3409 11405673
IBAN: DK68 3000 0011 4056 73
or MobilePay to 2144 1224
Message: Support