A perfect lunch on a Danish winter's day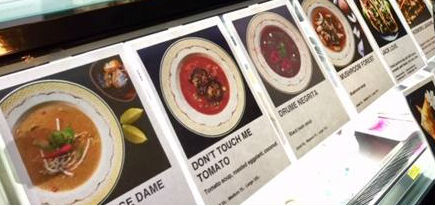 Looking for a nice place to have a wholesome meal? Then try out the pop-up soup eatery with the rather peculiar name, The Caribbean Housewife.
The article continues below.
Pictures and text by Pippa Thomsen
In Vesterbro, a few minutes' walk from the meat packing district and from Copenhagen Central Station, The Caribbean Housewife is a soup bar serving wholesome and delicious vegetarian and vegan soups – the perfect lunch on a Danish winter's day.
The menu is short and simple: soups inspired by the tastes of the West Indies, Central and South America, plus salads, breads and some more substantial meals such as Chili sin Carne.
When we visited the tiny cafe on a bright sunny January lunch time, pao de queijo had just been put into the oven, filling the place with the mouth-watering smell of freshly baked Brazilian cheese bread.
We ate Don't Touch Me Tomato soup, a smooth tomato and coconut soup, with roasted aubergine, spiced to our taste; Drume Negrita soup, made with black beans, tomatoes, padron peppers, avocado and coriander, which was hearty and filling.
So many things on the menu looked good that we couldn't only try soups!
The article continues below.
We then moved on to pupusas y curtido. A pupusa is a dense savoury corn tortilla and is typically served with curtido – a mix of fermented vegetables from El Salvador – on top.
The pupusas were freshly made and quite different from anything I'd tried before.
Pudding was fried plantain with coconut and syrup – hot and sweet and so good that it was gone in about 30 seconds!
We left with bags of hot pao de quiejo, – meant to be for our children's after school snacks – I managed to save about half the bag for them and popped across the road to Kaffe og Vinyl, an achingly cool (yet warm and toasty) coffee shop, also selling old and new records, for a post lunch coffee.
The chef of The Caribbean Housewife, Jamain Brigitha, shares her cafe with Siciliansk Is so don't leave it too long to visit – soup season ends on 29 February when the cafe changes to an ice cream bar.
Food can be ordered online so that it's cooked to order and ready for pick up at the time you choose. Jamain also caters private events.
The article continues below.
Open ONLY until 29 February 2020:
Wednesday to Sunday from 12:00-20:00
Location:
Skydebanegade 3
1709 Kobenhavn V
More information: www.thecaribbeanhousewife.com