A thrilling decent along Copenhagen Harbour: Mountainbike Slopestyle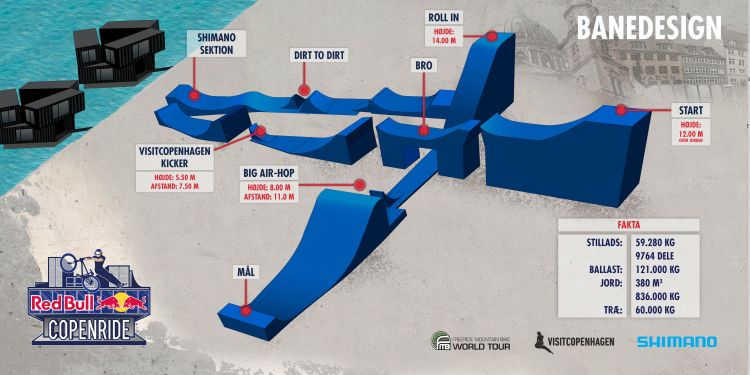 Enjoy the thrilling decent when Red Bull Copenride comes to town on the 13 and 14 August. The event is a free entrance for all who can present a valid coronapass.
The article continues below.
By Bente D. Knudsen  Pictures: Red Bull Copenride PR
The mountainbike slopestyle event is a first in Denmark but has previously taken place in Germany where the cover picture in this article is from.
If you have never heard of the Red Bull Copenride this may be a unique opportunity to experience it.
Mountainbike slopstyle is a discipline which resembles downhill moutainbiking but it has less focus on speed and distance and more on creative descents where the riders are evaluated on their style, height of jumps and control of their bikes.
The article continues below.
A total of 5,000 spectators at a time can watch when the 20 best MTB-sloperiders decend the MOUNTAIN built along Copenhagen's harbour front. The slope-style mountain will be built between the food hall at Reffen and the small restaurant at La Banchina on Reffshaleøen.
On the 13 of August, the big open air competition Shimano Best Trick takes place with 20 riders presenting wild tricks on the biggest jump at the Red Bull Copenride track. Here they will present their most creative and thrilling tricks.
On the 14 of August, they will compete in the main competition Red Bull Copenride and here the best slope rider will be found amongst the 20 riders.
Friday 13 August: Shimano Best Trick
17:00 Doors open (the free places are awarded on a first come first serve basis)
18:00 Riders warm-up
18:30 – 19:30 Shimano Best Trick runs take place
Saturday 14 August: Main competition
16:00 Doors open and qualifications take place (the free places are awarded on a first come first serve basis)
17:50 Riders warm-up
18:00 Pre-show
18:20 – 19:30 Runs take place
19:30 Winner is cheered
Practicalities: Spectators are divided into two sections where they must remain. Each section has access to all facilities such as drinks, snacks, and restrooms.
Stay updated about the event and corona restrictions at the Facebook page of Copenride.
Support our magazine with a contribution of any size
We hope that you enjoy the information, insights and inspiration that we provide. We are a small team and we would like to keep delivering high quality, interesting articles for you to enjoy and your support will help Your Danish Life to continue to produce relevant content for expats in Denmark.
We do not want to put up a pay-wall, so we need your support and if you find our content relevant and worthwhile, we would value any contribution, however big or small, as a token of your appreciation of our efforts.
How to support:
Transfer any contribution to our bank account at: Your Danish Life/ Danish Expat Media Aps
Danske Bank Account number: 3409 11405673
IBAN: DK68 3000 0011 4056 73
or MobilePay to 2144 1224
Message: Support