A very special treat for his birthday – the carriage ride through Copenhagen today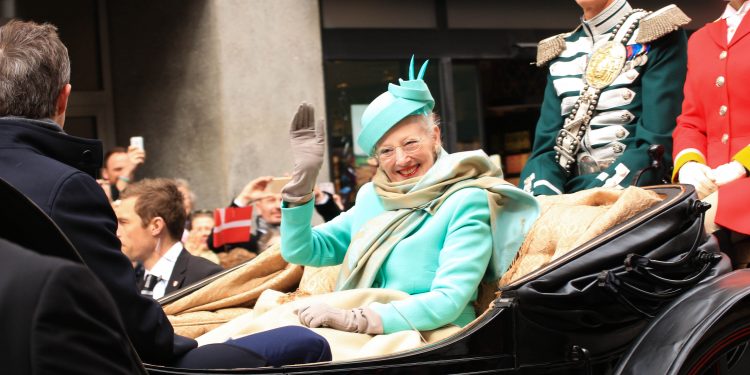 DMI announces fairly dry weather, so the choice of carriage will probably be made at the last minute – it could be open and it could be closed. Either way, it is a unique event.
The article continues below.
By Bente D. Knudsen Picture: Hisham Ammar
The last time the crown prince couple travelled through the main streets of Copenhagen by horse carriage was when Queen Margrethe celebrated her 75th birthday and invited them to join her as the late Prince Henrik was not well enough to take part, as he usually did.
The Crown Prince Couple will be picked up at 19:30 from their home at Amalienborg Palace and taken through the streets of Copenhagen by horse carriage accompanied by the full squadron of the mounted Gard Hussar Regiment – about 45 riders.
On the 26 May they will leave Amalienborg Palace at 19:30 and ride through the streets of Copenhagen from Amalienborg through Frederiksgade, Bredgade, crossing Fredericiagade, Store Kongensgade to Kongens Nytorv.
From here they will continue down the pedestrian street Strøget until they reach Højbro Plads from where they will continue through Kirkeløngangsporten and into Prins Jørgens Gård to drive through the Queens Gate, Dronningeporten at Christiansborg Slot at about 19:50. You can see the full route here
The article continues below.
At Christiansborg a large dinner party with guests from Denmark and abroad are invited in what in Danish is called a Galla taffel.  This means that everyone should be in their absolute finest – and women are allowed to wear tiara's and a matching set of jewellery .
If you have never seen the beautiful jewellery of the Danish royal family  – all old heritage pieces from the 18th century – that in itself is a beautiful spectacle.
Danish television TV 2 will be transmitting from the event, both before the dinner starts to show the arrival of guests and the royals,  as well as during the dinner and the speeches.
They do not transmit while meals are served, as royals are not supposed to be filmed while eating!
The carriage ride through the city for special occasions is an old tradition, and one which also took place when Crown Prince Frederik turned 18, as well as in 2004 at the wedding of Crown Prince Frederik and Mary Donaldson.
If you want to just see the escort and horse-carriage, they will be leaving from the Royal Stables at Christiansborg Slot at 19:10 to be ready at Amalienborg  for the pick-up at 19:30.
You are welcome to visit them outside the stables at Christiansborg Slot – there will be a lot of activity in front of the stables – however there will be no access to visit them inside.
The access to the Royal Stables' Museum will be closed during the visit of the "house guests".