Advent Calendar time – get yours from Social Foodies this year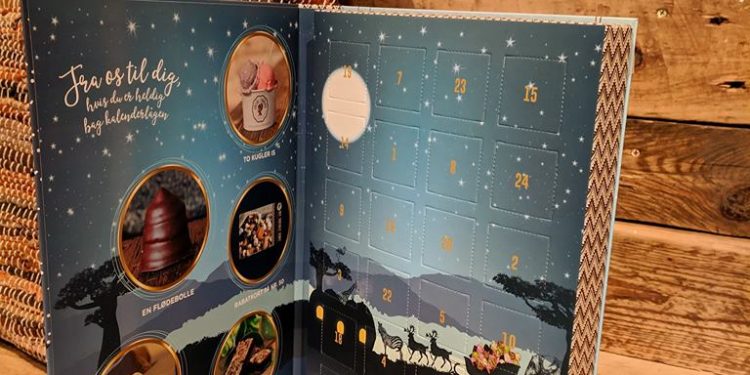 As the time arrives when we are again on the lookout for an advent calendar, one of the new ones which caught our attention, is the beautifully crafted sustainable Christmas advent calendar from Social Foodies, top that with it being the type of calendar that is good for your soul, it's a win/win situation.
The article continues below.
Text and pictures by Sehrish Haq
Here's how it started: I was at one of the Social Foodies stores in Vedbæk, when this most beautiful item caught my attention.
It looked more like a something you would proudly display on your coffee table rather than just an advent calendar.
Usually, an advent calendar is just a small cardboard box with 24 little doors filled with a piece of chocolate that children (or adults, Peter Pan Syndrome is real!) open a day at a time leading up to Christmas Day. But no, not this calendar.
Not only does it contain 48 pieces of chocolate, it has special treats behind 5 doors, treats that can be collected from any of the Social Foodies shops.
The calendar itself looks more like a gift box, once all the doors have been opened, it can become a beautiful memory box, where your children can store their gastropod shells, seashells, conkers, acorns, twigs, rocks or whatever they like to collect, but that's not all. This is more than just an advent calendar.
As I was admiring the calendar, someone tapped on my shoulder and asked me if I wanted to know more about the product:here is what I learned.
The back story:
To make these Christmas Advent Calendars, Social Foodies teamed up with FRAK, an NGO in Denmark that works with vulnerable youth from the Nørrebro district.
As the idea of making a calendar together was borne, the team at Social Foodies offered to create jobs and experiences that are not easily available to these young people together with their chocolate factory, CocoaFair Factory, in South Africa, which hires staff from the townships of Cape Town.
The advent calendar project created jobs for an additional 26 people for 26 days in Cape Town, where the chocolates were made, and jobs for the youths from Nørrebro, who helped with the final packaging and getting the calendars ready to be sold in the Social Foodies stores and through their online shop.
The profits from these calendars will go towards creating more projects like this.
As the year comes to an end, by buying such a calendar consumers can help these small organisations make a big difference in the lives of people who need it the most. Social Foodies has many such projects throughout the year in both South Africa and Denmark, focusing on helping locals with jobs and education.
The calendars are now on sale at the Social Foodies stores in Ordrup, Hellerup, Lyngby, Vedbæk, Østerbro, Frederiksberg, Århus, and also online, for DKK 269. Get yours today before they are sold out. More information here:
Here's to a sustainable Christmas!
This article was made in cooperation with Social Foodies.