ÆRØ – worth a visit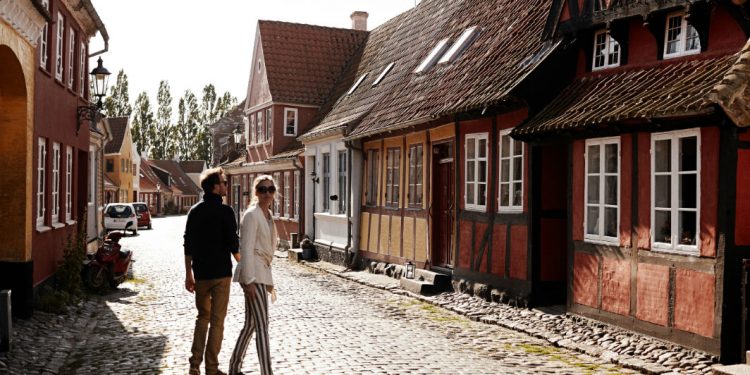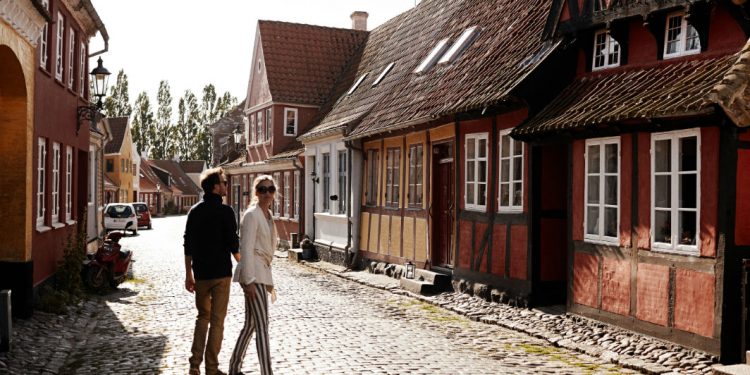 A proud maritime tradition, magnificent scenery, picturesque houses and multiple sporting opportunities make Ærø a captivating place.
The article continues below.
By Adriana Alcina   Pictures: Visitdenmark, Kim Wyong
One of the islands in the Funen archipelago, Ærø can only be reached by sea and during the spring breaks and summer holiday it is strongly recommended to book the ferry crossing in advance
Besides its natural beauty, Ærø is blessed with a mild climate and more hours of sunshine than the national average, making it pleasant to visit all year round.
A tour of the most enchanting and vibrant places the island has to offer its visitors starts from Søby on the northern part of the island with the historical Skjoldnæs lighthouse.
Go inside the lighthouse and climb up the steep, tiny stairs; from the top, you will be rewarded with wonderful views of the island.
Continue on your way to Ærøskøbing, passing through pastoral landscapes dominated by hills and farms, along with scenic wind turbines.
Don't miss the beautifully restored Manor House at Søbygård. Also known as the island's "castle", part of the Ærø Museum, it holds collections from the market town, maritime and agricultural environments. Afterwards, cycle or drive to the impressive moraine cliffs at Voderup, also an ideal spot for a relaxing picnic.
Ærøskøbing with its cobbled alleys, well-preserved 18th century houses and colourful little beach huts is a must for all visitors.
This fairytale town has managed to retain its urban landscape intact, and it represents the historic centre of the island.
Apart from strolling around its narrow passages and enjoying its lovely boutiques, check out the interesting Bottleship Museum, which boasts several hundred examples of model ships in bottles.
The article continues below.
Your next stop could be Marstal, the island's main port town and economic centre. The town has a long tradition in seamanship, fishing and trade, as the renowned Marstal Maritime Museum demonstrates.
Founded in 1929, this is Ærø's most visited attraction. Here, guests can learn about the history of the Marstal ships, the small sailing vessels and the deep waters, as well as the motor vessels of today.
The museum contains a superb collection of 250 model ships that documents the history of seafaring from its origins in sailing boats to today's modern coaster fleet.
Examples of seamen's handiwork are also on display, including a large collection of bottle ships, navigation equipment, as well as odds and ends brought back from all over the world.
The museum's main attractions are two ships; the schooner Bonavista and the coaster Samka attached to the museum.
The article continues below.
Sports for everyone
Visitors can choose from the different exciting activities the island offers. Golf fans can enjoy the spectacular panoramas of the archipelago while practising their favourite sport on the golf course, situated at the pretty Skjoldnæs Lighthouse.
The flat landscape and panoramic views of the island also make it a paradise for both cyclists and hikers. Ærø's beaches attract not only artists but also anglers. Adventurous guests will certainly not get bored either.
There are abundant water sports such as sea kayaking, wind and kite surfing. Sailing trips from Marstal and Ærøskøbing are also very popular. The island has a population of approximately 6,660, but more than 250,000 tourists visit it every year.
Visitors mostly come from Scandinavia, Germany and the Netherlands. There is a small local airport, which offers pleasure flights to see the island from the skies. (www.starling.dk — in Danish only).
The article continues below.
Support our magazine with a contribution of any size
We hope that you enjoy the information, insights and inspiration that we provide. We are a small team and we would like to keep delivering high quality, interesting articles for you to enjoy and your support will help Your Danish Life to continue to produce relevant content for expats in Denmark.
We do not want to put up a pay-wall, so we need your support and if you find our content relevant and worthwhile, we would value any contribution, however big or small, as a token of your appreciation of our efforts.
How to support:
Transfer any contribution to our bank account at: Your Danish Life/ Danish Expat Media Aps
Danske Bank Account number: 3409 11405673
IBAN: DK68 3000 0011 4056 73
or MobilePay to 2144 1224
Message: Support
Transportation to and from Ærø
Three different car ferry routes connect the island to Jutland and Funen. Coming from Germany and southern Denmark, travellers can take the ferry from Fynshav on the island of Als to Søby, on the northern part of Ærø.
From Funen there are ferries from Faaborg to Søby, as well as from Svendborg to Ærøskøbing. The crossings take an hour.
Reservations during the summer season are recommended. Low season starts 8 August 2022.
More information at www.aeroe-ferry.dk and check out also the site www.ærø.dk