Again this year famous CLIFF DIVING takes place in Copenhagen Harbour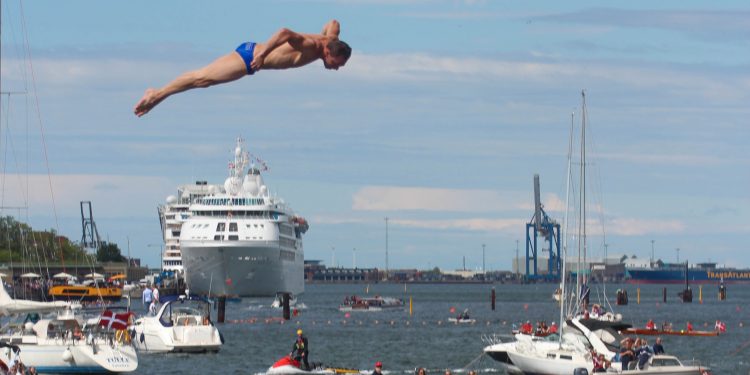 Although the Copenhagen Harbour cannot offer any cliffs it does have other impressive sights such as a magnificent Opera House from which divers can descend 27 meters. It is the annual Redbull event which comes to town again, this year on Saturday 25 August.
The article continues below.
By Bente D. Knudsen     Pictures: Hisham Ammar
Since 2009 the Red Bull Cliff Diving World Series has provided a platform for the breath-taking and action packed drama of free fall dives from up to 28 metres.
The Copenhagen Opera is stop 5 on the world tour,  bringing the divers from hot and dry Texas to the far north – the furthest north they will go this season.
Here the athletes will have an amazing panoramic view of the royal palace, Amalienborg, and the adjacent domed Marble Church from the 27-metre platform on the roof of the Opera House.
The article continues below.
The location itself
The Opera House is built in alignment with Amalienborg and the Marble Church, so that if one stands in the main entrance of the opera, one can see the Marble Church over the water through Amalienborg.
Donated to the Danish state by the A.P. Møller foundation, the owner of the world's largest container ship and supply vessels operator Danish company Maersk.
On Saturday at 14:45 it is more the performance outside it that is bound to catch attention as you can watch 14 of the world's best cliff divers as they descend 27 meters from the Opera House roof-top.
The drop takes just three seconds, with athletes reaching speeds of 85 km/h as they twist and somersault up to five times before impact.
The water depth at point of impact is between 5.5 and 7 metres deep.
The Opera House was designed by world famous architect Henning Larsen. A lot of time and passion was dedicated to the acoustics and interiors, making the house one of the best equipped in the world.
Construction began 2001 and the Opera House was officially opened on January 15, 2005. Inside the opera, 1,703 seats are individually angled in order to provide the best experience for the guests during a stage performance.
If you can't go to Copenhagen Harbour you can watch live as it will be shown o www.redbullcliffdiving.com and YouTube.