All time high for a winter day in February reached today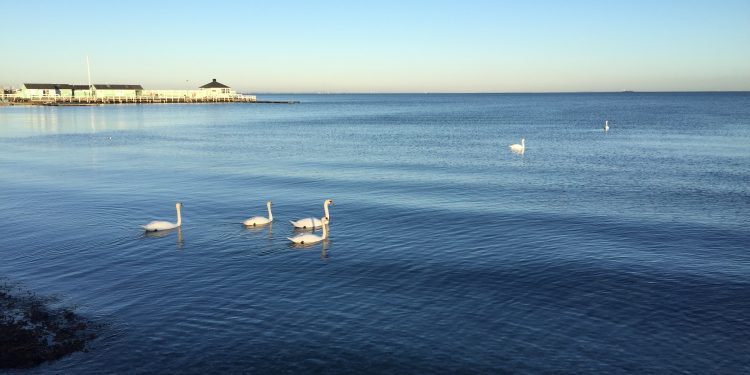 The unusually warm and sunny February day hit the 29-year-old record high for February when today, at Aarhus Airport, the temperature of plus 15,8 degrees Celsius was measured, DMI reports in a press release.
The article continues below.
By Bente D. Knudsen
Spring has really come early this year as the past days have been extraordinarily warm with several days of temperatures around plus 12 degrees C.
However, today was exceptional when the record high from 1990 was reached. A stark contrast to last year when a cold spell end of February 2018 brought frost and ice-cold winds, covering the lakes and fjords with ice, and prolonging the need for gloves, scarves and warm head gear.
The warmth is brought to Denmark by the extremely warm weather, which Southern Europe is experiencing, reaching Denmark from the south and southwest.
The air is cooled as it passes the open sea but then warmed up as it reaches and crosses land again, which is why the highest temperatures are measured on eastbound coasts – in contrast to the colder westbound ones.
This creates a great temperature difference depending on where you are. On westbound coasts the temperatures reached a max of five to eight degrees Celsius.
The article continues below.
For tonight and tomorrow morning, DMI is warning of dense fogs, which will only lift later in the morning as the sun gets more power. The visibility will be limited due to the fog all over Denmark, creating potentially dangerous traffic situations DMI warns.
The rest of Wednesday the sun should come out reaching temperatures of between 8 and 13 degrees Celsius again colder along westbound coasts. The weather should remain more or less the same for Thursday until Saturday with mostly dry weather and sun when the fog lifts.
DMI is not certain how long this unusual warm weather will continue, as in the long-term predictions, Denmark could be in for a cold spell in the first week of   March, with more rain and winds coming, making temperatues drop to risk of frost at night and only 2 to 5 degrees during the day.
Drive safely.