Amazing Picasso exhibit close to Copenhagen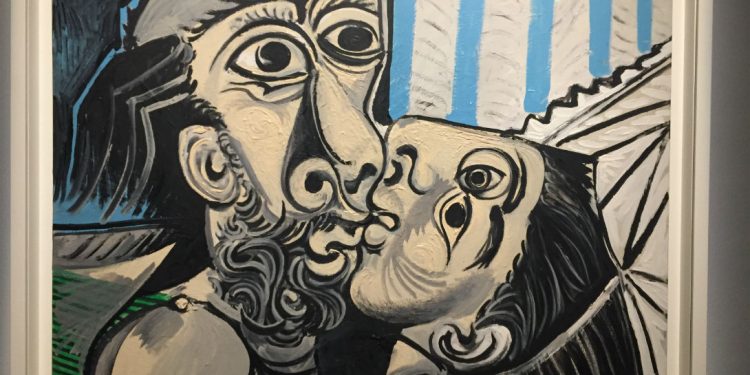 If you haven't been yet, then make the most of the coming weeks to visit the museum Arken in Ishøj, just south of Copenhagen to see "Beloved by Picasso, the power of the model (and love)".
The article continues below.
Text and pictures by Bente D.Knudsen
Until the 23 February 2020, you can enjoy the passionate life story and 51 paintings of Pablo Picasso whose inspiration came from his five beloved and strong models; Olga Khokhlova, Marie-Thérèse Walter, Dora Maar, Françoise Gilot and Jacqueline Roque.
Not only were they his models, they were also his wives and loved ones.
Through his paintings and also by showing photographs from his everyday life with his wives and children, this exhibition offers an amazing insight into the art and passions of Picasso, whose life (and art), it seems, would have been nothing without his models.
Apparently, they never really sat for him as models, instead Picasso worked from memory or photographs to create his world-famous paintings.
The layout of the exhibition follows his relationships, and the visitor really gets a unique insight into how, with each new model (read: woman in his life), the visual style of his work changed.
The article continues below.
If you don't know, which woman was the source of inspiration (you cannot really distinguish between them in his paintings), the exhibition really takes the visitors by the hand and shows them not only the caricatured image but also the affectionate and often erotic relationship between the artist and the model.
The exhibition is created in close collaboration with Musée national Picasso-Paris and presents a total of 51 works including paintings, sculptures, drawings and prints, many of them masterpieces from the collection of Musée national Picasso-Paris.
The article continues below.
Arken (most likely inspired by the story of Noah's Ark), is located just off the beach at Ishøj Strand, in the middle of a small pond, surrounded by water.
From the museum's restaurant and café there are stunning views out towards sand dunes, a small woodland and the sea.
This season, the team has been inspired by the origins of Picasso and until the exhibition ends, they serve only Spanish inspired dishes, so be prepared for Spanish sausages and tapas, but of course, you can also just have coffee and cake.
The article continues below.
Location:
ARKEN, museum of modern art, Skovvej 100, 2635 Ishøj Strandpark, 20 km south of Copenhagen.
By train and bus: 25 minutes by S-train from Copenhagen Central Station to Ishøj. Take A line (direction) Solrød/Hundige or E line direction Køge.
Get off at Ishøj Station and take bus 128 directly to the museum (a five-minute drive). Or walk 20 minutes from Ishøj Station to ARKEN via the path system.
Open: Tuesday to Sunday. Take NOTE open on Mondays in week 7 and 8.
Adults: DKK 150/ Students: DKK 130/ Children (0-17 years): Free