Are you a feminist? A controversial question in Denmark – even on International Women's Day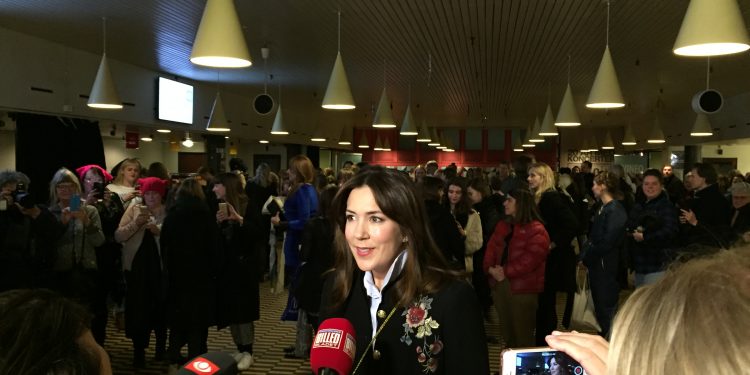 A controversial word in Danish politics – even at the celebration of International Women's Day – saying you are a feminist is, apparently, not easy. Report from the party at Vega in Copenhagen to celebrate 8 March.
By Bente D. Knudsen
For the third year in a row, the Danish organisation Kvinfo, an organisation that works to extend knowledge about gender, equal rights, and diversity, hosted the big party at VEGA in Copenhagen to celebrate International Women's Day.
The event has grown in popularity, and the evening was sold out. The press coverage of the event has increased considerably since the Danish Crown Princess Mary attended for the first time in 2016, and her attendance again this year has helped promote interest in the event also from the media. Even Danish TV stations were there to cover it.
Danish Minister for Equal rights and Nordic affairs, Karen Ellemann ( member of right wing party Venstre) was also present, as was the grand old man in Danish politics, Bertel Haarder (also Venstre), still member of Folketinget and former minister of a.o integration, education and culture under different right wing governments over the last three decades.
Contrary to what many expats might think, the word feminist is an extremely controversial and political word in Denmark, and not many politicians, certainly not right wing ones, declare themselves a feminist, even if they are advocates of equal rights for men and women.
Questioned upon why equal rights are still important to discuss, Minister Karen Elleman said that Denmark will continue to defend women's right to control their own lives – but even more importantly their own bodies.
She was also asked what importance the presence, and engagement in women's rights in general,  the Crown Princess had. In Denmark royals are not allowed to engage in political discussions.
However, Karen Elleman pointed out that the Danish Crown Princess was able to use her position to create attention on an international level on women's rights in general, and more particularly on women's sexual and reproductive rights.
An issue the Danish government has just granted further funds, after the American president reinstated the Global Gag rule, as Karen Ellemann said in her speech. The Global Gag rule will bar US foreign aid from going to any nongovernmental organisation (NGO) that either provides abortion services, or even discusses abortion with its patients as an option for family planning – however, it is believed that also support to family planning programs in general will be affected.
Questioned about whether she herself was a feminist, Karen Ellemann refused to answer, stating instead that she was minister for equal rights and not engaged in a trench warfare.
Danish Crown Princess Mary was asked if she had ever felt that her gender had in any way restricted her possibilities.
"No, I have never personally felt that being a woman has been a restriction in my life, but I know many women and girls who have, and I have seen the importance that has had, not only for themselves but also for their children, families and the society they are part of. Celebrating International Women's Day is important, both to look back at what we have achieved, but also to put focus on doing it even better in the future, and ensuring women's equal rights, and better conditions for women," she said.
Former minister Bertel Haarder arrived on bicycle, Danish style, drenched from the rain. He was quite open about his stand, and gladly answered yes to being a feminist.
"I think, that as the world is today, we must all be feminists in one way or another. I, for one, have always voted for a woman candidate at elections," he said.
The event is organised as a party, with music and entertainment, but also speeches focusing on different aspects of women's equal rights and opportunities in Denmark and internationally.