Autumn calls for the traditional "Stag Mania" time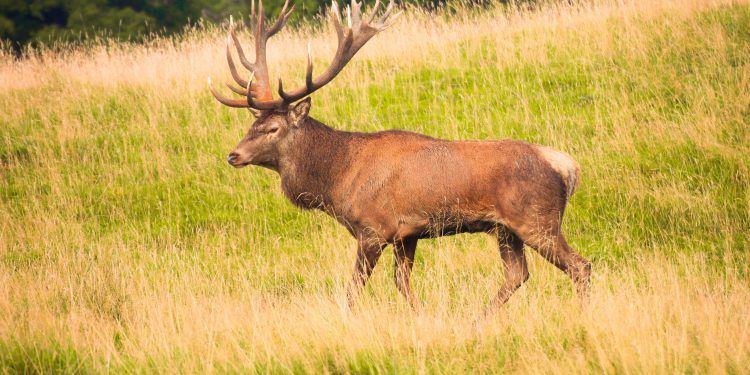 Danish forests are abundant with deer and in some of the public "animal gardens", the dyrehaver, you can get quite close to the largest and most impressive of them in Danish the Krondyr. Enjoy the autumn colours at the same time.
The article continues below.
By Bente D. Knudsen    Pictures: Hisham Ammar
Danish "dyrehaver" are great places to get close to the rutting male deer, the stags.
The red deer belong to the largest deer species in Denmark, in Danish they are called Krondyr, meaning crown or royal deer. The red deer stags usually have very impressive and large branch-like horns called antlers.
From September until November the mating season makes the most stunning spectacle when the stags lock antlers in a head-to-head battle in their pursuit of the females.
The best time to watch the deer is just after dawn and at dusk when they are most active.
If you listen carefully, you will be able to hear the bellow of the dominant stags during the rut as they defend their females against young males who try their luck.
Follow the direction from where the loud belowing comes to find them but keep your distance.
The article continues below.
The best places to visit to find them are:
Haderslev Dyrehave –  Haderslev -Jutland
Jægersborg Dyrehave  – Klampenborg North of Copenhagen
Sandfær Plantage – here the Nature Agency of West Jutland has created a parking area at Råstedvej from where you can observe the deer
Stråsø Plantage – located between Holstebro, Herning and Ringkøbing
Hanstholm Vildtreservat – located in the Nationalpark Thy – here the best viewing points are from the tower at Sårup or the Sårup-skrænt in the Northern part.
On the heath at Blåvandshuk – this site is run by the Nature Agency Blåvandshuk in Oksbøl- the best place to catch sight of them is from the road between Børsmose and Grærup.
At dusk stand by the lake Grærup Langsø – and as it gets darker you will see, and certainly, hear the stags.
The article continues below.
Once you've located the stags; be patient and watch quietly for the action to unfold. Remember to bring your binoculars.
Move carefully and quietly and most importantly, keep a safe distance from these large mammals!
You can find the nature areas at the site of the Danish Nature Agency
Some of them organise "rutting" events such as the:
Nature site Lille Vildmose in North Jutland, during several evenings in September and October they propose a program with guide from the Tofte Tower, dinner included. More information about Lille Vildmose here 
Haderlev Dyrehav, meeting point is usually Nørskovgård, Nørskovgårdvej 24, 6100 Haderslev.
And in the Nørreskov on Als there are also rutting events .
You can find more information about the rutting time and where the best chances to experience it are here.