Broens Gadekøkken; another popular street food market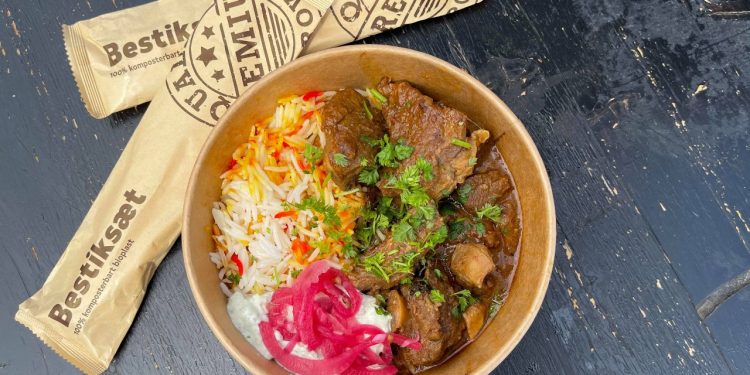 Review of the different eateries available at the street food market located right next to the bicycle and pedestrian bridge crossing the Copenhagen Harbour.
The article continues below.
Pictures and text by Sehrish Haq and Susanne Kee
The wonderful street food locations in Denmark are packed with tantalising food stalls. We have been extremely lucky with the weather so we decided to try out some of the most popular street food markets in Copenhagen.
Broens Gadekøkken (Bridge Street Kitchen) is by the Inner Harbour Bridge, overlooking the harbor, right by picturesque Nyhavn. It opened in May 2018 by the founders of Papirøen and
Reffen, with some of the owners of Noma.
At Broens Gadekøkken (Bridge Street Kitchen) you will find established chefs, most with restaurants in the city, serving up their take on street food. They champion the organic cuisine label here, with chefs receiving a cut in rent for using organic foods.
New stalls open every year, keeping things fresh for the regulars and giving different chefs  the opportunity to run a kitchen there.
The article continues below.
At Broens Gadekøkken (Bridge Street Kitchen) you will find some crowd pleasers, one being the Gasoline Grill, one of the first burger joints to have taken Copenhagen by storm.
Starting at the petrol station on Store Kongensgade, GG (lovingly called by us) has a pop-up stall in Bridge Street and a cozy spot in Hellerup. Sadly, no chips at Broens, but these burgers are pretty awesome even without their sidekick.
Strangas Greek Food has a kitchen here, serving gyros and fries. (You can find a fancier take on their Greek food at the Strangas stall at Seaside Toldboden.)
We really enjoyed Lola. The pork taco and the potato taco were amazing.
The "I'm loved" wrap with tempeh at the Organic Boho, was almost too beautiful to eat. It was a true rainbow of colours and so bright and flavourful. This stall is 100% organic and vegan.
Another favourite was the Lamb Karahi from Dhaba with its generous portions. While we were there many people seemed to be enjoying the made from scratch savory crepes from Crêpes à la Cart.
They also have stalls featuring pasta, fish and chips, crescia (an Italian pancake), smørrebrød, dumplings, and a coffee car.
Broens Gadekøkken has four bars, including a wine bar, a beer garden, and plenty of homemade cocktails to try.  More information about opening and location for Broens Gadekokken can be found here.
Support our magazine with a contribution of any size
We hope that you enjoy the information, insights and inspiration that we provide. We are a small team and we would like to keep delivering high quality, interesting articles for you to enjoy and your support will help Your Danish Life to continue to produce relevant content for expats in Denmark.
We do not want to put up a pay-wall, so we need your support and if you find our content relevant and worthwhile, we would value any contribution, however big or small, as a token of your appreciation of our efforts.
How to support:
Transfer any contribution to our bank account at: Your Danish Life/ Danish Expat Media Aps
Danske Bank Account number: 3409 11405673
IBAN: DK68 3000 0011 4056 73
or MobilePay to 2144 1224
Message: Support