Christmas markets cancelled in Copenhagen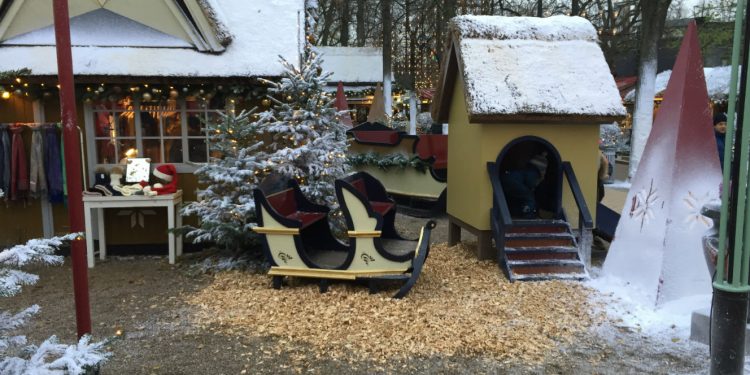 If you were looking forward to the traditional Christmas markets in the Copenhagen area, you will be sad to learn that due to the coronavirus epidemic most of them have been cancelled.
The article continues below.
By Bente D. Knudsen
The smell of gløgg and other delicacies at the many Christmas markets in Copenhagen will not entice you to have a taste this year, most of the markets in Copenhagen City have been cancelled including the large popular ones on Kongens Nytorv and Højebro Plads.
The city will still be decorated, in fact the large red hearts have been hung up over the pedestrian streets and they were lit last Saturday and will be until the beginning of January 2021.
Tivoli and Bakken have opened with their traditional Christmas decorations, stalls, and eateries.
To enter Tivoli you will need to buy a time slot (free) to get in together with the entrance ticket. The time slot can be ordered online so you know that you can get in. This is so that Tivoli can avoid too large crowds inside the amusement park.
The article continues below.
Cancelled Christmas markets
The one on Christiania
Dragør Christmas market
The Christmas market at Gjethuset
The Christmas market at Grønnessegaard Gods
The Torup Christmas market
The Christmas market at Gammelkjøgegaard Gods
The Christmas market at traktørstedet Højeruplund
Christmas at Kronborg Castle in Helsingør in its traditional form is cancelled but there will still be Christmas activities for the whole family and a beautifully decorated castle
Christmas market at Nytorv, Højbro Plads and Kongens Nytorv
The article continues below.
Christmas markets that are open
Christmas markets at the amusement parks Tivoli and Bakken
The Christmas store in Gurre
The Christmas market at Stændertorvet in Roskilde
Christmas at the Open-Air Museum in Lyngby
Christmarket at Hyrdehøj in Roskilde
Christmas market at Esrum Kloster
Christmasmarket on Rentemestervej in CPH NV
Support our magazine with a contribution of any size
We hope that you enjoy the information, insights and inspiration that we provide. We are a small team and we would like to keep delivering high quality, interesting articles for you to enjoy and your support will help Your Danish Life to continue to produce relevant content for expats in Denmark.
We do not want to put up a pay-wall, so we need your support and if you find our content relevant and worthwhile, we would value any contribution, however big or small, as a token of your appreciation of our efforts.
How to support:
Transfer any contribution to our bank account at: Your Danish Life/ Danish Expat Media Aps
Danske Bank Account number: 3409 11405673
IBAN: DK68 3000 0011 4056 73
or MobilePay to 2144 1224
Message: Support