Christmas reception for all the partners of Crown Princess Mary's foundation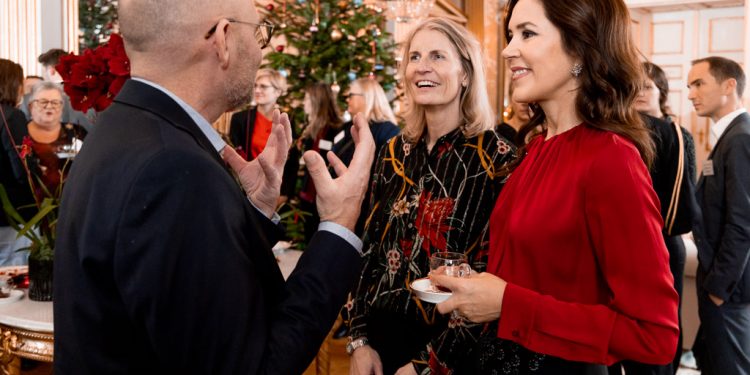 A heart in the right place and a desire to use her position to make a difference to people less fortunate than herself. A range of partners help Crown Princess Mary fulfill her goal.
The article continues below.
By Bente D. Knudsen         Pictures: Steen Brogaard/Mary Fonden
Last Friday Crown Princess Mary participated in the annual Christmas reception of the foundation, which bears her name, Mary Fonden.
Here she had a chance to thank the many partners and sponsors who contribute to make her vision for her foundation possible.
Australian born Mary Donaldson's life changed immensely in 2000 – the year she met her future husband, Danish Crown Prince Frederik, during the Olympic Games in Sydney.
After their fairy-tale like romance and final marriage in 2004, Crown Princess Mary spent a few years trying to decide which kind of organisations she wanted to support.
In many interviews, Crown Princess Mary has emphasised that she has always been particularly conscious of people who are not part of a group, who are all alone and unable to understand why they are excluded from the community.
Through her own foundation, Mary Fonden, the Mary Foundation, her desire to do something for the socially isolated has been achieved.
The article continues below.
Mary Fonden was funded originally by the national gift of DKK 1.1 million raised in Denmark and Greenland at the occasion of the Crown Prince Couple's wedding in 2004.
Today, the many projects are funded with the help of the capital stock provided by a group of eight co-founders and other foundations in Denmark. They have ensured a solid financial support and the capital stock now stands at around DKK 150 million.
This capital stock has been set aside and remains untouched, while the full annual return is used to combat social isolation.
The foundation supports projects within its three focus areas: Bullying & Well-being, Domestic Violence and Loneliness.
Also every year Crown Princess Mary presents her foundation's special annual donation of USD 50,000 to a project or organisation that has shown potential and caught the Crown Princess's attention.
In 2018, the annual donation was awarded to a very special woman's shelter in Afghanistan run by Mary Akrami, the 2019 donation has not yet been made public.
The article continues below.
Apart from Mary Fonden, Crown Princess Mary  is patron of a great many national organisations, institutions, and foundations and is an honorary member of various associations and societies.
However, when you hear her talk about her foundation, there is no doubt that here she is deeply engaged, not only as a patron, but also in the development and future direction of its work.
Hear Crown Princess Mary speak about the way the Mary Foundation works and how they work with strategic partners in order to reach their goals at the Copenhagen Business School Partnership NGO + Business 2012 conference.
HRH Crown Princess Mary speach about how her foundation works
Being a royal princess is no easy task, even if life instead provides many opportunities.
When interviewed her focus is often on promoting an area she is committed to, and less on talking about her personal life as a princess.
However, before she was married, and her royal life made her less openly outspoken and more careful about what she says, she participated in a documentary aimed at giving the Danes an insight into their new Australian princess.
The article continues below.
If you would like to see the woman behind the title – follow the link below. In this wonderful warm portrait, and incredibly frank pre-wedding documentary from 2004, we get to see a young Mary, excited and a bit nervous, prior to her new Danish life.
The documentary actually lets you in and gives you a genuine feeling of the woman who is also Crown Princess. Most of it is in English as she did not speak Danish very well yet at this point in time.
Documentary from 2004 made a few months before the wedding.