Corona pass will expire 5 months after second shot – implemented as of 16 January 2022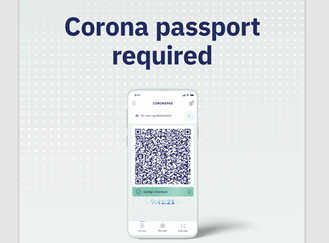 Validity of the corona pass will be set at five months after the second shot or after infection, applied as of 16 January 2022
The article continues below.
By Bente D. Knudsen
The Danish Government has decided to follow the advice from the Epidemic Board to reduce the validity of the corona pass to five months after the second shot or after an infection.
The aim is to get the last residents to get their third shot.
This means that all who have been invited to a third shot, but who did not yet sign up for it  and who have more than five months since the second shot will find themselves with an invalid corona pass after starting this coming Sunday 16 January.
The pass becomes valid again immediately after the third shot or  will become valid 11 days after a postive PCR test.
The article continues below.
Corona pass valid for five months after the second shot for residents from the age of 18
Corona pass becomes valid again immediately after revaccination
No end date set at present after the third shot
Revaccination has not yet been offered the age group 15 to 17, therefore for this age group their corona pass remains valid after the second shot and is not subject to the five-month validity date
The corona pass becomes valid (again) 11 days after a positive PCR test and remains valid for five months.
Validity of corona pass after second shot or infection set at 5 months from date of second shot or date of positive PCR test – the validity time frame will be effective starting on 16 JANUARY, this means that if your corona pass is based on the second shot of more than five months after midnight on 15 January, your pass is no longer valid to use to enter in places where the pass is mandatory for entry. This is valid for all Danish residents from 18 years of age. The third shot does not at present have a validity expiry date. It is still possible to get a corona pass based on a negative test.
Support our magazine with a contribution of any size
We hope that you enjoy the information, insights and inspiration that we provide. We are a small team and we would like to keep delivering high quality, interesting articles for you to enjoy and your support will help Your Danish Life to continue to produce relevant content for expats in Denmark.
We do not want to put up a pay-wall, so we need your support and if you find our content relevant and worthwhile, we would value any contribution, however big or small, as a token of your appreciation of our efforts.
How to support:
Transfer any contribution to our bank account at: Your Danish Life/ Danish Expat Media Aps
Danske Bank Account number: 3409 11405673
IBAN: DK68 3000 0011 4056 73
or MobilePay to 2144 1224
Message: Support